Golden Exits Is a Quiet, Mature Indie Drama
Alex Ross Perry's latest film stars Emily Browning as an Australian student who stirs up trouble among the Brooklyn yuppie set.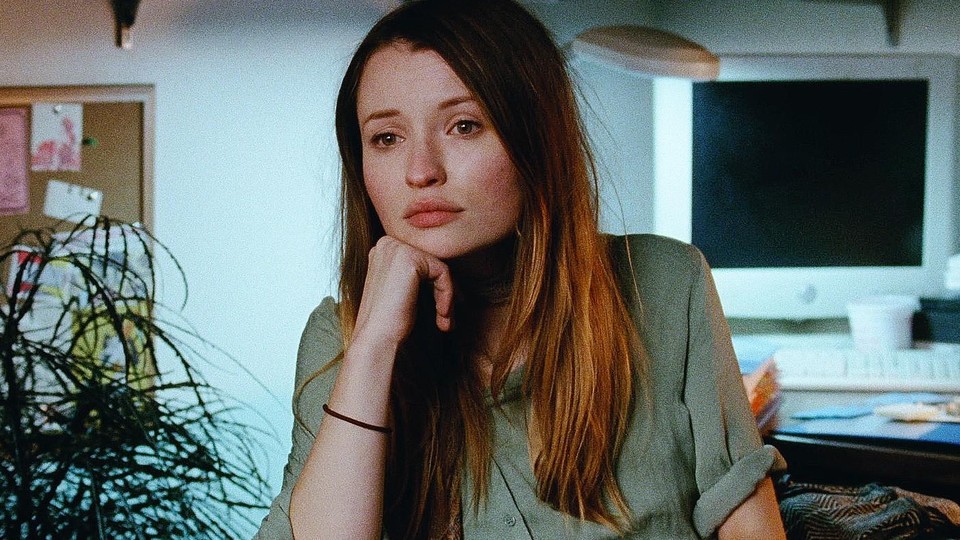 The Brooklyn of Alex Ross Perry's Golden Exits, which takes place almost entirely in one small brownstone-dotted neighborhood of the borough, is hazy and sun-kissed. An early establishing shot of the sludgy Gowanus Canal looks positively Venetian, a tremendous achievement given that it is one of the most polluted bodies of water in the United States. The tranquility on display feels lovely, but immediately threatening; a place so content and pleasant is hard to take at face value, after all. Onto the Carroll Gardens scene steps Naomi (Emily Browning), an Australian ingénue who begins the movie by softly singing "New York Groove" to herself. Is she here to upend this gentle serenity?
Well, yes and no. Naomi is the instigator of change in Perry's new drama of intertwined relationships, but Golden Exits is a film that shies away from any severe dramatics. Think of Naomi as a magnet, and the various people she meets and interacts with as a pile of metal filings on a desk; she sweeps over all of them and rearranges things without actually picking anything up. This is a movie that recalls the French filmmaker Eric Rohmer, he of the "moral tales," who specialized in quiet stories of unresolved temptation and the existential fears of familiarity and stasis. For Perry, who has specialized in more confrontational dramedies, that's something of an evolution, but it's a perfectly welcome one.
Perry broke out of the New York indie-filmmaking scene with thrillingly abrasive works like The Color Wheel (2012), Listen Up Philip (2014), and Queen of Earth (2015), all of them centered on prickly egotists, and all of them willing to dig into their protagonists' caustic inner monologues. The characters of Golden Exits are less openly and hilariously hostile; they're still prone to simmering resentment, but this time only some of it gets to boil over.
Naomi is an assistant hired by Nick (Adam Horovitz), an archivist who works out of a neat little Brooklyn basement; she's his eighth hire over the years, and the sixth woman, as his wife, Alyssa (Chloe Sevigny), ruefully notes. Also part of the ensemble are Mary-Louise Parker as Alyssa's hard-charging sister, Gwendolyn; Lily Rabe as Gwendolyn's beleaguered assistant, Sam; Analeigh Tipton as Sam's sister, Jess; and Jason Schwartzman as Jess's husband, Buddy, who's also a childhood friend of Naomi's. Got all that?
It's easier to follow than it might sound; Nick is essentially the beginning of a long chain of Brooklyn yuppies that Naomi crosses paths with, directly or indirectly. Many of them are married, seemingly neither happily nor unhappily—there's a subtle thrum of tension to every relationship in the movie, but also the sense that nobody really has the guts to make a big change. "Let's just let this whole affair be simple," Nick protests as his wife and sister-in-law needle him about hiring Naomi. "Affair. What a horrible choice of words," Gwendolyn snarks. "I would love a situation without torment or turmoil, and I feel that's within reach," Nick pleads.
He's right, but his own behavior is part of that bargain, and Perry begins to pick away at Nick's own dynamic with Naomi (which his wife is immediately suspicious of). In showing her the ropes of his profession, he gets to play the role of the helpful mentor, a dynamic that appears ripe for trouble. Naomi is pleasant, eager to help, and perhaps a little guileless; putting them in a little room together for months seems like a recipe for awkwardness, if not outright disaster. As Nick and Naomi first meet, she puts up her hair, rolls up her sleeves, and gets ready for work; behind her, Nick looms in the background, training a gaze on her back that could only be described as furtive.
Golden Exits would be tiresome were it a simple domestic drama of infidelity with a May-December romance, but Perry deftly dodges every clichéd pitfall he can. Naomi's relationship with Nick, whom she works to keep at arm's length, is as nuanced as her quiet flirtation with Buddy, who clearly knows what kind of trouble he's getting himself into every time the two catch up over drinks. Browning's rich performance keeps Naomi from coming off like a plot device; longtime Beastie Boy Horovitz is a wonderful surprise as the antsy Nick, whose fatherly affect transforms into something more pestering in a way that seems organic (and pathetic), rather than one-dimensionally monstrous.
Perry has made a film about human relationships that shies away from flare-ups and shocking twists. Caution is rarely thrown to the wind, and everything feels as sealed-up and nicely organized as the laminated documents in Nick's many archive cabinets. That lack of fizzy drama may be why Golden Exits (which first premiered at the 2017 Sundance Film Festival) is debuting with a limited release in New York, followed by a small expansion. But this is a movie that deserves to be seen—it's a work of maturity and confidence from one of the indie world's best young directors.