Foxtrot Is a Dreamlike Interrogation of War
Samuel Maoz's award-winning film has drawn equal parts praise and controversy in his home country.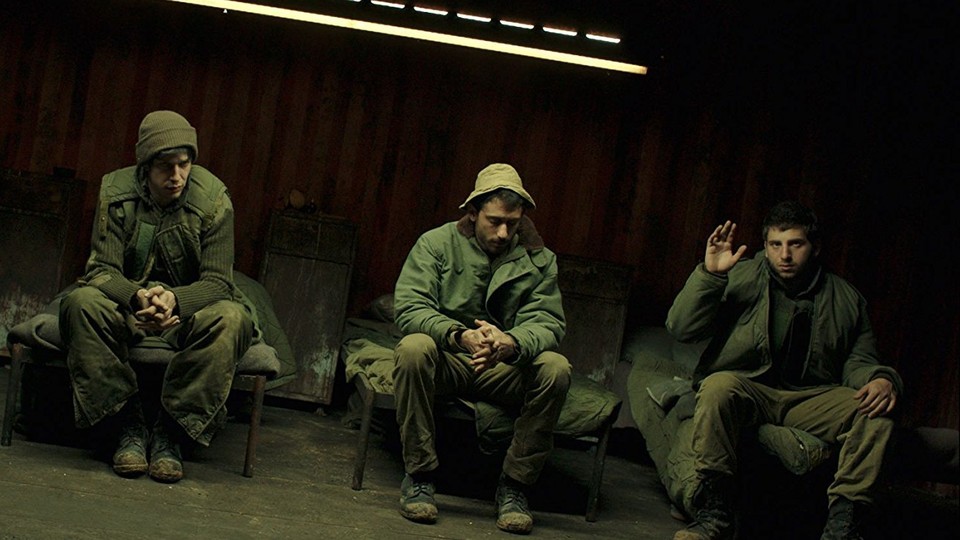 At the start of Foxtrot, a knock at the door leads to a frightening sight for Dafna (Sarah Adler): two soldiers, standing impassively, bearing what can only be bad news—the death of her son. Dafna screams and cries, and the soldiers immediately move to sedate her; in the next room, her husband, Michael (Lior Ashkenazi), sits staring into space like a zombie. The setting is an upper-middle-class apartment in Tel Aviv bedecked with expensive furniture and dark, nightmarish-looking modern art, and the way the soldiers move—with surreal precision and authority—to handle the family is similarly fearsome.
Foxtrot is not a work of realism; the film doesn't offer a gritty window into the life of an Israeli family wrestling with loss. Samuel Maoz's drama, which won the Grand Jury Prize at the Venice Film Festival and was Israel's (snubbed) submission to the Academy Awards this year, is a highly metaphorical triptych that's trying to grapple with the quagmire of the Israeli-Palestinian conflict. In depicting the out-of-sight, out-of-mind bubble mentality of Israel's civilian citizens (and how easily that bubble can burst), Foxtrot is a uniquely powerful work. But it also delves into the boredom, and banal prejudices, that spring up on the front lines, and in doing so has become so controversial that Foxtrot was condemned by Israel's Minister of Culture Miri Regev. On top of all that, it's a superior piece of cinema worth seeing as it begins a limited release across the country.
Maoz's last feature film, Lebanon (2009), was a similarly bold work that caused controversy among Israeli viewers, depicting warfare exclusively from within a tank (with only a gunsight view of the outside world). Foxtrot is a more dreamlike movie that's often grimly funny, but it has the same fascination with narrowing perspective and tightly guiding the audience into the viewpoint of each character. It certainly seems that Maoz is trying to make a point about the limits of living a blinkered existence, and he succeeds. A recurring visual motif in Foxtrot is that of a black "X," first superimposed over an issue of Playboy that a soldier recalls reading as a kid, and then stamped onto the soldier's own eyes.
As I mentioned, Foxtrot unfolds as a triptych: three connected stories, each equal in length, told almost as an anthology. First, there's Michael and Dafna finding out about their son, an unbearably dour chamber piece where the soldiers delivering the bad news behave with absurd levels of automation. Dafna is chemically subdued; Michael is handed a watch that will beep every hour, so that he can remember to keep drinking glasses of water. Eventually, this tableau is interrupted with a piece of unexpected news, and Maoz wrings even further drama (and some truly bleak comedy) from the disruption of the soldiers' commiseration routine.
The second part of the film then depicts what happened to Michael and Dafna's son Jonathan (Yonatan Shiray), who's embedded with three other soldiers (all in their mid-20s) at a completely desolate checkpoint somewhere in the desert. Again, Maoz wants to plumb the absurd monotony of the situation, turning the boring routine of Jonathan's job (occasionally letting a car through the barrier after inspecting its occupants) into a sort of reverie. As things drag on, there are small moments of prejudice and abuses of authority—soldiers illegally confiscating goods, and then making one carload of Palestinian passengers stand in the pouring rain for no particular reason.
The soldiers, who largely sit around with nothing to say or do, sleep in a shipping container that is slowly sinking into the sand, and often pass the time by rolling cans down its canted floor, noting how much more quickly they reach the other side every day. Foxtrot is filled with visual metaphors like this one, in which a (moral) equilibrium is being upset by a literal desert quagmire, but the film gets away with it because it's never claiming to present reality. Each scene feels strangely off-kilter, presented like a hopeless fairy tale.
Finally, after the segment about Jonathan's encampment builds to an upsetting (but not entirely unexpected) conclusion, we cut back to Michael and Dafna, months later, to conclude the story. I'll say no more for fear of spoiling the plot, which is loaded with deft story turns that occasionally feel too clever by half. Foxtrot is best when it's posing philosophical questions to the viewer just through its perfectly realized bizarre environments, including Michael and Dafna's archly designed home and Jonathan's shipping container.
The last act is the least interesting, and the most introspective, with a final poetic twist that struck me as a little too neat for the complex story Maoz is telling. But his overall message of a world that is forgetting how to look beyond its own borders is powerful. Watching Foxtrot, it's not too surprising that it caused such a stir in its home country. It's also not surprising that it was acclaimed by critics and chosen as Israel's Oscar entry—this is a film to see, discuss, and ponder for weeks.