A Rock Star Is Born at the Closing Ceremony
A 13-year-old guitar shredder and a South Korean metal band were the highlights of a thrilling Olympic finale.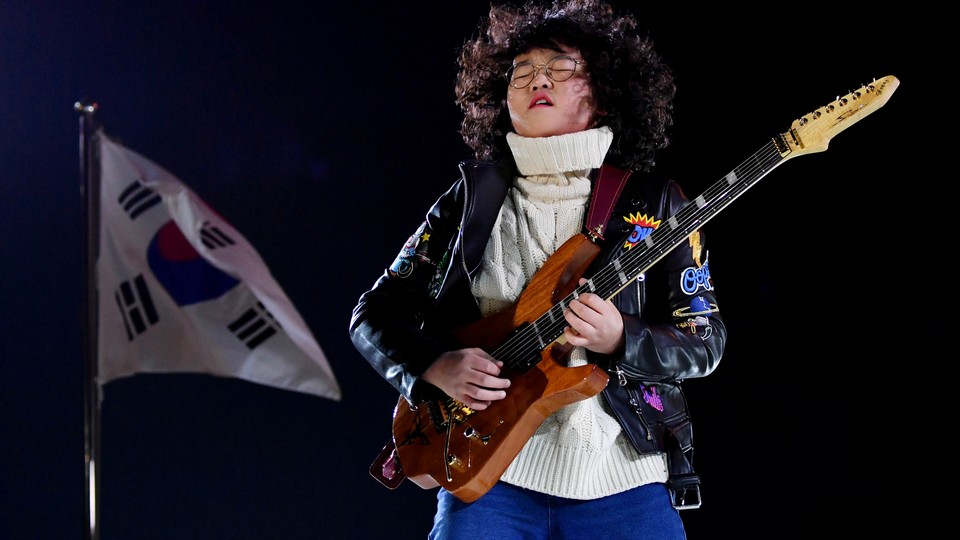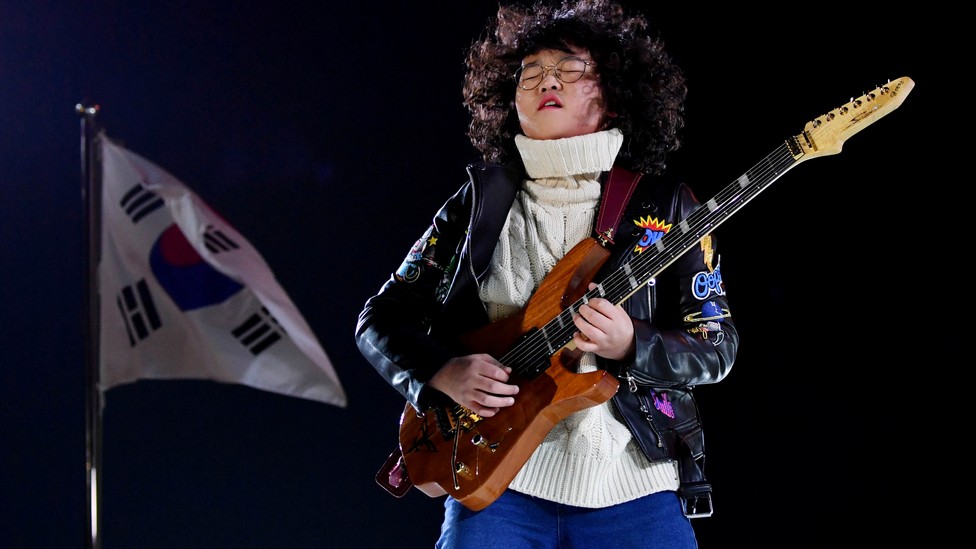 "We tread the icy path slowly and cautiously, / for fear of tripping and falling. / Then turn abruptly, slip, crash on the ground, and, / rising, hasten on across the ice lest it cracks up."
That's from the sonnet that accompanied the "Winter" movement of Vivaldi's The Four Seasons, the 1725 baroque composition reinterpreted in the closing ceremony of the 2018 Winter Olympics. For American viewers in particular, the wintry treacherousness of Vivaldi's poem may ring familiar. Pyeongchang, South Korea, has seen plenty of slips and falls, near misses and disappointed expectations, political tensions and apocalypse fears—plus spectacular Olympic triumphs, of course.
But the sonnet ends like this: "This is winter, which nonetheless / brings its own delights." True, too. One delight: a 13-year-old South Korean boy in a chunky turtleneck and leather jacket and with a curly mane, making Vivaldi sound like Van Halen.
Sunday's closing ceremony offered a wilder, more straightforwardly entertaining time than the understatedly lovely opening ceremony, which fit with it being a blowout farewell rather than a courtly introduction. It featured adorable kids in tiger ears and two attitude-drenched K-pop acts, CL and EXO. It had a ravishingly austere modern-dance routine synchronized with a light-up floor. It called on the director of China's iconic 2008 opening ceremony, previewing Beijing 2022, to busy things up with Tron-like roller skaters and panda people.
Most important, it had a better rock-and-roll showcase than, say, the Grammys has had in years. (You should watch the full segment starting at the ceremony's 53-minute mark, if you're able. There's also a shorter clip that snips out of some of the best parts.)
Discovered on the talent show Star King, Yang Tae-Hwan released his first album at the age of 10. On YouTube, he shreds to Dream Theater. On Sunday, he arrived on the platform below the Olympic torch, holding an electric guitar with a lacquered wood body. While emitting a flurry of notes, he bobbed his head and maintained a lunge posture. His circular wire frames made for at least the second instance of Korean eyeware excellence at this Olympics.
You couldn't design a Rock Star avatar as cool as Yang. But as if to raise the thought of a video game coming to life, the ramp below him transformed into a jumbo guitar fret with acrobats in light-up suits scaling the three "strings."
Then the action moved to the middle of the arena, where a circle of women playing the Korean zither known as the geomungo laid down a riff resembling something you'd hear from the prog-metal act Tool. The music was actually the work of the band who rose up on a platform in the center of the circle: Jambinai, the Seoul postrockers who meld modern styles with traditional instruments. The soloist Kim Bo-mi played the fiddle-like haegeum, threading a delicate melody within the chugging.
Accompanied by a troop of dancers, the Korean beauty queen Lee Ha-nui, a.k.a. Honey Lee, showed off a majestic gown with colorful striped sleeves. "She is the queeeen of the closing ceremony," the commentators Johnny Weir and Tara Lipinksi trilled in unison for NBC's broadcast. Above the performers hovered a glowing, wire-frame pagoda, science fiction and historical at once.
The spectacle's meaning was clear enough, an Olympic (and homework) cliché: Korea is a country of contrasts. But in the glowering riffs and anguished-then-victorious guitar solos, you might have heard something else. Vivaldi's "Winter," the inspiration for Yang's noodling, channels chilling winds and chattering teeth. The ominous Jambinai song performed is called "Time of Extinction," and the band has said it uses traditional instruments to "convey certain very special Korean emotions." One of those emotions is han, which has been described as "ineffable sadness … tempered by a sense of resiliency." What better a use for rock and roll, and what better an occasion than these Olympics?