America's (Relatively) Dismal Showing at the Winter Olympics
Despite individual triumphs and memorable moments, Team USA had its worst performance in 20 years.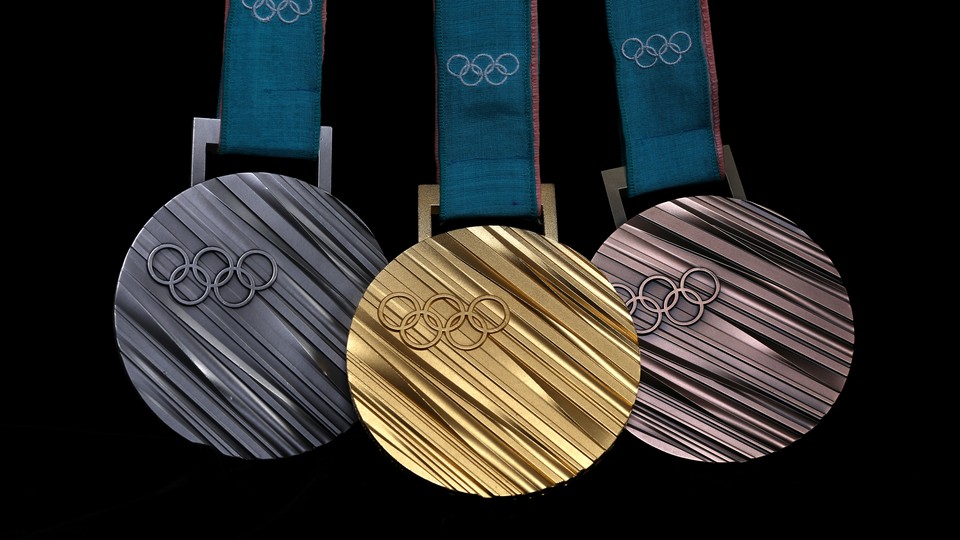 There were some high points for Team USA at the 2018 Winter Games. In what might end up being her last Olympics, downhill skier Lindsey Vonn became the oldest female alpine-skiing medalist in history, and the United States ended its "cross-country drought" when two female skiers won gold on Sunday—the first time the U.S. medaled in cross-country skiing since 1976.
Still, when you look strictly at the numbers, it's been a disappointing 2018 Winter Olympics for the United States. America sent 242 Olympians to Pyeongchang but will take home just 23 medals, ending up in fourth place overall. Compare this to Norway, which has an Olympic delegation less than half the size of Team USA's, with 109 team members, and won 39 medals.
Below, we have organized the medals earned by each nation into categories. First, we counted the sheer number of medals earned, and then we weighted them by type of medal. Through calculations by Charlotta Mellander, my colleague at the Martin Prosperity Institute, we also controlled for population size, economic output, and team size.
(Although the Russian athletes competed as "Olympic Athletes from Russia," or OARs, following an extensive investigation into a doping scandal after the 2014 Winter Olympics, we have treated them simply as Russia in our analysis.)
Midway through the Games, we reported that the U.S. was getting crushed, and smaller nations from colder climates were dominating. This remains more or less true at the end. While the U.S. moved up from sixth place to fourth in total medals, the leading countries are the same as before: Norway first, Germany second, and Canada third.
---
Total Medal Count for Winter Olympics 2018
---
Next, we weighted the medals—awarding four points for gold, two for silver, and one for bronze—to give a better sense of the gap between the U.S. and this year's leaders. With 58 points, the U.S. lags far behind Norway, Germany, and Canada.
---
Weighted Medal Count for Winter Olympics 2018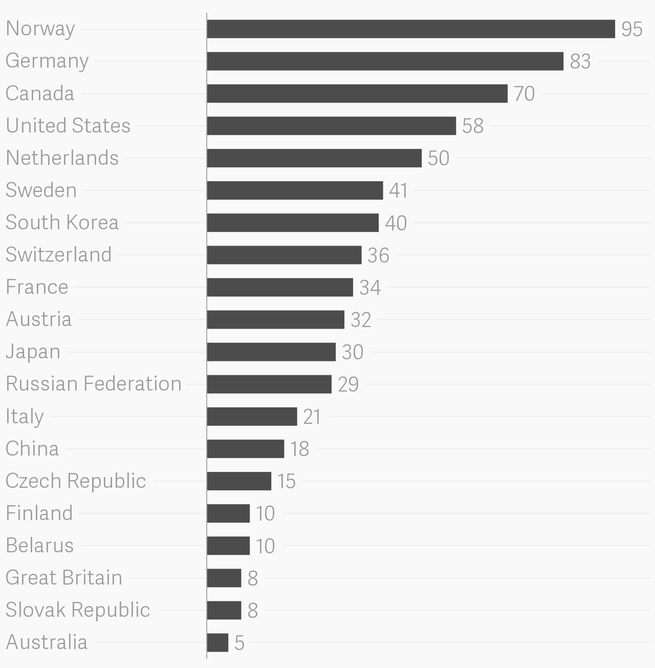 ---
Then we controlled for a country's economic size, looking at weighted medals per $100 billion of economic output, or GDP. Here, the U.S. falls all the way to 27th place. Only China, Spain, and Great Britain did worse on this metric.
---
Weighted Medals per $100 Billion of Economic Output for Winter Olympics 2018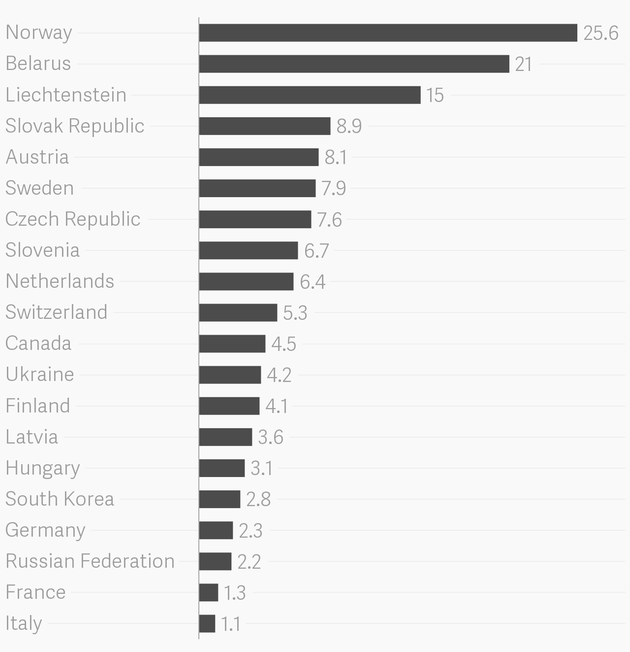 ---
We also controlled for team size, which may be a better way to gauge the efficiency of a national Olympics team. America's large team places 12th on this metric. The Netherlands comes in first, with only 34 Olympians, but other top nations sent relatively large teams. Norway takes second place with 109 athletes, putting Germany in third (156), and Sweden in fourth (116). South Korea, with 123 athletes, takes sixth place by this measure. Canada, which sent 225 Olympians to these Winter Games—its largest delegation ever—falls to eighth place.
---
Weighted Medals per 10 Olympic Team Members for Winter Olympics 2018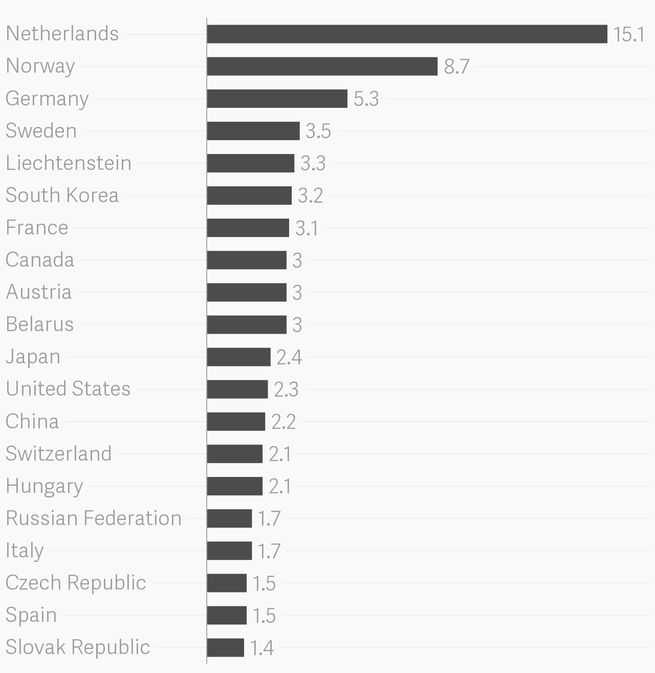 ---
But perhaps the clearest measure of why this year was so bad for America's Olympic performance is how it ranks when we control for country size. By weighted medals per 10 million people, the U.S. has fallen all the way down to 23rd place. Despite earning more medals since our last count, America hasn't moved up in this ranking. Liechtenstein, which earned only one medal but has just three team members, maintains its first-place spot.
---
Weighted Medals per 10 Million People for Winter Olympics 2018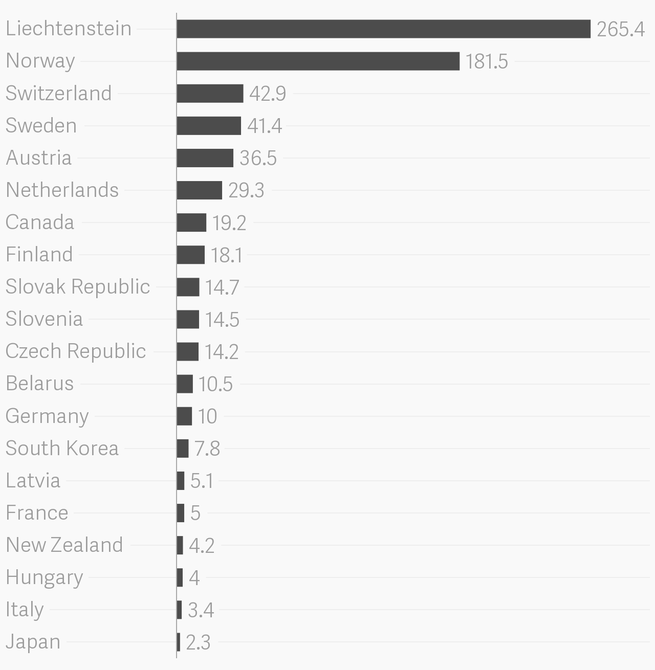 ---
America's performance was far off its record-breaking haul of 37 medals in the 2010 Winter Olympics in Vancouver, which the U.S. Olympic Committee (USOC) had hoped to match this year. It was even down from a poor showing in 2014 at Sochi, where Team USA earned just 28 medals. In fact, this is the worst the U.S. has done in the Winter Games for 20 years—in 1998, American athletes brought home a total of 13 medals.
In their press conference at the close of the games on Sunday, USOC officials explained that many U.S. athletes just missed a place on the podium, coming in fourth, fifth, and sixth in 35 events. "We had some incredibly close calls," said Alan Ashley, the USOC's chief of sport performance. "We have this amazing depth. We have these incredible medalists. And how do we continue to compete even at a higher level and give them what they need going forward?"
Perhaps Team USA can figure that out and turn things around in time for the 2022 Winter Olympics in Beijing.
---
This post appears courtesy of CityLab.