Amazon's Failing Bet on Woody Allen
The studio's big contract with the controversial filmmaker was a gamble on old-fashioned auteurism that isn't paying off.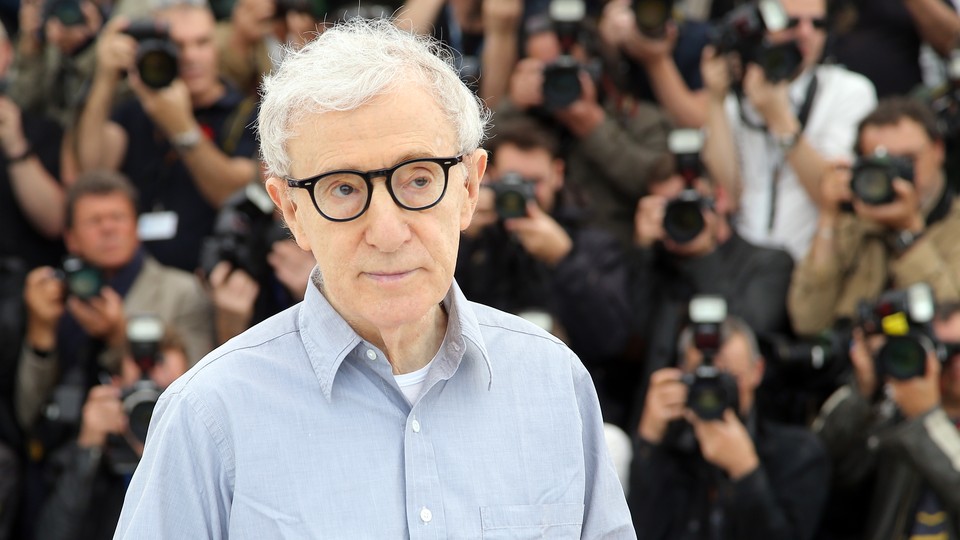 Amazon's entry into the world of filmmaking began in earnest less than three years ago, when the company announced in July 2015 that it had acquired Spike Lee's Chi-Raq to be the first "Amazon Original Movie." Quickly enough, Amazon Studios (then headed by Roy Price) pursued a strategy of tapping established indie filmmakers who had risen to fame in the '80s and '90s to make their passion projects. In 2016, there was Whit Stillman (Love & Friendship), Todd Solondz (Wiener-Dog), Jim Jarmusch (Paterson), and another director who had been around even longer—Woody Allen.
Allen had released his movies through the same company (Sony Pictures Classics) for many years. But in 2016, Price managed to pry the Oscar-winner away with a lavish $20 million offer to distribute Allen's upcoming film Café Society, a period piece set in 1930s Hollywood. At the time, the deal was seen as a "staggering" but bold move for the online streaming-focused company, which needed to lay out large cash offers to muscle out more traditional studios and attract big-name artists. How quickly things change. Price resigned from Amazon last October after a producer accused him of sexual harassment, and Allen's next star-studded film, A Rainy Day in New York, his third for the company, will likely be released this year with little fanfare—if it gets released at all.
As Hollywood continues to react and adapt to the fallout of the Harvey Weinstein scandal (and the many other abuse allegations churned up in its wake), Amazon has become a revealing example of how the strategy of pursuing big names to buy instant credibility in the industry can backfire. The studio's two Allen movies (Café Society and Wonder Wheel) have grossed a combined $12.5 million at the domestic box office, and the TV show the director did for Amazon (Crisis in Six Scenes, which cost $80 million) debuted to negative reviews. Beyond that, Amazon is apparently on the hook for three more Allen films after A Rainy Day in New York because of the deal Price struck, according to The Hollywood Reporter. With collaborators continuing to denounce the director, Amazon may end up having to buy Allen out of his contract.
Price's pursuit of Allen—as streaming services were gaining a foothold in the film and TV industries—showed how much things can stay the same in Hollywood, even when they're supposedly radically evolving. When Amazon began its relationship with Allen in 2015 and ordered his series Crisis in Six Scenes, the director had already weathered newly resurfaced allegations of child molestation from his daughter Dylan Farrow. That negative attention fully boiled over two and a half years later, as actors involved with his recent projects began openly disavowing him. (Allen, for his part, has long denied Farrow's claims and has never been charged.)
Allen's power in the film industry wasn't connected to financial success (his movies do better overseas but rarely make their budgets back in America). Price sought him for his clout: He could attract top actors, was often a part of the Oscar conversation, and simply had the kind of brand name most directors could only dream of. Now, Amazon is facing the consequences of tying its fortunes to someone who had a tarnished personal history and relatively weak box-office appeal to begin with.
The studio's difficult current situation points to how companies looking to "disrupt" the film industry often end up doing little more than propping up its hoariest institutions. Amazon and Netflix made waves at festivals like Sundance and Toronto in the last two years by making large bids on buzzy movies. But that's a strategy that has persisted in Hollywood for decades, and it's one that increasingly doesn't seem worth the effort for the deep-pocketed studios, which can instead fund their own projects. Neither Amazon nor Netflix made any purchases at this year's Sundance Film Festival, and both are looking to concentrate more on in-house programming.
If it does buy its way out of the Allen deal, Amazon will then have to decide what to do with A Rainy Day in New York, which may get a minimal theatrical release because of contractual obligations, but no promotion. In the few years since Amazon started collaborating with the director, the industry at large has started to sour on working with artists accused of sexual misconduct, no matter how well-burnished their professional reputations. (Consider, variously, the controversy that surrounded the actor and director Nate Parker, Roger Ailes's resignation from Fox News, and Kevin Spacey being fired from All the Money in the World and House of Cards.)
Of course, Amazon's relationship with Allen is ultimately about business. In Hollywood, even when there's an element of morality at play, the market is what rules the day, and Allen arguably isn't marketable anymore. His movies' lackluster box office meant that all he had to keep Amazon interested was his status as "one of the greatest filmmakers America has ever produced," as Price put it in 2015. But that no longer appears to be enough—and the signs that Allen's career may not recover further suggest that, in Hollywood, an artist's reputation extends beyond simple "prestige."