24 Frames Is a Fitting Elegy for Abbas Kiarostami
The late Iranian director's last film is experimental, sometimes tedious, and strangely enchanting—like all of his work.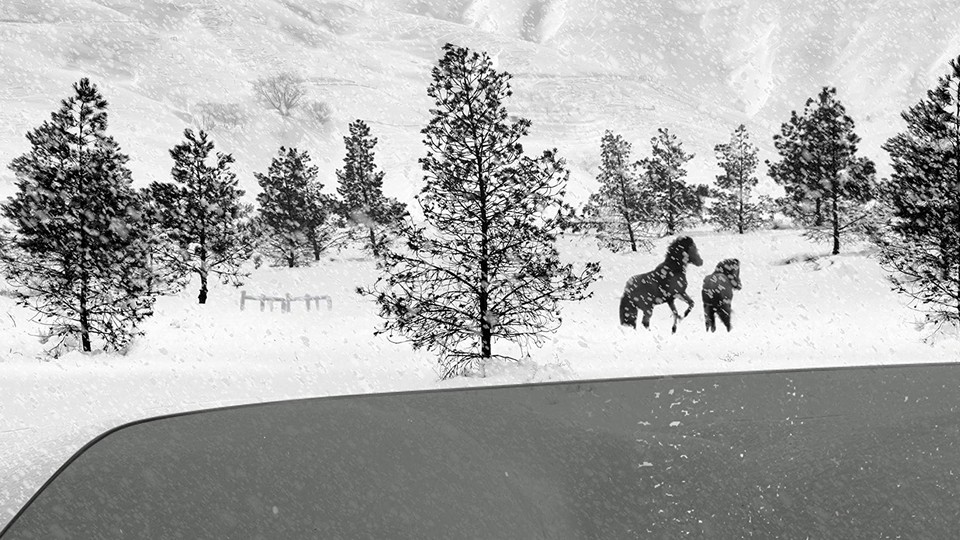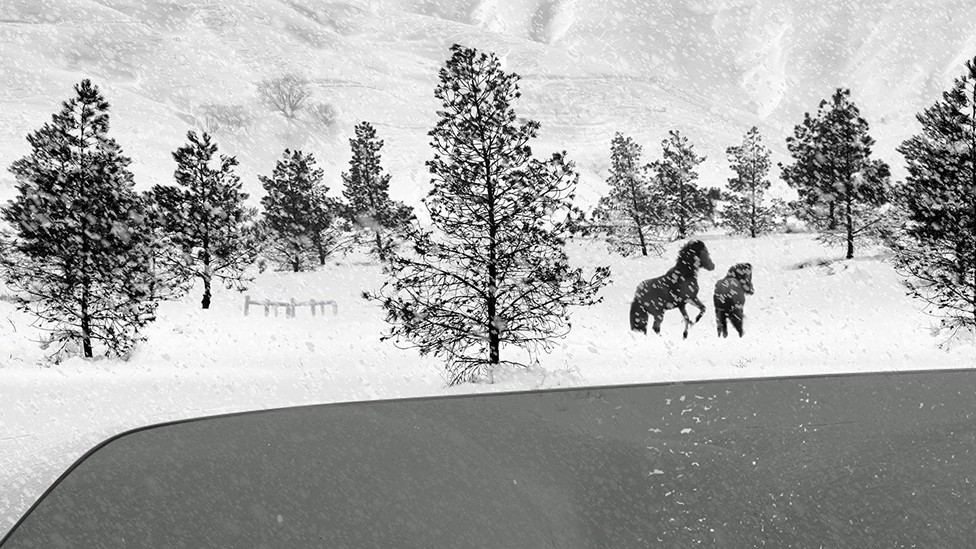 The late, great director Abbas Kiarostami was never afraid of lulling his audience into sleepy tranquility. "I absolutely don't like the films in which the filmmakers take their viewers hostage and provoke them," he famously said in an interview. "I prefer the films that put their audience to sleep in the theater … Some films have made me doze off in the theater, but the same films have made me stay up at night, wake up thinking about them in the morning, and keep on thinking about them for weeks. Those are the kind of films I like."
In his nearly 50-year career working in and outside his native Iran, Kiarostami made movies that could be easily dismissed as "boring." They were also meditative, hypnotic, challenging, and often arrestingly real, blurring the lines between fact and fiction in ways that asked audiences to think about the purpose of the cinematic medium. At the age of 76, Kiarostami was still directing innovative films and showing no sign of slowing down when he died of gastrointestinal cancer in 2016. That means his final project, 24 Frames, comes across as more elegiac than intended. But even by Kiarostami's standards, this is a daringly, charmingly tedious piece of cinema, one pushing at the boundaries of what you could even call a "movie."
The first shot of 24 Frames is of an instantly recognizable work of art—Pieter Bruegel the Elder's 1565 painting The Hunters in the Snow. After a few seconds, the static shot comes to life: Smoke starts billowing from one of the chimneys, then another. Snow begins to fall. Birds start to circle overhead. A dog pops into the frame and starts sniffing around, eventually relieving himself against a tree. After about four and a half minutes, we're finished and onto "Frame Two." Just what is going on?
In each of 24 Frames' shots, a motionless picture comes alive, functioning like an artful screensaver. Aside from the first entry, the frames are inspired by photographs that Kiarostami himself took and then embellished upon, adding sound, movement (often animals wandering around), and weather, creating a miniature environment from a perfectly composed still image. Each one's four-and-a-half-minute running time is long enough to encourage the viewer to pick specific details out of the picture, or to simply let it wash over them.
24 Frames immediately communicates the power of the theater experience, in the way that so many of Kiarostami's movies can. You can't background the image as you might if you were watching at home, can't glance at your phone or skip ahead out of boredom. You're compelled to search the image, to reflect on ways it might speak to you specifically, to ponder why the filmmaker thought to include certain elements, or to just bask in its atmosphere. It's not an experience many would seek out. 24 Frames is the kind of visual art one would typically find in a museum installation rather than in a movie theater, but it's oddly delightful all the same.
The film that introduced me to (and caused me to fall in love with) Kiarostami's work, his 1990 quasi-documentary Close-Up, has a little bit more narrative thrust to it. It recaps the legal case of Hossain Sabzian (who plays himself), a cinephile who adores the movies of the director Mohsen Makhmalbaf (also playing himself). Sabzian loves Makhmalbaf so much that he starts impersonating him, even visiting other people's homes pretending to be him; he's eventually arrested and put on trial.
Kiarostami filmed the actual trial, while reconstructing other events from the past; the entire movie has a somewhat drab look, helping to confuse which parts are documentary or fiction. That all feeds into Close-Up's central plot, about this mysterious man who talks with an odd affect pretending to be someone he's not, and trying to access art that he loves by combining it with his everyday existence. Kiarostami put his camera at the spot where reality and fiction intersect and conjured something entirely unique from the nexus; it's the sort of work that leaves you wondering, for weeks, what the deeper purpose of moviemaking even is.
24 Frames is maybe not quite the funny, strange masterpiece that Close-Up is. Nor is it on par with Kiarostami's Palme d'Or–winning Taste of Cherry (1997), a quiet odyssey through Tehran with a suicidal taxi driver that Roger Ebert called "excruciatingly boring." It may not stick in my memory as much as the later films Kiarostami made outside of Iran, like Certified Copy in 2010 (a twisty drama in which a couple first behave like strangers, then like they're long-married, then somehow occupy both states at once) or Like Someone in Love in 2012 (a marvelous, if elusive, examination of the artifice that goes into romance).
With 24 Frames, Kiarostami made a special film and a cinematic experience that will be difficult to replicate. There's a certain sense of tragedy to taking in some of the more beautiful images he created, because it's clear that still he had much more to offer viewers. But for those looking to say goodbye to a great artist, there's nothing more fitting than going to see 24 Frames, even if you take a nap in the middle. It's what Kiarostami would have wanted.