There Will Never Be Another Vladimir Guerrero
The 2018 Baseball Hall of Fame inductee played with an originality that outshone even his incredible statistics.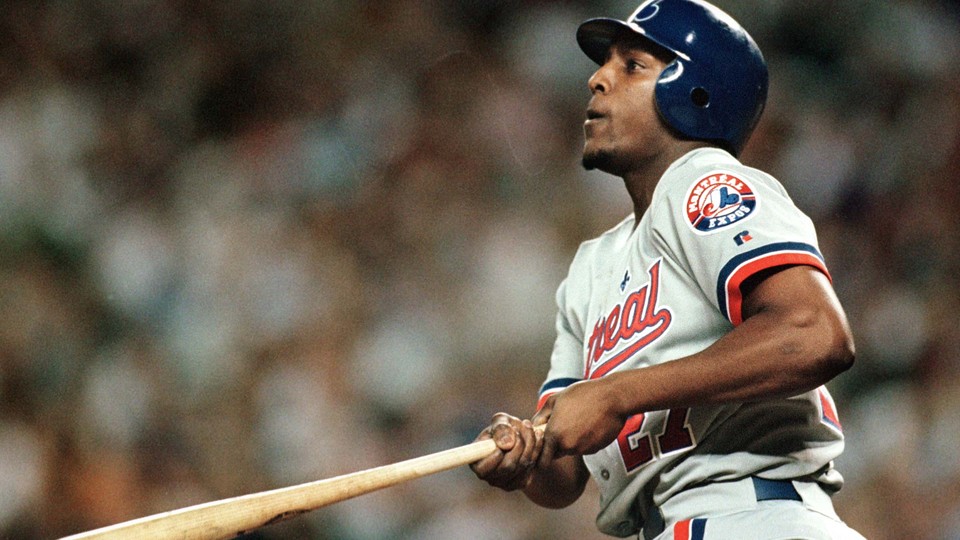 Baseball revels in numbers, and this year's Hall of Fame class—elected by the Baseball Writers Association of America and announced Wednesday evening—boasts plenty of impressive ones. Chipper Jones, the Atlanta Braves' stalwart third baseman and left fielder, hit over .300 from both sides of the plate, tallying 2,726 hits and 468 home runs. Jim Thome, the well-traveled and barn-sized slugger, has more than 600 homers to his credit. Trevor Hoffman, the San Diego Padres' untouchable closer, has the second-most saves in history, at 601.
Rounding out the quartet of inductees, though, is the most incomparable player of the bunch. Vladimir Guerrero put up splendid stats, to be sure—a lifetime .318 batting average and .553 slugging percentage, 449 home runs and 477 doubles, 181 stolen bases and 126 outfield assists. But even those totals don't do justice to the experience of watching him play. Over his 16 seasons, the bulk of it spent in right field for the Montreal Expos and Los Angeles Angels of Anaheim, Guerrero approached his sport in a wholly unrecognizable, and since unmatched, manner. If the other Hall of Fame entrants represented baseball's ability to showcase well-honed, accumulating excellence, then Guerrero stood for its willingness to make room for a true original.
Athletically, Guerrero—"Vlad," "Bad Vlad," or "Vlad the Impaler," in the inevitable shortenings of his name—could do it all. He had the big, round shoulders of a natural slugger, the speed to be a constant threat on the basepaths, the eyesight and coordination to track difficult pitches, the arm to cut down runners from wherever in the outfield's depths he corralled the ball. Had he simply employed these gifts in the conventional way, he would have been one of MLB's best players for much of his career, a "five-tool star" in the classical mold.
Guerrero's defining characteristic, though, was his utter disregard for convention. Since he could hit anything, he reached for everything, offering at pitches as high as his shoulders and as low as his ankles and, often as not, connecting with them. Frantic and violent, his swing, compared with those of his peers, looked like a piece of abstract expressionism in a room of 15th-century portraits. Guerrero's baserunning and defensive adventures had less consistent outcomes; during his peak base-stealing years, he was caught about half as often as he made it, and his throws sometimes sailed over their intended recipients. His successes produced such remarkable highlights, though—lasers from the outfield gap straight to home plate, a pitch hit after it bounced in the dirt—that only the most buttoned-down fan could have asked him to rein in his approach.
Guerrero's backstory was as unlikely as any of his on-field exploits. Growing up in the Dominican Republic, he was unable to attend school past the fifth grade, asked instead to work to alleviate his family's poverty. "My sons could not get the education they wanted," his mother said, "because we had to work so hard just to survive." Dan Le Batard's 2002 profile remains startling in its detail: The future MVP sometimes turned to puddles for drinking water, and he lost a roof to a hurricane. That lack of schooling, combined with the language barrier once Guerrero reached Canada and the United States, is commonly understood as the source of his reticence with the media; he was as tight-lipped away from the field as he was jaw-dropping on it.
His colleagues didn't need any explanations in order to appreciate his talent. "I believe God reached out with a finger and touched him and said, 'You are a baseball player,'" said Guerrero's onetime Expos teammate Rondell White. "He's blessed." "Vladdy had no strike zone," said the Hall of Fame pitcher Pedro Martinez, another former teammate. Mike Scioscia, who managed Guerrero in Anaheim, said he checked every strategic box: "He could run, he could throw, he was about as complete of a player as a person could be."
It is hard to envision how a player like Guerrero, even with his immense skill set, would be received in today's MLB. The talk is of swing paths and launch angles; players scrutinize their at-bats by the millisecond in search of an uptick in efficiency. Guerrero famously didn't even like to watch video of opposing pitchers, preferring to get ready for games by playing Playstation. A good portion of his appeal came from the fact that he so obviously followed no customs but his own, never allowing the standard thinking—about calming his swing or dialing back his daring—to intrude on his singular sense for the game.
There will be players who match and exceed his statistical output—some of his Hall of Fame classmates, by simple counting, had more accomplished careers—but there will almost certainly never be another player quite like Guerrero. He played not only as hard but as much as he could, a blur of action. "Since I was a little boy," he said during his first season with the Angels, "I've been swinging at everything I see that comes near home plate. That's one thing I've never changed."