A 'White Woman's Voice' Interrogates Itself
The experimental pop singer Merrill Garbus of Tune-Yards intensifies her politics and dance grooves for i can feel you creep into my private life.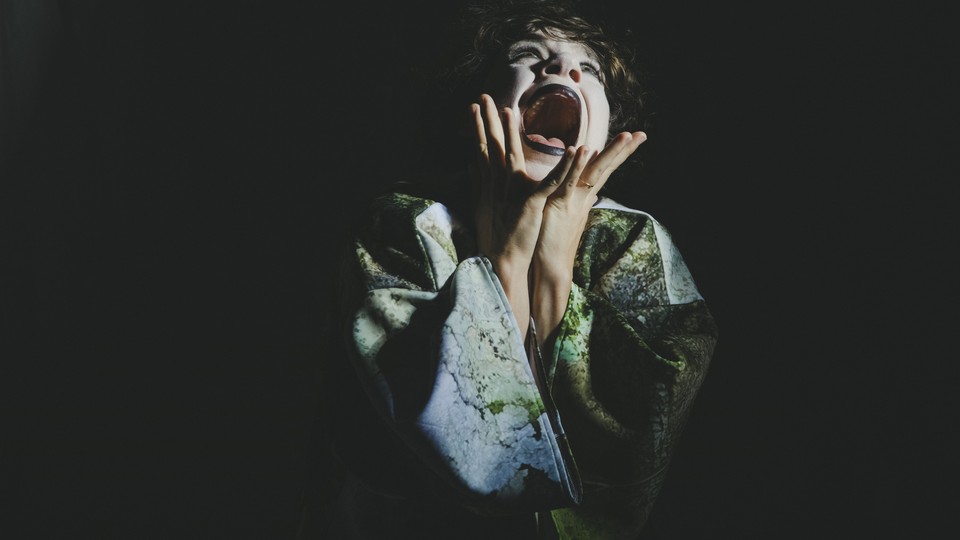 The story of the new album from the Oakland pop experimentalists Tune-Yards is that their singer Merrill Garbus went to work to better the world—by, first, bettering herself. Her letter to journalists reviewing i can feel you creeping into my private life describes the learning process with a series of active verbs:
Trump was elected. I went to a meeting of SURJ (Showing Up for Racial Justice) and several other activist events specifically geared toward white people. I applied and was accepted into a six-month-long workshop on whiteness at East Bay Meditation Center. I read a lot: White Like Me by Tim Wise; What Does It Mean to Be White?: Developing White Racial Literacy by Robin DiAngelo; articles introducing me to the concept of "white fragility" and the characteristics of white supremacy culture. I read Sapiens, which made me think realistically about what to expect from humans. I read The Sixth Extinction. I sat and meditated every morning.  
For fans of Garbus, little will be surprising about her continuing search for enlightenment. Tune-Yards' Whokill, a modern classic that was voted critics' favorite album of 2011, heralded a moment when the highbrow rock establishment began to more intensely reengage with matters of society rather than chase the beautifully cryptic. Toggling between a traffic-stopping wail and radio-jingle coo, Garbus touched on police violence, revolutionary violence, and uncomfortable questions of cultural theft. "What's a girl to do if she'll never be a Rasta?" she asked, neither the first nor last time she'd wonder if she was reckless to borrow from black-derived styles.
It's now clear that Garbus's M.O. is eternal doubt, self-interrogation, and active learning. Her 2014 album, Nikki Nack, came out of the DIY dabbler submitting to formal training in song craft and instrumentation. On the excellent opener "Find a New Way," still, she wrestled with the question of whether she had any right to even make music. When asked about her creative insecurity, she explained,"You can only take so many lessons, you know?"
And yet here she is, having taken even more lessons. In addition to getting schooled in matters of race and the environment, she undertook an education in DJing and dance music to create i can feel you creep into my private life, the first album after Tune-Yards officially expanded to a duo with the bassist Nate Brenner. All twitchy body music and charged lyrics, it offers not a political provocation but rather a voyage into one woman's internal dialectic that has, as the album title indicates, been infiltrated by larger concerns.
The Tune-Yards sound remains disorienting yet playful, an assemblage of drum loops and Afropop instrumental touches skewed and refracted by Garbus's songwriting. Over the course of a verse, she'll relax her voice from harsh yodels into delicate curlicues, or will resample herself for a glitchy effect. She'll whisper, a pot will bang, handclaps will swarm, and somehow the mess will get stuck in your head. What's new on i can feel you creep into my private life is that a heartbeat of techno or disco drifts in and out from the clamor.
Dance music theoretically makes a nice counterpart for the outer-facing introspection Garbus has been engaged in: You get yourself moving, but you don't necessarily go anywhere. But some of the results here play as little more than a high-concept workout tape. Uptempo thumpers like "Honesty" and "Look at Your Hands" could use more interesting mantras than the ones they're built on—though the point is that deep meaning will emerge from simple chants at a certain point. The approach works better on the more dynamic swings at rock-pop, such as "ABC 123," an addled activist pep rally—"No abstentions! Vote!"—that also rewrites the alphabet ("LMNO" now follows "ABC").
The tracks that really stick are the ones that don't wear a false grin as Garbus chews on the injustices of American history and her place as its beneficiary. "Colonizer" is a grim but weirdly beautiful take on house music in which Garbus trills about the many uses of her "white woman's voice" while a low voice murmurs "colonize it." "Now as Then" stages an uneasy one-woman play with Garbus close-talking about privileged myopia: "Oh, the relaxation I feel most everywhere / Except the places I don't go." The best reconciliation of think-piece and pop comes on "Hammer," whose alluring bass and gang-sung refrains frame a poem about "living in a dream while the whole world cries."
For all of Garbus's interest in the "whole world," though, her music remains cloistered. She might do well aesthetically—and serve her mission politically—to lend room in her songs to voices from outside her own skull, not to mention identity group. Still, she's a stylish and ever-surprising monologist. With varying degrees of insight and wince-causing, other white musicians, from The National to Macklemore, have wondered aloud whether racial privilege has enabled them to succeed over others. Garbus was asking such self-indicting questions before many of her peers were, and she's still doing the work—which at the very least should prompt the listener to consider if they're doing their own.