Talking The Post and Lady Bird With Tracy Letts
The actor and playwright discusses working with the directors Greta Gerwig and Steven Spielberg, and being part of two of the most acclaimed films of the year.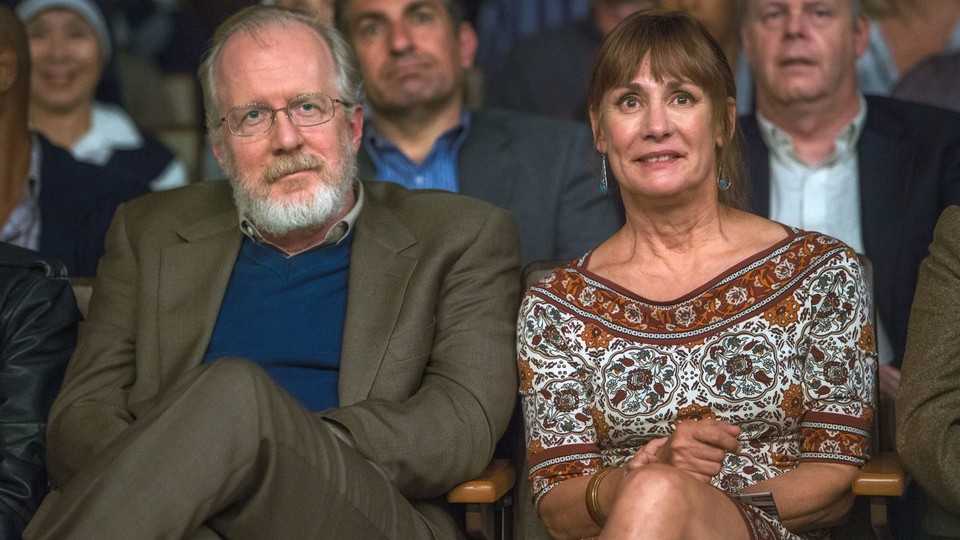 Tracy Letts was a celebrated playwright long before he became one of Hollywood's most in-demand character actors. He won the Pulitzer Prize for Drama for August: Osage County in 2008 and wrote numerous other hits like Bug, Man From Nebraska, and Superior Donuts, many of which premiered at the Steppenwolf Theatre Company in Chicago. But 2017 was a banner year for Letts on the film-acting front, given his notable roles in two major Oscar contenders.
In Greta Gerwig's coming-of-age movie Lady Bird, Letts gives a quiet, affecting performance as the title character's father, Larry McPherson, a computer programmer struggling to find a job in the year 2002. Larry serves as an even-handed conciliator between his tempestuous daughter Lady Bird (Saoirse Ronan) and his equally strong-willed wife Marion (Laurie Metcalf). Letts is also in The Post, Steven Spielberg's account of how the Washington Post publisher Katharine "Kay" Graham (Meryl Streep) and the executive editor Ben Bradlee (Tom Hanks) covered the Pentagon Papers in 1971. Letts plays Fritz Beebe, Graham's trusted adviser, who's a similarly steadying force in the film's most pivotal scene.
The Atlantic talked to Letts by phone about taking part in two of the most acclaimed movies of the year, the different atmospheres on Gerwig and Spielberg's sets, and what it was like to work with his wife Carrie Coon (The Leftovers, Fargo) on screen for the first time in The Post. This interview has been edited for length and clarity.
---
David Sims: When you're looking for projects, is it the script that speaks to you more or the artists you could be collaborating with? I assume, with your stage work and writing, that it takes something more special to pull you onto a movie set.
Tracy Letts: You're right about that. There were certainly times in my life as a younger actor where I would have done anything. Now, I don't have to do that anymore, and I don't have any other method for choosing a project other than the quality of the writing. There are probably other people who'd say, "Well, the script isn't strong, but it's got x, y, and z, and therefore I'm gonna roll the dice." I'm not smart enough to do that. All I know to do is say, "The script is good, and therefore I will participate." So far, that's proven to be the right way to go, for me.
Sims: Lady Bird leads with its script—did [the writer and director] Greta Gerwig reach out to you, or did she write this with you in mind at all?
Letts: She certainly didn't write it with me in mind. Greta and I were in a Todd Solondz movie called Wiener-Dog. We did not actually work together—we were in different vignettes—but I met her at the premiere at Sundance. And my wife and I were talking with her at the party afterwards, and Greta told me later that it was the first time she realized I was not the hard-ass she'd seen me play in film and TV, that I was in fact kind of an old softie. That was the first time she thought, "Oh, he might be great for the dad in my movie." It was not that long afterwards that the script landed on my desk, and it was so great! I couldn't believe what a complete script it was—the movie you see now was very much the movie that was on the page when I first read it. It was not a difficult decision to say yes.
Sims: So is this the first time you being a nice guy in person has won you a part?
Letts: Yeah, and I just think in some ways Larry is closer to the guy I am. I'd much rather be sitting in the next room reading the newspaper. So to be on the set of Lady Bird with Greta and Laurie and Saoirse, and they're not only amazingly talented but also really great people … I'm so happy and content in an environment like that, where I just get to sit and read the newspaper while women are making the decisions. That's the way I think it should be.
Sims: You said the script you read is the movie we're seeing—is it tightly rehearsed? What is Gerwig's process as a director?
Letts: She just knew what she wanted and what she needed. It was as if she'd been doing this for a long time. She was incredibly prepared for her moment. But at the same time, you have to be flexible on a movie set, so you can change something on the fly, and she was very confident about doing that, too. She's just attractive in the true sense of the word, as in she attracts people to her …
Sims: Magnetic?
Letts: Yeah, she has a magnetic quality! People want to be in the same room as her. She fosters a really smart, warm environment.
Sims: Had you worked with Metcalf or Ronan before? Because obviously the McPhersons' family bond is crucial to the story being told. How quickly did you guys establish that chemistry?
Letts: Well Laurie and I are both members of the Steppenwolf Theatre Company; I've known her for 30 years. I've seen her on stage a hundred times, she's seen me a hundred times. Weirdly, we had never worked together! But we have a shared understanding about how the work should be done, and Laurie and I just fell into husband and wife straight away. Saoirse I was more concerned about because I didn't know her at all and we didn't get any rehearsal, but we just clicked from the first time we met. I don't really believe chemistry is just an accident, but Saoirse and I recognized what the movie needed and what the relationship between father and daughter was, and we had a good old time.
Sims: Was it a movie that, when you were making it, you recognized was a special project? Because when I saw it for the fist time at the Toronto International Film Festival, I think it had an element of surprise.
Letts: No, you just can't predict how people are going to respond to stuff. You always go into [a project] with the understanding, "I think this is really good! I hope other people think so, too!" I will say, because the script was so strong, there was a bit of a sense of a safety net. [You're thinking,] "I can only fuck this up so bad."
Sims: Your character in Lady Bird is telling this story of the early 2000s and the dot-com crash. Did you think about that period of time? It's impressive what a historical document this film is considering that it's mostly about a young woman in high school.
Letts: Very clever, that Greta Gerwig. It's just little extra seasoning, that she has this overview of the middle class during that time. It was very recognizable to me; my parents were both Okie school teachers. I remember very well what it was like to have a family that had to be very conscious about money, the way most people do. It's not what the movie is about necessarily, but it is an essential ingredient.
Sims: Moving on to The Post—that film came together almost impossibly quickly.
Letts: There was a sense of urgency in the way it came together, but once we were on set, it's not like people were running around and tripping over cables. We were in the rhythm of making a movie.
Sims: Did Spielberg suggest you read Kay Graham's memoir or anything like that to play the part of Beebe?
Letts: Yeah, I didn't have the time for all that kind of stuff. For me, it's like, the dramaturgy is on the page. What it became about for me was, my character loves this woman [Graham], and he's going to try and support her. That was the goal for me. [The producers] sent me all this research material, Kay Graham's autobiography, and several other books. And I'm a very slow reader, so I thought, "Well, she's the chairwoman of The Washington Post, I'll start this Washington Post book." And I think I got up to Teddy Roosevelt in the history of the Post, and then I had to go to work!
Sims: The concept of your character is clear very quickly—you're this bedrock for Graham. In the early scenes, you're advising her on the boardroom stuff, but the movie's crucial twist hinges on you a little bit, in terms of your character knowing when to cede any authority.
Letts: Well, a couple of remarkable things about the real history: Those dates did line up, and the Post's public offering was happening at the exact time [that they published the Pentagon Papers]. It's not only freaky, but it's also good for drama. And it's also true that Graham's closest advisers were Beebe and Bradlee, and Beebe advised her not to publish. And, thank goodness for her and for all of us, she decided not to take that advice. One of the things Beebe was good at was recognizing that it was Graham's decision to make. He was not going to argue a position; he was simply going to offer his advice and then help her pursue whatever decision she made. I think that's an important moment because ultimately The Post is the story of a woman who has to make a political decision, and uses principles to guide that decision.
Sims: Was the topical import of the film in the foreground on the set?
Letts: You don't do yourself any favors by getting distracted from the story you set out to tell. And the story we set out to tell was about Kay Graham and the Pentagon Papers in 1971. So we were focused on that. Having said that, I've been in a lot of rehearsal rooms and on sets over the last couple of years, and I don't know any situation where people aren't talking about the world and the country every day, at almost every opportunity.
Sims: Had you worked with Meryl Streep before? I know you adapted August: Osage Country [which she starred in] for the screen, but were you part of the filming process?
Letts: I knew her from August, but I was not on set when they made August, because I was doing Who's Afraid of Virginia Woolf ? [on Broadway] at the time. She's a lovely person, she's funny, she's down to earth. She knows exactly what she's doing, obviously, but she's so engaged in the process in a recognizable way. There's nothing mysterious about what she's doing. She just works hard.
Sims: Right, she's not some frightening sorceress of acting; she's just a pro.
Letts: A real pro.
Sims: This seems like a movie that was made by pros, starring pros.
Letts: We were really lucky that Steven, Tom, Meryl, they're all really nice. They can sit and chat about their meals, or the weather, or sports. They all have senses of humor. I will say that everybody was very nervous—I think, given the stakes, or the challenges of some of the material. The material wasn't always easy, and Steven Spielberg behind the camera makes people nervous. People would be in the makeup trailer, getting ready to go to work, and they'd be saying, "Are you nervous?" "Yeah, I'm nervous, are you nervous?" "Yeah, I'm nervous!"
Sims: Is it a feeling of not wanting to screw it up?
Letts: I don't want to be the one who screws this up, yes. I will tell you, there was one person on the set who was not nervous. And that's my wife [Carrie Coon, who plays the journalist Meg Greenfield]. I don't know why; because she has ice water in her veins, I guess. She was the one person who did not seem affected by nerves. It's a little scary, and frankly, it pisses me off.
Sims: Have you been in a film with your wife before? She's wonderful in The Post.
Letts: No, never! She'd go out and do a scene, and screw something up, and she'd just laugh and say, "Oh, I screwed it up!" And do it again. We were all so jealous of her ability to do that.