Three Billboards and Lady Bird Win the Golden Globes on a Charged Night
Plus, a speech from Oprah Winfrey set the tone for a ceremony that grappled with sexual abuse and misogyny in Hollywood.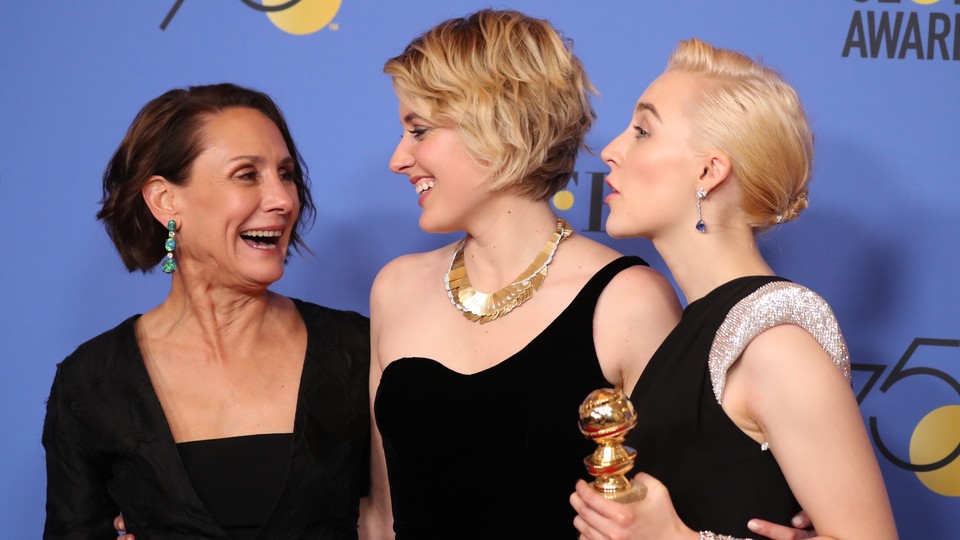 Three Billboards Outside Ebbing, Missouri emerged as a surprising Oscar frontrunner after winning four Golden Globes—Best Picture: Drama, Actress: Drama, Supporting Actor, and Screenplay—at a charged ceremony dominated by discussion of Hollywood's power imbalances and the #MeToo movement. Though films like Lady Bird and The Shape of Water also won big, and shows like Big Little Lies, The Handmaid's Tale, and The Marvelous Mrs. Maisel did well in the TV categories, the ceremony's most memorable moment came in an honorary award for Oprah Winfrey, who spoke out on the industry's issues with misogyny, sexual abuse, and the ongoing lack of diversity in Hollywood's corridors of power.
The Globes, presented by the Hollywood Foreign Press Association, are usually a somewhat raucous affair that serves as a dry run for the Oscars, offering some insights into what films might take off for the rest of awards season. But this ceremony had more weight to it than usual because it was the first major industry event after months of stories about sexual misconduct and harassment, and the felling of powerful industry figures like Harvey Weinstein and Kevin Spacey.
Frances McDormand, named Best Actress in a Motion Picture: Drama for her performance as the caustic Mildred in Martin McDonagh's Three Billboards, put it succinctly in her acceptance speech: "It was really great to be in this room tonight, and to be part of a tectonic shift in our industry's power structure," she said. "Trust me, the women in this room tonight are not here for the food. We are here for the work. Thank you." Three Billboards has been polarizing with critics, but its message of an uncompromising woman on the warpath to avenge her daughter's murder clearly resonated with Globes voters.
The other big film winner of the night was Lady Bird, Greta Gerwig's coming-of-age comedy set in early-2000s Sacramento, which won Best Motion Picture: Comedy or Musical and Best Actress in a Motion Picture: Comedy or Musical for Saoirse Ronan. Worlds apart from Three Billboards in tone, it is another female-led film that could make waves at the Oscars in March, and it's also one of the only frontrunners directed by a woman—a fact underscored by the presenter Natalie Portman, who pointed out all five Best Director nominees were men. Barbra Streisand, presenting Best Motion Picture: Drama, also noted that she remains the only female winner of that prize at the Globes.
In accepting the Cecil B. DeMille Award, Winfrey reminisced on how, as a young girl, she watched Sidney Poitier collect the Oscar for Best Actor, becoming the first black man to do so—and eventually going on to win the DeMille Award, too. Winfrey marveled at the fact that she was the first black woman to receive the prize from the Hollywood Foreign Press. "In my career, what I've always tried my best to do, whether on television or through film, is to say something about how men and women really behave," she said. "To say how we experience shame, how we love and how we rage, how we fail, how we retreat, persevere, and how we overcome." She continued:
I want all the girls watching here and now to know that a new day is on the horizon! And when that new day finally dawns, it will be because of a lot of magnificent women, many of whom are right here in this room tonight, and some pretty phenomenal men, fighting hard to make sure that they become the leaders who take us to the time when nobody ever has to say "me too" again.
Winfrey's speech (the full transcript of which you can read here) brought the house down at the Beverly Hilton, whose audience also rose to its feet to honor Streisand. Many of the night's female winners mentioned the #MeToo movement and the ongoing conversations around misogyny and abuse in Hollywood. Some male winners did as well, though usually more obliquely. The host Seth Meyers was far less interested in sidestepping the subject, devoting almost all of his monologue to it (and largely avoiding easy jabs at his usual punching bag on Late Night, President Trump).
The television winners, as is typical for the Globes, were mostly new, buzzy shows. Hulu's The Handmaid's Tale won Best Drama and Best Actress in a Drama for Elisabeth Moss, while This Is Us's Sterling K. Brown became the first African American to win Best Actor in a Drama. Amazon's The Marvelous Mrs. Maisel won Best Comedy and Best Actress in a Comedy for Rachel Brosnahan, while Aziz Ansari won Best Actor in a Comedy for Master of None. HBO's Big Little Lies, already an Emmy favorite, swept in the TV Movie/Limited Series category, with trophies for Nicole Kidman, Laura Dern, and Alexander Skarsgard.
The Oscar race, which has been wide open for several months, hardly feels settled, though Three Billboards will certainly be at the center of the discussion in the weeks to come. Most surprising, perhaps, was the lack of attention paid to traditional prestige movies like Steven Spielberg's The Post and Christopher Nolan's Dunkirk, but it's only mid-January, and there's still many weeks to go before the race truly shakes out.
The full list of winners:
Best Picture - Drama: Three Billboards Outside Ebbing, Missouri
Best Actor - Drama: Gary Oldman, Darkest Hour
Best Actress - Drama: Frances McDormand, Three Billboards Outside Ebbing, Missouri
Best Picture - Comedy or Musical: Lady Bird
Best Actor - Comedy or Musical: James Franco, The Disaster Artist
Best Actress - Comedy or Musical: Saoirse Ronan, Lady Bird
Best Supporting Actor: Sam Rockwell, Three Billboards Outside Ebbing, Missouri
Best Supporting Actress: Allison Janney, I, Tonya
Best Director: Guillermo del Toro, The Shape of Water
Best Screenplay: Martin McDonagh, Three Billboards Outside Ebbing, Missouri
Best Original Score: Alexandre Desplat, The Shape of Water
Best Original Song: "This Is Me," The Greatest Showman
Best Animated Film: Coco
Best Foreign Language Film: In the Fade
Best Drama Series: The Handmaid's Tale
Best Actor, TV Drama: Sterling K. Brown, This Is Us
Best Actress, TV Drama: Elisabeth Moss, The Handmaid's Tale
Best Comedy Series: The Marvelous Mrs. Maisel
Best Actor, TV Comedy: Aziz Ansari, Master of None
Best Actress, TV Comedy: Rachel Brosnahan, The Marvelous Mrs. Maisel
Best Limited Series/TV Movie: Big Little Lies
Best Actor, Limited Series/TV Movie: Ewan McGregor, Fargo
Best Actress, Limited Series/TV Movie: Nicole Kidman, Big Little Lies
Best Supporting Actor: Alexander Skarsgard, Big Little Lies
Best Supporting Actress: Laura Dern, Big Little Lies