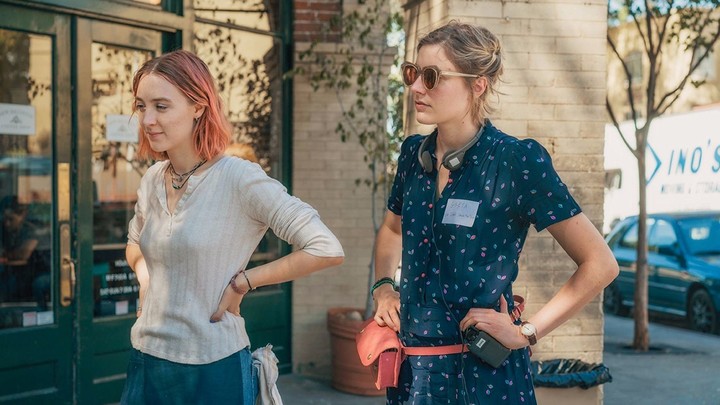 After every Oscar-nomination morning, pundits scour the list for important milestones and bit of trivia. Sometimes the landmarks or patterns are obvious, like the slate of all-white acting nominees in 2015 and 2016 that drove the #OscarsSoWhite protest and a serious effort to reform the Academy's voter body. Among this year's honorees, though, a more unusual (and encouraging) statistic emerged: This is the first time in 90 years that all five Best Director nominees also wrote their movies.
In general, 2017 was a triumphant time for filmmakers, with many of the gaudy awards campaigns focused more on the people behind the camera rather than on the stars in front of it. Greta Gerwig was, in many ways, the star of the fizzy coming-of-age film Lady Bird despite not appearing in a single frame. The same went for Jordan Peele and his dark horror satire Get Out, and certainly for Christopher Nolan and the bombastic epic Dunkirk. The other directing nominees were Guillermo del Toro for The Shape of Water and Paul Thomas Anderson for Phantom Thread, two of the most highly regarded auteurs in recent Hollywood history.
It was Anderson's nomination, the least predicted of the five, that led to this surprising data point; he likely beat out Steven Spielberg, who did not write The Post (he usually leaves the scripting duties to practiced Hollywood hands). In the past, the Oscars have come close to an "all-auteur" bloc of directors, but only a few times have even four of the nominees also written their own movies. Of the nine nominated Best Pictures, three were not from writer-directors: Call Me By Your Name, The Post and Darkest Hour, the latter two being the most "old-fashioned" choices from the Academy.
The Post best reflects the ingredients that used to go into making a solid Oscar contender. Big, respected movie stars (Tom Hanks and Meryl Streep), an established director, a period setting, and a true-story plot. In two weeks of wide release, The Post has already made more money than all but two of this year's Best Picture nominees—the norm for an Oscar film used to be serious box-office success. But it only picked up two nods—Best Picture and Best Actress—fewer than any other Best Picture nominee, and has little shot at winning either.
Instead of favoring living legends like Spielberg, the Oscars highlighted newer voices. Peele had never made a movie before; Gerwig had only co-directed a micro-budgeted feature. Of the five nominees, only Anderson had even been nominated in the directing category before (for There Will Be Blood). That it took del Toro and Nolan this long to break through here is indicative of just how much the Academy has changed in recent years, as they've adjusted their membership rolls to try and shift with the times.
It's not just a matter of celebrating a more diverse array of creators, although the membership initiative came in response to the backlash over #OscarsSoWhite. It's also about looking beyond more conventional fare and appreciating the artistry of films not necessarily seen as "prestige" projects. Get Out is a horror movie about a young man being tormented by an evil brain surgeon and his hypnotist wife. In The Shape of Water, the protagonist enters a sexual relationship with an amphibious monster. Call Me by Your Name could have been dismissed as too steamy, Phantom Thread as too arty, and Lady Bird as too teenaged to attract a slew of Oscar nominations in the past, but instead all were well-represented.
Even Three Billboards Outside Ebbing, Missouri, which has picked up some of the most important precursor awards and could be seen as a mild Best Picture favorite, is an author-driven work from the acclaimed playwright Martin McDonagh (though its Southern Gothic–tinged tale of murder and revenge is more in the traditional Oscar wheelhouse). But straightforward prestige films like Victoria & Abdul, Battle of the Sexes, Stronger, Detroit, and Hostiles, many of them based on true stories, failed to make it into the major categories, even as they attracted largely positive reviews.
This shift in Oscar recognition makes sense. It's very difficult for an awards film to break into the top 10 earners of any given year, since the market is so crowded with franchise movies and sequels aiming for a worldwide audience. The highest grossing Best Picture nominee, Dunkirk, was the 14th biggest film of 2017; compare that to 20 years ago, when three of the five Best Picture nominees were in the top 10. As the Academy voting body gets younger and more diverse, it seems to care less about broad appeal and more about rewarding the industry's most unique artists. The breadth of experiences on display in this year's nominees is heartening, and that's because of the creators who found a way to breathe life into the stories they most wanted to tell.
We want to hear what you think about this article. Submit a letter to the editor or write to letters@theatlantic.com.
David Sims
is a staff writer at
The Atlantic
, where he covers culture.