The 2018 Oscar Nominations Are In
The Shape of Water, Get Out, and Three Billboards Outside Ebbing, Missouri dominated, but there were other surprises as well.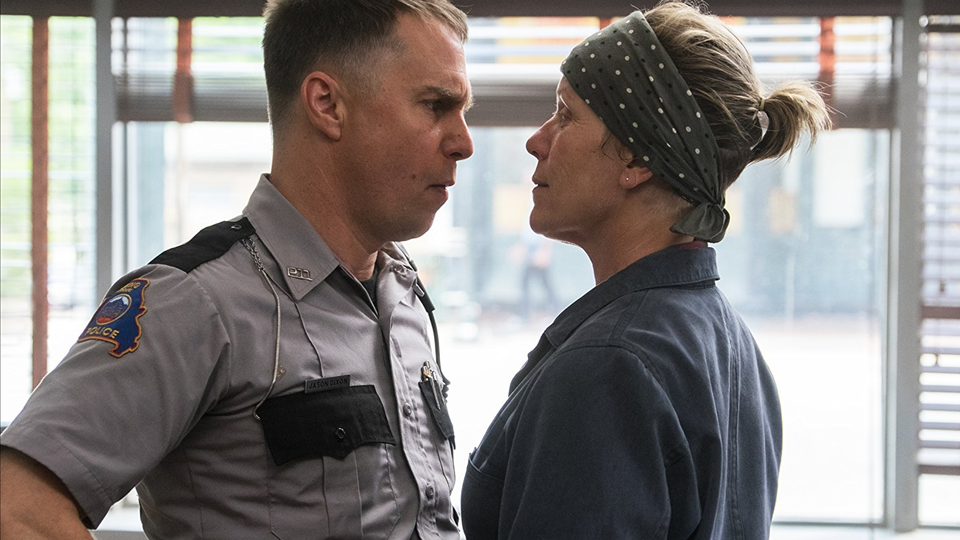 The nominations for the 90th Academy Awards, announced Tuesday, rewarded a robust group of Best Picture contenders, including The Shape of Water, Dunkirk, Lady Bird, Get Out, Phantom Thread, and Three Billboards Outside Ebbing, Missouri. Notably competing in the top category are genres often snubbed by the Oscars, such as horror and teen coming-of-age comedies. In a politically charged year for the country, the film industry's biggest awards body gravitated toward movies with defined points of view, told by established artists (Guillermo del Toro, Christopher Nolan) and newer directors (Greta Gerwig, Jordan Peele) with a strong presence behind the camera.
The Shape of Water (with 13 nominations) and Three Billboards Outside Ebbing, Missouri (with seven nominations) are the nominal frontrunners in the Best Picture field. But this remains a relatively wide-open Oscar race with strong pockets of support for almost every nominee. As nearly all of the "precursor" awards (such as the Golden Globes, the Critics' Choice Awards, and most of the guild awards) have already happened, the next few weeks will be defined by internal campaigning, which could concentrate backlash on a more polarizing contender like Three Billboards (which has drawn controversy for its muddled portrayal of police brutality).
As with any Oscar year, there were some exciting milestones: Rachel Morrison is the first woman ever nominated for Best Cinematography for her work on Mudbound. Greta Gerwig is only the fifth woman nominated for Best Directing, and the first since Kathryn Bigelow's win for The Hurt Locker in 2010. Jordan Peele is the fifth African American nominated in that category, and only the third person to have Best Picture, Writing, and Directing nominations for his feature film debut (the others being Warren Beatty and James L. Brooks). Agnes Varda, a pioneering woman behind the camera who first made her mark during the French New Wave, got her first competitive Oscar nomination at the age of 89 for her documentary Faces Places (she also received an honorary Academy Award in November). And Logan became the first comic-book movie to get a writing nomination (for Adapted Screenplay).
The most surprising snubs included James Franco, who was seen as a frontrunner for his film The Disaster Artist (which did snag an Adapted Screenplay nomination); he may have been ignored because of sexual-assault allegations reported in the Los Angeles Times as nomination ballots were being filled out. Steven Spielberg's The Post, which in years past would have been a major contender, only got nominated for Best Picture and Best Actress (Meryl Streep), perfunctory nods to a long-time Oscar favorite. Martin McDonagh, who received a writing nomination for Three Billboards, was left out of Best Director in favor of Paul Thomas Anderson for Phantom Thread, indicating that the film did not have quite the groundswell of support in every nomination branch that usually accompanies the frontrunner.
Still, Three Billboards did get two Best Supporting Actor nominations (for Sam Rockwell and Woody Harrelson), shutting out the two favorites from Call Me by Your Name (Armie Hammer and Michael Stuhlbarg). The late surge of support for Phantom Thread, which got six nominations (including Best Actor and Best Supporting Actress), was a surprise after it was largely ignored by precursors. Fringe favorites like I, Tonya and The Florida Project did not break through in Best Picture, Director, or Screenplay, picking up only acting nods (and, in I, Tonya's case, an editing nomination). Darkest Hour, a biopic of Winston Churchill, got plenty of support too, sneaking into the Best Picture field (Gary Oldman is favored to win Best Actor for the film).
The big frontrunners for the next month of campaigning are five films, all with something to recommend them. Three Billboards has resonated with voters as a tale of a woman in dogged pursuit of justice, with the lead actress Frances McDormand a favorite in that category. Get Out, a trenchant social satire and thrilling horror movie, won critical praise and was a box-office sensation all the way back in February and is arguably the most talked-about film of 2017. Lady Bird, a tale of a young woman growing up in Sacramento, is critically adored and has become an indie hit this winter. The Shape of Water is a warm-hearted artistic achievement by del Toro, who has transmuted his love of monster movies into a stirring, sometimes shocking period drama. And Dunkirk is hard to ignore as a celebration of the power of cinema, an overwhelming theatrical experience about war by one of the medium's best craftsmen, Nolan.
The final stretch of the campaign begins now, and should be as grueling as ever. The Academy Awards will be held on March 4 at 8 p.m., broadcast live on ABC and hosted by Jimmy Kimmel. The full list of nominations is below:
Best Picture
Call Me by Your Name (Sony Pictures Classics)
Darkest Hour (Focus Features)
Dunkirk (Warner Bros.)
Get Out (Universal)
Lady Bird (A24)
Phantom Thread (Focus Features)
The Post (20th Century Fox)
The Shape of Water (Fox Searchlight)
Three Billboards Outside Ebbing, Missouri (Fox Searchlight)
Best Director
Paul Thomas Anderson, Phantom Thread
Guillermo del Toro, The Shape of Water
Greta Gerwig, Lady Bird
Christopher Nolan, Dunkirk
Jordan Peele, Get Out
Best Actor
Timothée Chalamet, Call Me by Your Name
Daniel Day-Lewis, Phantom Thread
Daniel Kaluuya, Get Out
Gary Oldman, Darkest Hour
Denzel Washington, Roman J. Israel, Esq.
Best Actress
Sally Hawkins, The Shape of Water
Frances McDormand, Three Billboards Outside Ebbing, Missouri
Margot Robbie, I, Tonya
Saoirse Ronan, Lady Bird
Meryl Streep, The Post
Best Supporting Actor
Willem Dafoe, The Florida Project
Woody Harrelson, Three Billboards Outside Ebbing, Missouri
Richard Jenkins, The Shape of Water
Christopher Plummer, All the Money in the World
Sam Rockwell, Three Billboards Outside Ebbing, Missouri
Best Supporting Actress
Mary J. Blige, Mudbound
Allison Janney, I, Tonya
Lesley Manville, Phantom Thread
Laurie Metcalf, Lady Bird
Octavia Spencer, The Shape of Water
Best Original Screenplay
Guillermo del Toro, Vanessa Taylor, The Shape of Water
Greta Gerwig, Lady Bird
Emily V. Gordon, Kumail Nanjiani, The Big Sick
Martin McDonagh, Three Billboards Outside Ebbing, Missouri
Jordan Peele, Get Out
Best Adapted Screenplay
Scott Frank, Michael Green, James Mangold, Logan
James Ivory, Call Me by Your Name
Scott Neustadter, Michael H. Weber, The Disaster Artist
Dee Rees, Virgil Williams, Mudbound
Aaron Sorkin, Molly's Game
Best Animated Film
The Boss Baby
The Breadwinner
Coco
Ferdinand
Loving Vincent
Best Foreign Language Film
A Fantastic Woman, Chile
The Insult, Lebanon
Loveless, Russia
On Body and Soul, Hungary
The Square, Sweden
Best Documentary Film
Abacus: Small Enough to Jail
Faces Places
Icarus
Last Men in Aleppo
Strong Island
Best Original Score
Dunkirk
Phantom Thread
The Shape of Water
Star Wars: The Last Jedi
Three Billboards Outside Ebbing, Missouri
Best Original Song
"Mighty River," Mudbound
"Mystery of Love," Call Me By Your Name
"Remember Me," Coco
"Stand Up for Something," Marshall
"This Is Me," The Greatest Showman
Best Cinematography
Blade Runner 2049
Darkest Hour
Dunkirk
Mudbound
The Shape of Water
Best Editing
Baby Driver
Dunkirk
I, Tonya
The Shape of Water
Three Billboards Outside Ebbing, Missouri
Best Production Design
Beauty and the Beast
Blade Runner 2049
Darkest Hour
Dunkirk
The Shape of Water
Best Costume Design
Beauty and the Beast
Darkest Hour
Phantom Thread
The Shape of Water
Victoria & Abdul
Best Sound Editing
Baby Driver
Blade Runner 2049
Dunkirk
The Shape of Water
Star Wars: The Last Jedi
Best Sound Mixing
Baby Driver
Blade Runner 2049
Dunkirk
The Shape of Water
Star Wars: The Last Jedi
Best Visual Effects
Blade Runner 2049
Guardians of the Galaxy Vol. 2
Kong: Skull Island
Star Wars: The Last Jedi
War for the Planet of the Apes
Best Makeup and Hairstyling
Darkest Hour
Victoria & Abdul
Wonder
Best Animated Short
Dear Basketball
Garden Party
Lou
Negative Space
Revolting Rhymes
Best Live-Action Short
DeKalb Elementary
The Eleven O'Clock
My Nephew Emmett
The Silent Child
Watu Wote
Best Documentary Short
Edith + Eddie
Heaven Is a Traffic Jam on the 405
Heroin(e)
Knife Skills
Traffic Stop