Remembering the Normcore David Bowie
HBO's The Last Five Years examines how the star unraveled—and recemented—his own legend in his final phase.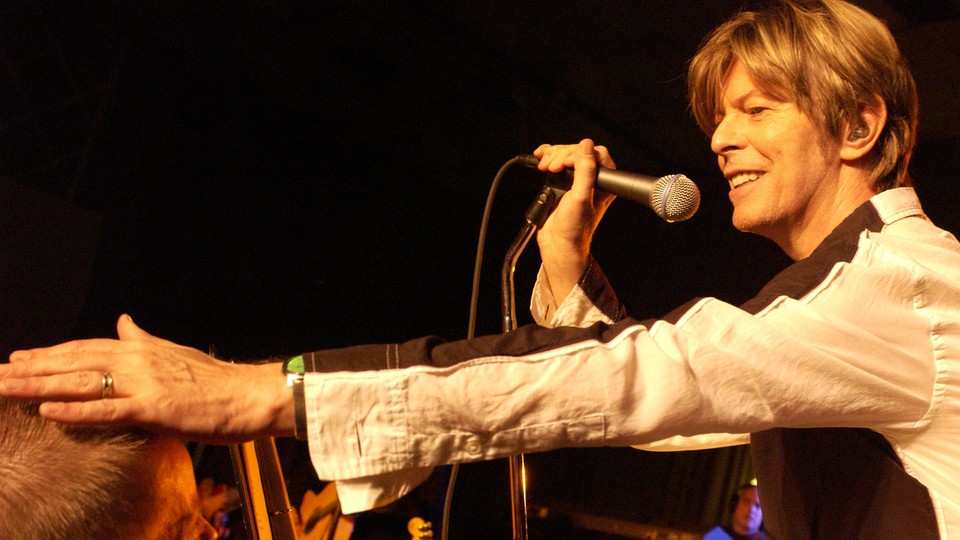 It's a tribute to David Bowie's mystique that the most striking footage of David Bowie: The Last Five Years is of him on stage in a hooded sweatshirt and jeans. Taken from a 2004 stop in Germany on the aptly named Reality Tour, this was, in fact, the image Bowie left the world with: He collapsed after the show, and would never play a full set again. Yet the visuals to be popularly enshrined after Bowie's death in 2016 were of the more fantastical sort. Aladdin Sane and his lightning bolt became the memorial. Normcore Bowie didn't.
But normcore Bowie is all over The Last Five Years, a BBC production that HBO is airing Jan. 8 (Bowie's 71st birthday, two days before the two-year anniversary of his death). The director Francis Whately's previous work, Five Years, was about Bowie's iconically fabulous '70s and '80s; this one is largely about 2011 to 2016, a period when Bowie recorded two albums and created one musical. The film argues that Bowie used those efforts to deconstruct and rebuke his own legend—which had the clever effect of reinforcing it.
Whately's methods themselves are jarringly workmanlike. He splices together insights from the rocker's associates and voiceover drawn from archival Bowie interviews, and bookends each section of the film with Bowie quotes written out onscreen. It's a small thing, but the typography used here—even if inspired by the singer's own work—is unfashionably garish for its application in the film. Some of the creative choices, such as when a music video is projected onto the window of Bowie's recording booth as the raw audio from the track plays, are straightforwardly hokey. Bowie, a man of taste and a knack for the not-obvious, might have asked for a more stylish presentation.
But as the documentary goes on, the unfussy approach comes to feel appropriate. Bowie gave no interviews in his final years, and we see no footage of his recording sessions. Instead, his collaborators—including rock players for The Next Day, a jazz ensemble for Blackstar, the producer Tony Visconti for both—rehearse their compositions anew on camera amid testimonials. We hear about Bowie handing out nondisclosure agreements, giving drumming instructions, and keeping shorter hours than he did at his peak (presumably due to his health problems). What emerges is an oddly endearing notion: Bowie as manager, Bowie as bandleader, Bowie as clock puncher—though enigmatic in all cases. "If you got a smile, you'd gone in the right direction," the guitarist Gerry Leonard says of Bowie's recording-session directing.
Bowie's own work often fantasized about a return to the humdrum. As detailed in the movie, his 2013 single "The Stars (Are Out Tonight)" picked up the thematic thread from "Fame" with a video in which Bowie and Tilda Swinton play anonymous grocery shoppers being stalked by jealous rock stars. It, as well as interviews with his associates, suggest that the singer might have stayed out of the spotlight after 2004 as much because of weariness with that spotlight as because of illness. "Once he experienced the fame, and all that comes with that, I think he was done with it," the pianist Mike Garson says. "And I think he realized he made a deal with the devil, and he'd need the rest of his life to try and undo that."
Bowie also spent his later years resorting his own legacy. The recorded-in-secret 2013 album The Next Day featured scrappy, garage-rocking songs that often made nostalgia their explicit subject matter. One remarkable sequence in the documentary has the album's cover designer remembering Bowie encouraging him to deface the musician's ultra-famous iconography. Similarly, the 2015 theatrical production Lazarus, for which Bowie composed the music and lyrics, poignantly revisited the character he played in the 1976 film The Man Who Fell to Earth. Writing a musical, we're told, was a "bucket list" item for Bowie, and he took as active a role behind the scenes as he could. The actor Michael C. Hall recounts being surprised and moved to see Bowie show up on opening night, just over a month before his death.
It's Bowie's final work, the masterful jazz opus Blackstar—released on his 69th birthday and just two days before his death—that fans may be most eager to have unpacked by Whately. The director doesn't deliver definitive answers about the cryptic lyrics that many have read as a farewell note. But those around Bowie were struck by the uncanniness of the circumstances. "A long time, Major Tom's been trying to find peace and rest, and he found it in 'Blackstar,'" says the multi-instrumentalist Mark Plati, referring to the skeletal spaceman in that song's clip. The video's director, Johan Renck, reports that early in the process, Bowie spoke of his impending death, but it ended up having no effect on the work. Even the music video for Blackstar's "Lazarus," which had Bowie singing from a hospital bed, supposedly came out of Renck's interpretation of the song's title, not as a direct comment on Bowie's life.
The Last Five Years nobly focuses on Bowie's work rather than on his personal biography, but Bowie was so effective at marrying persona and art that you leave with a sense that you have glimpsed something more. Toward the end, Tony Visconti shares a raw vocal take Bowie gave while recording "Lazarus." You can hear him breathing and shuddering between the words he belted. It's the star without the costume of stardom, and all the more dazzling for it.