The End of the F***ing World Is Pitch-Black Perfection
The new eight-part Netflix series is about a heartwarming love affair between a budding psychopath and a sulky teenager.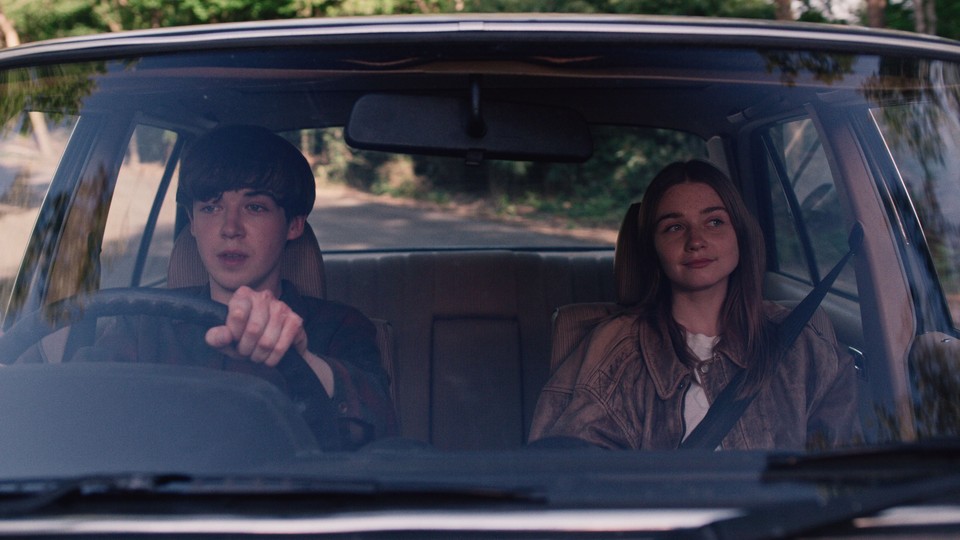 "I feel, I dunno, I feel comfortable with him," is how 17-year-old Alyssa (Jessica Barden) describes her burgeoning relationship with James (Alex Lawther), another teenage misfit whom she met at school, in the first episode of The End of the F***ing World. "I feel sort of safe." Unbeknownst to Alyssa, while she's pondering her feelings, James is ferociously sharpening a hunting knife with a gleam in his eye, plotting how to kill her.
The concept of The End of the F***ing World—a heartwarming, quirky romance between a budding psychopath and a truculent, wounded teenager—feels a bit like a Wes Anderson screenplay that's been rejected for being too dark. But the eight-part series, which arrives in a semi-surprise drop on Netflix Friday after debuting on the U.K.'s Channel 4, is a surprising tour de force, mashing up the pitch-black humor of British alternative comedies with the visual punch of an auteur-driven indie film. It's also mercifully short. Individual episodes top out at around 20 minutes, making the series eminently bingeable, and giving it a taut, concise structure that more new shows could stand to mimic.
The series was reportedly born when its director, Jonathan Entwistle, glimpsed a scrap of discarded paper outside a comic-book store in London, which turned out to be a page from Charles Forsman's comic series The End of the Fucking World. That publication was about a 17-year-old self-diagnosed psychopath and a lonely outcast who run away together. In the Netflix adaptation, James is played by Lawther, best-known for his role in the similarly dark Black Mirror episode "Shut Up and Dance." After the loss of his mother, James—raised by a well-meaning but inept father—becomes morbidly fixated with death. Flashback scenes show him killing animals and thrusting his hand into a deep-fat fryer. "I wanted to make myself feel something," he says.
In the first few episodes, Lawther plays James as almost comically disturbed, barely blinking, and staring fixedly in the distance when Alyssa, after their first meeting, tries to kiss him. His inner monologue, heard in voiceover, is mostly to-the-point ("Alyssa was new. She'd started that term. I thought she could be interesting to kill"). Barden's Alyssa is more complex: She rampages through situations, shooting her mouth off at every opportunity and alienating everyone she meets, but her inward thoughts convey how secretly vulnerable she is. "I'm going whether you come with me or not," she tells James when she announces her plan to run away, before immediately thinking, "Please say yes." Her mother has remarried a predatory bully who encourages Alyssa to run away, telling her they'd all be better off without her.
Entwistle imbues The End of the F***ing World with an ambiguously retro vibe, and one that's geographically indistinct. The series is set in England, in an unspecified town outside London, but the film has a notably American aesthetic, which the script winks at ("If this were a film," Alyssa says at one point, "we'd probably be American"). On their journey, James and Alyssa drive through wooded landscapes and vast open roads, emulating classic heist films like Natural Born Killers. They break into a house that's a masterpiece in mid-century modern design, in the middle of nowhere. When they decide to change their appearances, Alyssa raids a thrift store and finds a baby-doll dress for herself and a Hawaiian shirt for James, adding to the offbeat visual overtones, and both teenagers have smashed their cellphones, which amps up the analog feel of the show. The accompanying music, which includes original songs written by Blur's Graham Coxon, adds emotional texture and a kind of wistfulness to the story.
What carries the series, though, is the connection between James and Alyssa. Their escapades as they seek out Alyssa's real father are unfailingly madcap and sometimes sinister, but it becomes increasingly clear how young they both are, and how endearingly useless. ("I'm trying to think what adults do in a situation like this," Alyssa says after they break into a house. "Shall we go downstairs and have a glass of wine?") Still, they forge a genuine emotional bond that's only slightly undermined in early episodes by James's thoughts about murder, and Alyssa's observations that sometimes James seems like he's "a bit dead." And Charlie Covell's script conveys that the two aren't the only ones who are a little bit off—the world around them is just as frightening, absurd, but weirdly charming (without spoiling too much, the people they encounter on their travels exhibit the full spectrum of human foibles).
The supporting cast includes Gemma Whelan (Game of Thrones's Yara Greyjoy) as a detective investigating the pair, and Jonathan Aris (Sherlock) as an oddball professor whose home they ransack. But Barden's winning, layered performance, and Lawther's slightly terrifying encapsulation of all of James's various wounds, make The End of the F***ing World an unexpected treasure. It's like very little else on television at the moment: In under three hours, it creates a world that's aesthetically distinctive, highly stylized, and fully formed, telling a love story that you wish would go on, even though it probably shouldn't.