The Astonishing Success of The Greatest Showman
After a rocky start in theaters, the Hugh Jackman–starring circus musical has become a massive word-of-mouth hit.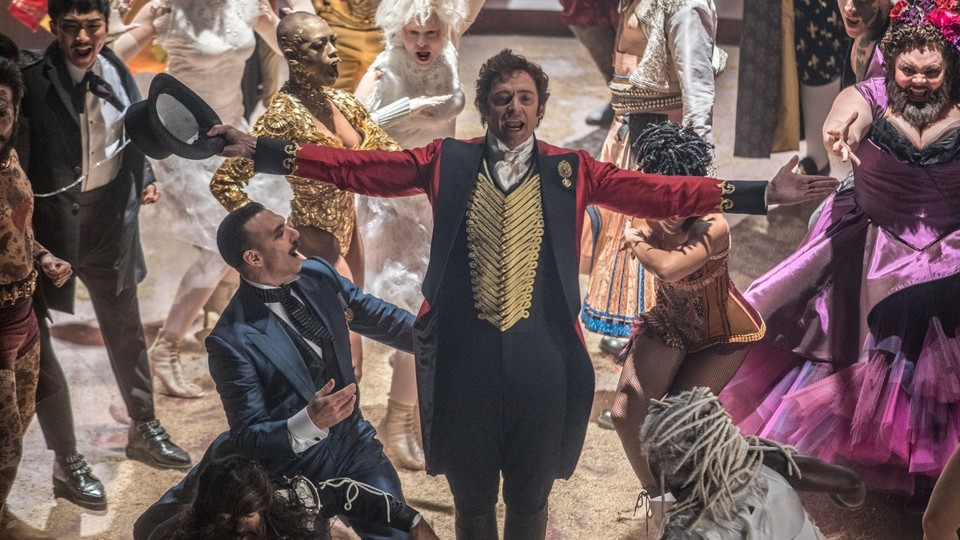 The hottest box-office story in Hollywood right now isn't Star Wars: The Last Jedi, which made more than $600 million in the U.S. and became the sixth biggest hit in movie history. It isn't the surprising success of Jumanji: Welcome to the Jungle, an unambiguous smash that has cemented the star power of Dwayne Johnson and Kevin Hart. No, the most interesting film in last weekend's returns was The Greatest Showman—the family-friendly original musical about P.T. Barnum starring Hugh Jackman that has now made $113 million in five weekends. It was a risky proposition of a movie that got mediocre reviews and initially generated little excitement from audiences. Now, it's one of the largest word-of-mouth hits in Hollywood history. So what happened?
When The Greatest Showman opened in theaters on December 20, it looked dead on arrival, making only $8.8 million that weekend. But the following weekend it made $15 million, almost twice as much. That's largely unheard of in contemporary Hollywood, where big studios films are front-loaded (opened on a massive number of screens) and the first weekend is king. The holiday season does offer a little more breathing room for movies as families have the downtime to go to the theater, but even by those standards—by any standards for a wide release, in fact—The Greatest Showman is unique.
In industry parlance, the easiest way to judge a film's word-of-mouth is by its "multiplier," an essential measurement of how well a release holds after its opening weekend. To get a movie's multiplier, you simply divide its box-office totals by the amount it made in its first weekend.
A solid multiplier for a film that opens wide is around 3: Beauty and the Beast, one of 2017's biggest hits, opened to $174 million and made $504 million over its entire run, or 2.9 times as much. A very good multiplier for a blockbuster is 4 (in 2017, Wonder Woman and Coco are good examples), which indicates an extremely positive audience reaction and a lot of return viewings.
As of now, The Greatest Showman's multiplier is an astonishing 12.8. And it's only going to rise; the film is still playing on 2,800 screens and its studio, Fox, is now promoting "singalong" screenings with subtitles for the musical numbers. Only one movie has ever opened wide and made a higher multiplier—Titanic, which opened to a paltry $28.6 million in 1997 and finished at $600 million. That's a multiplier of 21, the one number even The Greatest Showman probably won't be able to beat. But the musical has already bested every other famous blockbuster with "legs" that stuck around in theaters to everyone's surprise after a smaller opening—movies like Avatar, There's Something About Mary, The Sixth Sense, and The Blind Side.
It all prompts the question: Why? After all, The Greatest Showman is an easy film to criticize (and plenty of reviewers were happy to oblige). It takes its tricky subject, a man who made his fortune in the mid-19th century off his menagerie of "freaks," and frames him as a consummate entertainer who sought only to make people happy. It posits that the various "oddities" in his museum, such as the bearded lady or the entertainer Tom Thumb, were in fact liberated by Barnum and allowed to be themselves onstage, a clunky moral at best. It's a movie that borders on hagiography despite being centered on a man who in real life has a legacy of exploiting his workers and racial stereotyping.
But there is something undeniably lovable about The Greatest Showman, even though (or perhaps because) its historical perspective has been so radically simplified. The musical numbers, written by the Tony Award winners Benj Pasek and Justin Paul (La La Land, Dear Evan Hansen) are earworms, easy-listening pop songs with instant karaoke appeal (the film's soundtrack has hit No. 1 on the Billboard Top 200). The ensemble offers some great performances, particularly from the Broadway veteran Keala Settle (as the bearded lady) and the up-and-coming star Zendaya (as a trapeze artist). The numbers themselves are well-choreographed and staged, not as overedited as Hollywood musicals tend to be.
And then there's Jackman, one of the few actors who fits the old-fashioned, Golden Age of Hollywood movie-star mold. He can sing, he can dance, but he can also play a musclebound brute if necessary, or emote in a serious drama. The Greatest Showman was an $84 million original musical that Jackman worked to shepherd to screen. He even hand-picked the visual-effects supervisor Michael Gracey, who had directed him in a Lipton commercial, to make his feature debut with the film. After that, it still took years to reach theaters while Jackman found a studio that would take a chance on it (the production was first announced in 2009).
The effort Jackman put into getting The Greatest Showman made comes through in the manic gleefulness of his performance. It's rare that a studio will back a big-budget movie simply because an actor is pushing for it—these days, an established franchise or brand name is necessary—but Jackman succeeded, and the film's impressive run is evidence of his star power. Almost all of 2017's biggest hits were sequels, remakes, or children's films, with Jackman's Logan (the tenth X-Men movie) among them. The Greatest Showman was a bigger gamble that's paid off for Fox.
Will another studio approve a film as risky in the future? Given that Fox is in the process of being acquired by the far more cautious Disney, there's less chance of an expensive, original feature like The Greatest Showman getting greenlit again. But nearly five weeks in, it hasn't lost its hold on moviegoers. Most blockbusters feel like they've been designed by committee, perfectly balanced by focus groups and audience tests to attract the widest swath of viewers. The Greatest Showman, a passion project suffused with old-fashioned silliness, stands out from that crowd—and it's an unexpected triumph that studios would do well to pay attention to.