Ta-Nehisi Coates on Cornel West's One-Sided War
Coates says he is "mystified as anybody else" over West's critique.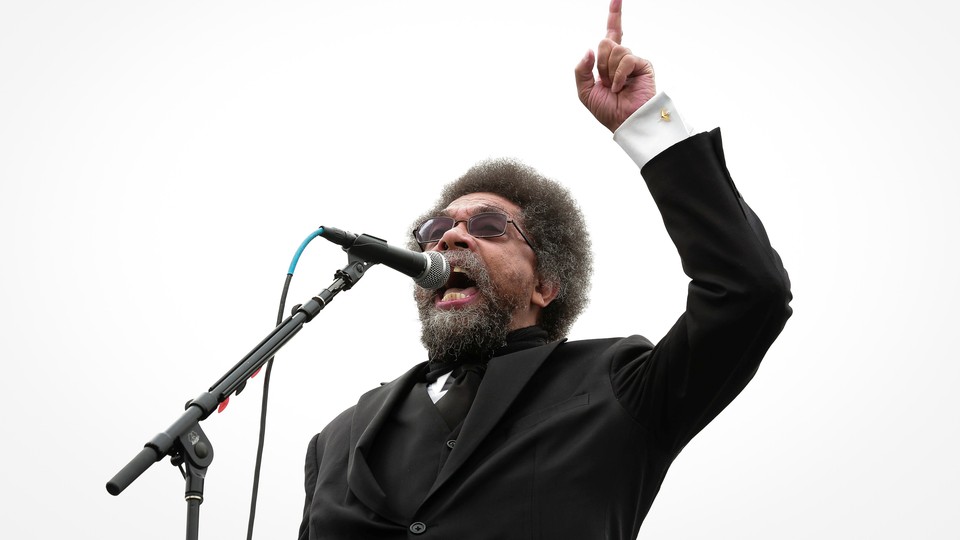 If there's real beef between the Harvard philosopher Cornel West and The Atlantic's Ta-Nehisi Coates, Coates says he doesn't understand it. West is a vocal critic of Coates and his status as a public intellectual.
Coates addressed the controversy at a panel Tuesday hosted by The Atlantic, saying he remains confused why the feud started in the first place, and that he can't seem to find a huge difference in the things West has spoken about and what Coates himself has written.
Coates spoke about the first time he saw Cornel West 20 years ago, and found it surreal to  have that same person "write critical things about you when they have so clearly not read your work."
"I am mystified as anybody else" about West's argument, Coates said, adding that he hopes people read Race Matters, West's groundbreaking 1993 book.
In December, West, who is also an outspoken critic of President Barack Obama, wrote a column for The Guardian calling Coates "the neoliberal face of the black freedom struggle." West's criticism and Coates's response to the column went viral, and the moment was pegged by some as a feud between America's top black intellectuals. After the row sparked a wider debate on Twitter, Coates—in what became a much talked-about moment—quit the social media platform.
In a separate panel discussion in Washington, D.C., on Tuesday evening, Coates spoke about the specific moment he decided to leave Twitter:
The moment that I was like, I clearly don't belong here is—I got a tweet and it was like, here are all the black women who critiqued Ta-Nehisi and have been ignored … And at that point, I was like, yo, I'm in the wrong room… I did not come for this. This is not what my writing, my work — I don't want my life to be about this. I don't want 'Ta-Nehisi fought Cornel West' anywhere in my obituary. Anywhere.
Watch a video of The Atlantic's editor in chief, Jeffrey Goldberg, interviewing Coates at this week's panel:
Watch a video of Alex Wagner, a contributing editor for The Atlantic, interviewing Coates at Sixth & I: