Saturday Night Live Takes a Swipe at Celebrity Journalism
The show's sharpest sketch yet on the #MeToo movement skewered E!'s confused coverage of the Golden Globes, while a Bill Murray parody of Steve Bannon fell flat.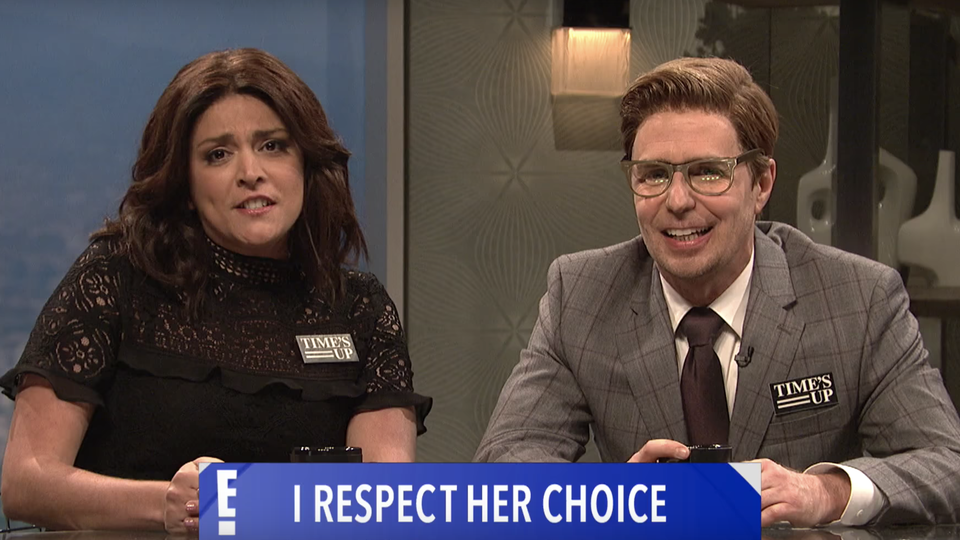 Saturday Night Live has so far struggled to produce memorable comedy about the Harvey Weinstein scandal and the #MeToo movement. The ongoing revelations about sexual assault and institutional misogyny in Hollywood have proven too much of a moving target for the show, which has seemed a little creatively adrift overall after its big ratings comeback during the 2016 election. But Saturday night's episode, hosted by Sam Rockwell, found an easier angle to score a few topical jabs, mocking E! and the muddled attempts by fashion journalists to cover a particularly charged awards season.
Cecily Strong and Rockwell played the hosts of the fictional show The Look, replete with Time's Up pins and a hollow sense of stridency as they tried to break down the Golden Globes red carpet without resorting to superficiality. "The times are changing and we're trying to keep up! I'm so out of breath!" Strong babbled to the camera, as Rockwell introduced her as "my favorite woman equal." The pair never broke their cheerful demeanor as they tried to walk the fine line of evaluating celebrities' dresses while celebrating female empowerment. It recalled the somewhat awkward mood that faced Globes red-carpet hosts like Carson Daly, who had to pepper his usual inane 30-second interviews with questions about the ongoing movement to fight sexual harassment and assault in Hollywood.
In the sketch, Kenan Thompson plays an arch fashion critic called Angelo Dolphintuna, while Melissa Villaseñor played the director of a network of women's shelters who was invited "in the spirit of this year's Golden Globes" and is otherwise ignored by the hosts. "I'm gonna say she looks … empowered?" Rockwell said of Kate Hudson's Valentino gown. "She definitely looks as good as a man, if not … better?" Thompson added. "Can I say that?"
If you're picking a target in the #MeToo moment, E! is certainly an easy one to aim at, given how ill-equipped its programming often is for more serious topics. "Before women were brave, this next segment was called Puke or Barf?, but now it's called I Respect Her Choice!" Strong said, announcing a Fashion Police–like segment. The sketch also worked in some more general criticism of male cluelessness about where to direct their energies in combating Hollywood sexism, with Rockwell's character loudly booing the news that Eva Longoria's baby would be a boy. The sense of panic and confusion that pervaded every line-reading (with Rockwell's performance particularly standing out) enlivened the scene, making it work as both satire and farce.
The E! sketch was an anomaly, though, in a season that's often felt toothless. Ever since the departure of previous head writers Chris Kelly and Sarah Schneider, who spearheaded the political coverage of past seasons, SNL's topical takes have largely fallen flat. Most of last night's best sketches were the plainly absurd ones, like the rap homage to the career of Stanley Tucci, or the penultimate sketch of the night, which involved some clever visual trickery to make it seem as though Rockwell's mad-scientist character had transplanted a dog head onto a human body. The only other indirect invocation of the #MeToo movement came in Aidy Bryant's monologue on Weekend Update, in which she mocked Mark Wahlberg for negotiating a $1.5 million salary for his All the Money in the World reshoots.
The show's cold open, usually the spot reserved for the most direct political humor, took dual aim at Steve Bannon's exit from Breitbart and Michael Wolff's book Fire and Fury, having both characters appear on a parody of MSNBC's Morning Joe. Rather than having anything new to say, the open felt like a tepid recap of the week's news, leaning instead on the big celebrity cameos that have defined the show of late. A heavily made-up Bill Murray played Bannon and Fred Armisen contributed an impressively accurate Wolff impersonation; both were greeted with wild applause from the audience.
Armisen's Wolff was pretty good, while Murray seemed to be half-asleep as Bannon. But the comedians are the latest in a long line of superstars and SNL alumni called back to the show to impersonate the biggest newsmakers of the moment, including Bill Hader as Anthony Scaramucci, Larry David as Bernie Sanders, Melissa McCarthy as Sean Spicer, and, of course, Alec Baldwin as Donald Trump. It's an ongoing pattern that suggests the show doesn't have faith in its ensemble to rise to the biggest occasions, without ever giving them a real shot at it. As long as that continues, SNL will probably continue to feel half a step off in a moment where up-to-the-minute satire is still the name of the day.