Moira Donegan Tells Her Own Story
Out of the Harper's Media Men list saga comes an essay that asks urgent questions about the politics of authorship.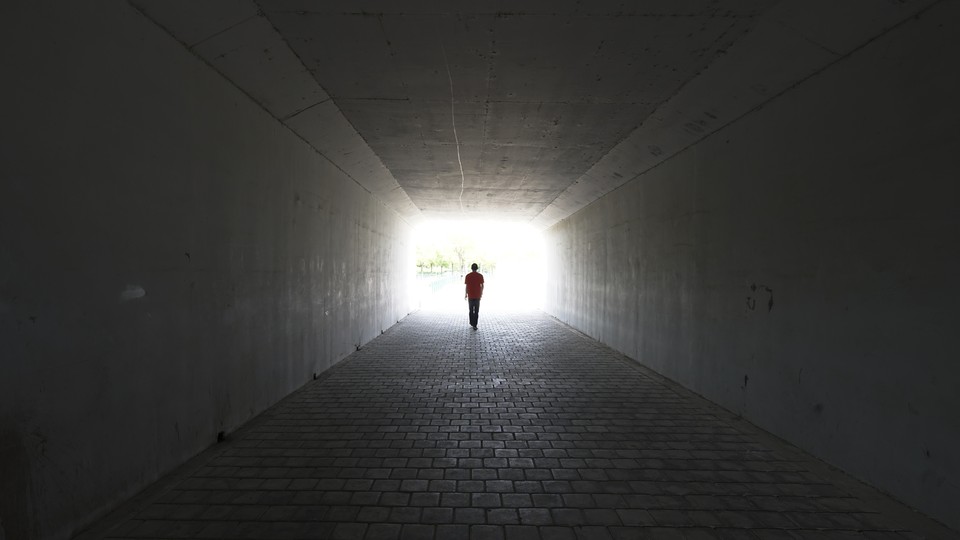 I created the shitty men in media list.
I am the real author of the #shittymediamen list.
It was me.
It was me.
It was me.
Briefly, they were all Spartacus. On Tuesday, rumors emerged that Harper's magazine might be publishing the identity of the woman who created the Shitty Media Men list, a spreadsheet shared among an initially small group of women who work in media to warn them about predatory men. Many people, in response to the potential doxxing—people on Twitter, in particular—banded together to try to talk (and, in some cases, to shout) Harper's out of its rumored editorial decision. And by Wednesday, in some quarters, the activism had evolved: Many began claiming that they were the ones who had created the infrastructure of the SMM list. I am. I did. It was me.
Except, we now know, it wasn't. Late on Wednesday evening, The Cut published an essay headlined, "I Started the Media Men List. My name is Moira Donegan." It's a fantastic piece of writing, thoughtful and eloquent and provocative, verbal evidence of a person engaged in that classic womanly activity: finding oneself constrained and yet finding a way, nevertheless, to persist. In her essay, Donegan outs herself—that factual revelation, it quickly becomes clear, will not be the point of the piece—but then goes on, at length, to do the reckoning that so many people have been doing, in their own ways, in this post-Weinstein moment. The author is, on the one hand, considering her own small-but-also-sweeping role in that moment: the fact that, back in October, frustrated with a world in which women who come forward about harassment are so often ignored or disbelieved, she clicked "New," and then "Spreadsheet," and then "Share." But she is also considering the setting, within American culture and within a sliver of its media, that led her to do the sharing in the first place.
Donegan, under the rumored threat of being outed—"Katie identifies you as a woman widely believed to be one of the creators of the Shitty Men in Media List," a Harper's fact-checker emailed her—seemingly authored her essay not out of desire, but out of practical necessity. And yet, because of that threat, her piece serves as one more document of a heady cultural moment: one that is, among so much else, reassessing notions of authorship, and of the power it implies. One that embraces the ability, newly enabled by the internet's capacities, of telling one's own stories, about one's own life, in one's own words. #MeToo. Reclaiming my time. This year, we became the story. Much more than simply "controlling the narrative"—much more than telling people, herself, about her slip on the banana peel—Donegan's writing is also an act of resistance against the very things the SMM list, in theory, was itself meant to rebel against: silence. Complacency. Complicity. Open secrets that oppress in their very openness. People, unable to be the authors of their own experiences. Donegan's boldly headlined essay is a fitting text for a moment that is embracing the sanctity—and, with it, the political power—of the individual story.
Many questions remain about the specific circumstances that led slowly (and also, as so often tends to happen, suddenly) to Donegan's publishing of her essay. Chief among them: Had Harper's, as its correspondence with Donegan seems to suggest—but as it is now saying was not necessarily the case—really planned to name Donegan in the writer Katie Roiphe's piece? Would it have outed her were it not for the activism on her behalf? What is fairly clear, though, is that the options, for Donegan, seemed to come down to a bluntly binary choice: telling her own story, or risk having it told on her behalf. The byline, with all the power that implies, as opposed to, simply, the name. And, so: Faced with the prospect of getting her story told by Harper's, by Roiphe, by, in general, someone who is not Moira Donegan, Donegan flipped the script. In coming forward—"I Started the Media Men List. My name is Moira Donegan"—she attempted to change the terms of her own authorship.
And that authorship, as the Harper's controversy has evolved at lightning speed this week, has served as its own kind of paradox. To author something in general, of course, is to have a very particular kind of power over it (augere, "to increase, originate, promote"); the SMM list being what it became, however—and the current media environment being what it is—the Harper's controversy initially (and correctly) assumed authorship to be, instead of a power, a threat. Roiphe and Harper's, as the authors of the rumored magazine story, had, in theory, the power to compromise the safety of the author of the list; that author herself, the widespread fear went, would face almost inevitable retribution precisely because of that authorship.
Those who put the us in Spartacus were acutely aware of those tensions. And they were trying, in their own way, to reclaim the notion of authorship on Donegan's behalf: to blur it, to relocate it, to diffuse its burdens across the group. (To some in the media, initially, those Spartacan aims weren't fully clear. Many blog posts on Wednesday evening took one of the early Spartacus tweets at face value; "Update, 8:50 p.m.: So, the real identity of the creator of the Shitty Men In Media list is Spartacus after all—or maybe it's Moira Donegan," one especially notable correction now reads.)
The Spartacus moves were more than protective, though: They were also simply recognizing the obvious. Donegan, after all, is both the author of the list she created and not the "author" at all. The spreadsheet she made was ultimately populated by many people who remain (and many of whom will likely keep remaining) anonymous. The document itself, crowdsourced and unvetted—an organic whisper network transformed, cell by cell, into a piece of media—was ad-hoc. It was messy. It was, in some of the worst ways, limited, and exclusive, and excluding. As Jenna Wortham, writing for The New York Times Magazine, put it: "The list was F.T.B.T.—for them, by them—meaning, by white women about their experiences with the white men who made up a majority of the names on it."
This failure, too, is part of Donegan's own reckoning. And it is part of the broader reckoning the latest iteration of #MeToo needs to be doing, now and going forward. There is power in distributed authorship, and there are potential pitfalls, as well, whether the authorship in question be of a Google spreadsheet or a political movement or, too, a journalistic story: During a time when more and more people can speak for themselves—when they can turn that speech, instantly, into sharable media—how should stories be told? Who, ultimately, should be authoring them? Recent months, on the one hand, have been reminders of the blunt and sweeping value of traditional journalistic storytelling, with reporters—Jodi Kantor and Meghan Twohey and Ronan Farrow and Stephanie McCrummen and so many, many more—giving voice to people who likely would not have told their stories on their own. And yet, at the same time, Twitter and Facebook and the rise of the internet in general are speedily shifting the calculus of authorship as a broader proposition: Who should be speaking? Who should be listening? Who lives, who dies, who tells your story?
The Harper's saga is, on top of everything else, evidence of the tensions that emerge when different people have different answers to those questions. On Thursday morning, a Twitter account emerged claiming to belong to Katie Roiphe, reporter and writer and storyteller. The account's author—perhaps Roiphe herself, perhaps not—discussed the mechanics of the article that is still in the editing process at Harper's. "To keep perspective," one tweet read: "t​he list itself is a very small part of long piece that has not yet closed. ​The question of who created the list was not in any way important to the piece."
Thus: Another script flipped. Another power dynamic, disrupted. Roiphe—a figure of whom, on Tuesday, so many were begging mercy, as if she were a dour and distant queen—has been, in the days that followed, defending herself. On Twitter, ostensibly, but also in The New York Times. And in The Washington Post. And, for that matter, in The Atlantic. That, too, is revealing: This is a moment, after all, about new mutualities, about flattened power structures, about reclamations: "Nasty woman," a compliment. "Nevertheless, she persisted," a rallying cry. And, now, for Moira Donegan, one more reversal: a moment of fear, turned into a moment of bravery. The woman whose identity had been so passionately protected, coming forward to reveal her own name, in her own words, on her own terms. She had been reluctant. She had been anonymous. Now, though, pinging  its way across the global internet, accessible to anyone who cares to find it, is an essay headlined "I Started the Media Men List. My name is Moira Donegan." That is its own kind of reclamation. That is its own way of persisting.