The Pain in Kesha's #MeToo Grammys Song
The singer's performance of "Praying" made a powerful comment on the current moment. But as a rallying tune, it's a surprising one.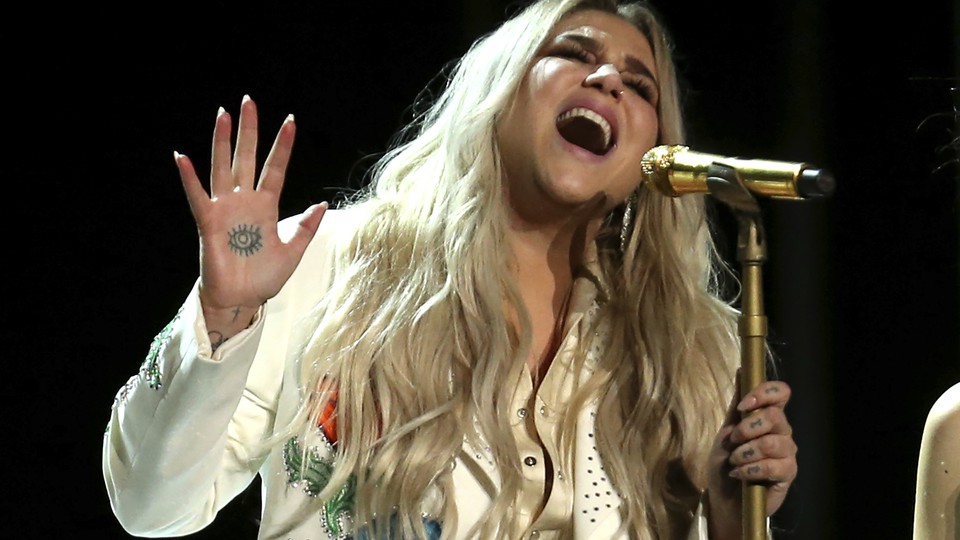 It was only a few weeks ago that a group of women working at record labels realized that, after the wave of #MeToo-related activism that defined the Golden Globes, there was no similar effort to mobilize en masse against sexual assault at the Grammys. Roc Nation's Meg Harkins and Interscope's Karen Rait hit upon the idea to ask attendees to wear white roses—a symbol, they told The New York Times, of "hope, peace, sympathy, and resistance."
The white rose movement was bolstered by one of the show-stopping moments of Grammys night: Kesha singing "Praying" with the help of fellow pop stars Cyndi Lauper, Bebe Rexha, Camila Cabello, Julia Michaels, and Andra Day, as well as the Resistance Revival Chorus. Prior to the show, Grammys producer Ken Ehrlich had said that "Praying" would have made an appearance regardless of "whether these past few months [of #MeToo] had happened or not." But the song was charged with the context of the time—and made a social statement more complicatedly powerful than might be expected.
Kesha released "Praying" as a comeback single after she underwent a very public legal fight with her producer and label boss, Dr. Luke, over her allegations that he harassed and raped her. He denied her claims, and a judge nixed her attempt to be released from her record contract. "Praying," an intense piano ballad put out through the label Luke founded, took a moving but oblique approach to the matter. Kesha sang to an unnamed someone who had harmed her—to offer the hope that someday, his soul might be saved.
That somewhat saintly stance was emphasized tonight in the blazing white clothes of Kesha and her backup singers. A beautiful a cappella opening passage made the central lyric—"Sometimes, I pray for you at night"—unmissable. But Kesha's intensity was not that of an exhortative preacher but of an actual, ailing human being. She didn't aim to hit the recorded version's high notes, but her quavering voice and knotted eyebrows communicated sentiment that only a cynic could called canned. When the song ended, she broke down crying, and was embraced by her famous compatriots.
To anyone familiar with the specifics of Kesha's situation and the state of the music industry, the subtext was not of total triumph. Over the decades, record companies have profited immensely from exactly the sort of exploitation of young female talent that Kesha accused Dr. Luke of partaking in. A study released by USC this past week brought stark confirmation of just how rare female singers, songwriters, and producers are in mainstream pop. And in the most important awards categories for this year's Grammys, women are sidelined: All the Record of the Year nominees are men, and only one woman is nominated in Album of the Year and Song of the Year.
To address this state of affairs, Kesha offered not revolutionary anger but solidarity, catharsis, and a call to take the high road. When introducing Kesha, Janelle Monáe gave a crisp, rousing #MeToo-themed speech that told women, "We … have the power to undo the culture that does not serve us well." The swelling sound of "Praying" suggested that taking power would happen at the same time as healing, and with surprising compassion for those who've caused the wounds.