Kendrick Lamar Opens the Grammys With Rage
In a medley featuring U2 and Dave Chappelle, the rapper gave a stark, spellbinding airing of anger and pride.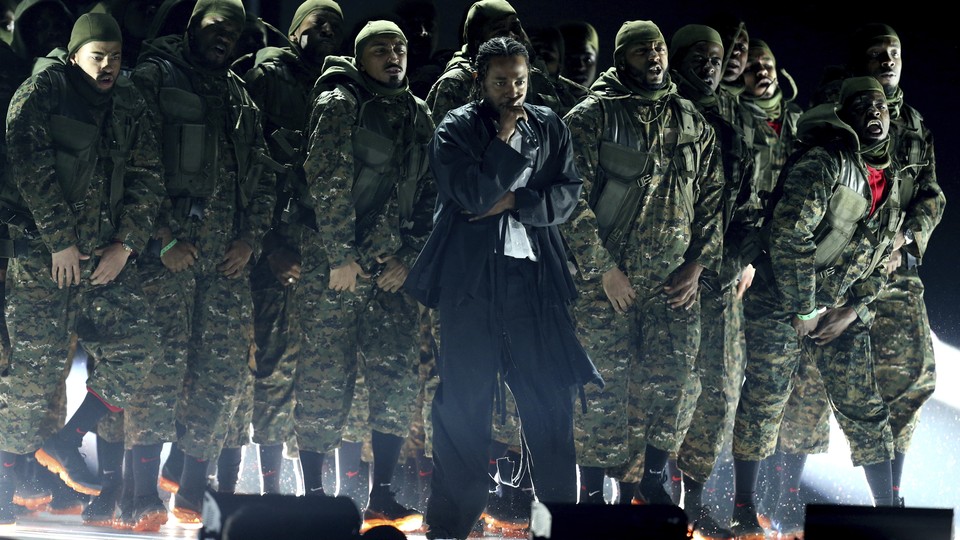 The dark heart of Kendrick Lamar's Damn comes midway through "XXX," when Lamar is given a chance to offer a message of peace—and declines. He raps about a friend of his whose only son was murdered and who then came to Lamar asking for Christian solace: "He was lookin' for some closure / Hopin' I could bring him closer to the spiritual." Lamar's reply is squarely Old Testament, preaching not forgiveness but an eye for an eye. "I can't sugarcoat the answer for you, this is how I feel," he raps. "If somebody kill my son, that mean somebody gettin' killed." A vision of graphic revenge then unspools as he imagines himself facing the same horror that's befallen so many black parents in American history.
It's with this uncompromising verse that Lamar chose to open the 60th Grammy Awards. Backed by an image of the American flag and surrounded by marchers in ski masks and fatigues, he fixed his face to a look of sadness and rapped, "Ain't no Black Power when your baby killed by a coward."
The confrontation only escalated from there, though text behind him at one point offered a disclaimer: "This is a satire by Kendrick Lamar." U2's Bono and the Edge walked out, providing a mournful chorus shared by "XXX" and by "American Soul," a song off U2's latest. Lamar then erupted into the portion of his single "DNA" when self-analysis turns to fury at critics both in the rap world and in political media. The closing line: "Sex, money, murder—our DNA."
Then came another disclaimer, in the form of another superstar cameo. The comedian Dave Chappelle, wearing a fetching black jacket labeled with his own name, offered this: "I just wanted to remind the audience that the only thing more frightening than watching a black man be honest in America is being an honest black man in America." Then it was back to Lamar, dueting now with a taiko drummer in white Nikes as he performed his boastful part from Rich the Kid's "New Freezer." Chappelle returned to marvel in mock disbelief: "Is this on cable? … CBS? … Rumble, young man, rumble."
Rumble Lamar did. For the gripping final segment, the rapper delivered his verse from Jay Rock's "King's Dead" as the dancers around him, clothed in red, fell to the ground one by one as gunshots sounded. The lyrics are a total dunk into nihilism (tweaked for broadcast): "Burn your moral, burn your family, burn your tribe, burn your land, burn your children, burn your wives."
Lamar is nominated for more Grammys than anyone other than Jay-Z tonight, including for two of the biggest categories—Best Album and Record of the Year. To some, his biggest virtue is that he represents the hope that hip-hop can remain a force for positive conscientiousness and high-minded lyricism. But Lamar is more complicated than that. He was out to make a statement about black rage—and to torch the notion that he'd be anyone's respectability totem. "Who am I?" he asked in his final moments on stage. "Not your future, not your comfort, not your reverence, not your glory."