The Transformative Justice of Judge Aquilina
In a courtroom in Michigan, a variety of powerful women redefined what victim testimony can mean.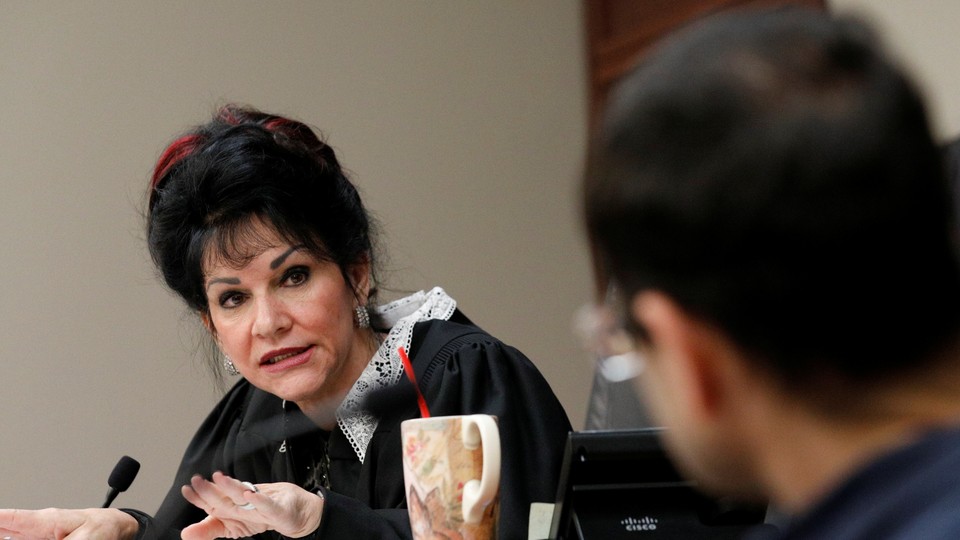 In 2013, a judge in Montana, G. Todd Baugh, sentenced a former high-school teacher who'd pleaded guilty to raping a 14-year-old student. Giving the accused a suspended sentence plus 31 days, with credit for time served, Baugh remarked that the victim was "older than her chronological age," and was "as much in control of the situation" as the teacher had been. The teenager couldn't respond, because she'd ended her own life in 2010, while the case against her rapist was pending.
The previous year, Arizona Judge Jacqueline Hatch told a woman who'd been sexually assaulted in a bar by a state trooper, "If you wouldn't have been there that night, none of this would have happened." In 2014, after sentencing a man convicted of rape to five years probation, Texas State District Judge Jeanine Howard remarked in an interview with the Dallas Morning News that the 14-year-old girl accuser "wasn't the victim she claimed to be." Last year, Utah Judge Thomas Low described a former Mormon bishop convicted of rape as "an extraordinarily good man."
No legal system is perfect. There are judges in America who fairly and reasonably try sexual assault cases every day. But, as cases from Brock Turner to Bill Cosby illustrate, women who come forward with charges of sexual assault in the U.S. frequently fail to get the justice they deserve. Out of every 1,000 instances of rape, the Rape, Abuse, and Incest National Network explains on its website, only 13 cases are referred to a prosecutor, and only seven result in a felony conviction. When convictions do occur, sentences are frequently lenient, as with the Montana man who received a 60-day sentence for repeatedly raping his 12-year-old daughter, in the interests of the "rehabilitation of the offender."
This is why what happened in Ingham County Circuit Court, Michigan, this week was remarkable. Not just because it involved women athletes who are household names, or a man accused of violating his professional duties as a doctor in the most despicable way. Judge Rosemarie Aquilina, sentencing Larry Nassar for criminal sexual conduct, decided to let any women who said they'd been assaulted by the former USA Gymnastics team doctor face him in court and describe how his actions had affected them. The Confrontation Clause in the Sixth Amendment grants all Americans the right to face their accusers in court; Aquilina upended this, allowing all of Nassar's accusers to give victim-impact statements, telling him, and the world, what he had done.
When the list of women scheduled to speak was drawn up, it had 88 names. Then, as more decided to come forward, it had 105. Then 120. In total, 156 women spoke about their experiences with Nassar. They talked about feeling horrified and disgusted by what happened in their appointments with the doctor, coupled with a sense of self-doubt about whether they were misinterpreting it at the time. They spoke about how it had affected their families. They told Nassar, and Judge Aquilina, about the depression, anxiety, and mental illness they'd suffered as a result of his abuse. Kyle Stephens, in particularly detailed testimony, talked about having to babysit for Nassar and his wife to pay for her own therapy.
For survivors of rape and abuse, testifying about what they've experienced can be a brutal ordeal. They can be badgered and disoriented by defense attorneys on the stand, and have their characters closely prodded and maligned. But Judge Aquilina, again, upended this ritual, enabled by the fact that it was a sentencing hearing, not a trial. She turned obligation into empowerment. She told the women speaking, again and again, how strong they were, how powerful, how full of potential. After Mattie Larson spoke about how Nassar turned "the sport I fell in love with as a kid into my personal living hell," Judge Aquilina commended her courage. "You are so strong and brave and you are not broken," she said. "You are glued back together perfectly. Thank you for being part of the sister survivors. Your voice means everything."
Noting that Nassar had complained in a letter submitted to her before the hearings that the stress of listening to many women berate him for days would be intolerable, Aquilina told him that he had no one to blame but himself. "Spending four or five days listening to them is significantly minor considering the hours of pleasure you've had at their expense and ruining their lives," she said.
In a formal sense, Judge Aquilina's decision was a curious one. It appeared "almost beside the point," The New York Times wrote, given that Nassar had already pleaded guilty, and Aquilina seemed in no personal doubt about the heinousness of his crimes. (My colleague Graeme Wood has also written about an aspect of her final statement that he sees as having gone too far.) One of Aquilina's colleagues, the Ingham County Circuit Judge William Collette, told USA Today that he found her comments baffling and inappropriate. "Doing justice is one thing," he said. "It is not a judge's function to get people healed."
Aquilina obviously disagreed, and the consequences of her doing so reverberated far beyond the courtroom. For one thing, the anguished and furious accounts of Nassar's accusers drew the world's attention to a particularly appalling story that had largely been ignored by the media. They led to heightened calls for investigations into how Nassar could have held such a position of power at Michigan State University and in the world of gymnastics for so long, even after several women had accused him of assault.
What they also represented, though, was catharsis. As the #MeToo movement has played out over the last several months, what it's proven is that there's a snowball effect when women speak up. In Aquilina's courtroom, many of Nassar's accusers spoke of the doubts they experienced about what happened to them, and of wondering whether they could trust their instincts. As their testimony began, their numbers grew and grew. They spoke of finding strength in each other. "All these brave women have power," the gymnast Aly Raisman told Nassar, "and we will use our voices to make sure you get what you deserve: a life of suffering spent replaying the words delivered by this powerful army of survivors."
Nassar, Aquilina told him, will spend the rest of his life in prison. The legal system begat justice in his case. But the judge who sentenced him managed to do something else as well—to offer renewed faith and hope to the hundreds of thousands of people sexually assaulted each year. Not just that they might one day see their rapists in court, but that they might also be able to transform their trauma into something very different. "Leave your pain here," Aquilina said on one occasion, in one of the most powerful instructions ever delivered by a presiding judge. "Go out and do your magnificent things."