Great Moments in 'Shithole' Literature
A 1629 manuscript containing the first-known use of the term can be found at the Bodleian Library in Oxford.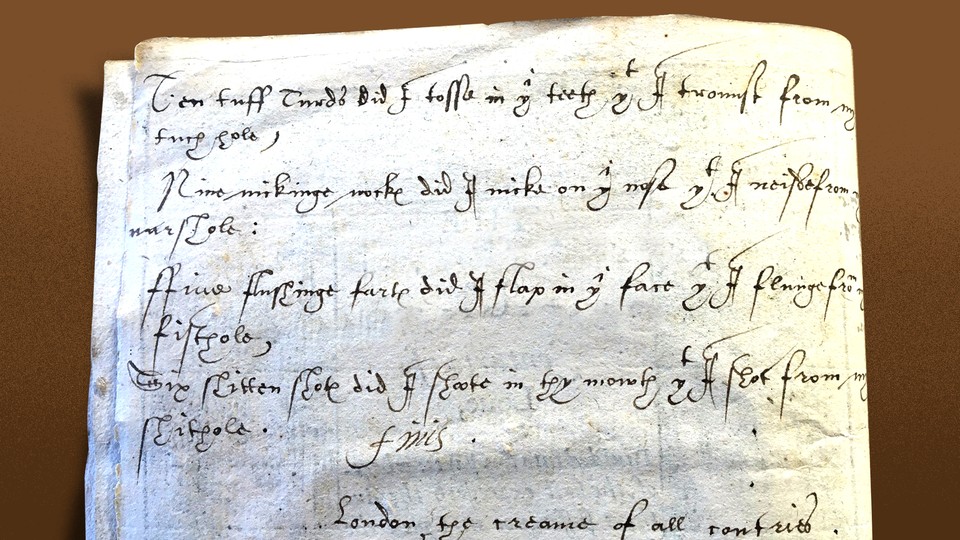 What more can be said about Donald Trump's reported remark about "shithole countries"? Media outlets have by and large decided it was newsworthy enough to report without censoring, so we've been seeing and hearing the word shithole everywhere. More important than the word itself, of course, is the hateful sentiment behind it, as many commentators have pointed out.
Trump's use of the word was in the service of a disparaging slur on countries, including Haiti and African nations, from which he thinks the U.S. should be limiting immigration. (Despite his vague protestations on Twitter, the White House pointedly did not deny that he dropped the S-bomb in front of a room full of lawmakers.) But shithole doesn't have to be used in such a vile way. In fact, despite its scatological origins, the word has something of a literary pedigree, which is worth appreciating as an antidote to the enervating news cycle.
The very first known use of shithole in English print literature appears in a remarkable manuscript held at the Bodleian Library in Oxford. The manuscript, titled Liber Lilliati, contains bawdy verse written by the cathedral musician John Lilliat some time before his death in 1629. The verse is worth reading in full (which we can do thanks to an annotated edition of Liber Lilliati published by the University of Delaware Press in 1985):
Ten tuff Turds did I tosse in thi teeth that I troinst from my tuch hole,

Nine nickinge nockes did I nicke on thi nose that I neisde from my narshole:

Fiue flushing fartes did I flap in thi face that I flunge from my fisthole,

Six shitten shotes did I shoote in thy mowth that I shot from my shithole.

finis.
When the news of Trump's "shithole" comment broke, some scholarly types consulted the Oxford English Dictionary to learn more about the word's history and found Lilliat's verse there as the first citation, in the earliest meaning of shithole defined as "the rectum or anus." Kristina Killgrove, an anthropologist at the University of West Florida, tweeted out the verse and generated some learned discussion about Elizabethan English. Rebecca L. Fall, a Mellon/ACLS Public Fellow and a strategic communications manager at The Public Theater, even supplied a photo of the actual manuscript page with the "Ten tuff Turds" verse. As Killgrove said on Twitter (accompanied by the "pile of poo" and "hole" emojis), "Who knew etymology would be so cathartic today?"
It's "nesed," or "smelled"! I randomly came across this poem in Bodleian MS Rawl. poet. 148 years ago and have been obsessed with it ever since!!! Here is an image of the ms! pic.twitter.com/8Tr3dHgyaU

— Rebecca L. Fall (@Becky_Fall) January 12, 2018
There's a significant gap in the historical record for shithole after the Lilliat verse, however. I'm not aware of any other recorded use of the word before 1902, when John S. Farmer and W.E. Henley included it in their magnum opus, Slang and Its Analogues Past and Present, with shithole defined simply as "the rectum." In the early 20th century, however, shithole broke out into other meanings, such as "a toilet or latrine" (i.e., a place to shit), or "a wretched location" (i.e., a shitty place). And among authors who reveled in coarse language, shithole often hit the spot.
Sometimes shithole appears in talk among men during wartime. In 1930, A.M. Frey published a novel called The Cross Bearers, based on his experiences as a soldier in World War I. It includes the line, "But that will soon be over, he hopes; over as soon as he can get out of this 'shit-hole'—the soldiers' term which the officers adopt."
Not long after that, in 1934, Basil Creighton translated a German novel about Americans prospecting for gold in Mexico: The Treasure of the Sierra Madre, made famous by John Huston's 1948 movie adaptation. Creighton's translation has a Mexican bandit say, "Come out there from that shit-hole of yours. I have to speak to you." (That line didn't make the movie, but the bandit's previous line about not needing any "stinking badges" did.)
Another translation from German provides a theatrical example of shithole. A 1930 satirical opera called Rise and Fall of the City of Mahagonny, composed by Kurt Weill with a libretto by Bertolt Brecht, was translated in a 1971 edition by Ralph Manheim and John Willett with this exchange:
Begbick (rushing from the house): Just what don't you like here?

Jim: This shit-hole!

Begbick: I believe I heard the word shit-hole! Did you happen to say shit-hole?
Also in 1971, Bernard Malamud made use of the word in his novel The Tenants. A character named Willie Spearmint says, "I have never been in Mississippi and would not put my foot in that shithole." Not to be outdone, Philip Roth went on something of a shithole spree in The Great American Novel in 1973. Big John, a player on a fictional New Jersey baseball team called the Port Ruppert Mundys, has some thoughts about the arbitrariness of hometown fandom:
What the hell is hometown fans but a bunch of dodos who all live in the same place and think that if we win that's good for 'em and if we lose it ain't? And then we ain't none of us from that there town to begin with – why, it could just as easy say PORT SHITHOLE across your uniform as the name of the place you only happen to be in by accident anyway. Ain't that so? Why, I even used to pretend like that's what it did say, years ago, instead of RUPPERT. I'd look down at my shirt and I'd say to myself, "Hey, Jawn, ain't you lucky to be playin' for PORT SHITHOLE and the glory of the SHITHOLE fans. Boy, Jawn, you sure do want to do your best and try real hard so you can bring honor to the SHITHOLE name."
That might very well be the high-water mark of shithole's literary use. It's shown up since then in works like Nick Hornby's High Fidelity ("And I moved when I was eighteen, so I only spent a year seeing the place for what it was—a suburban shit-hole—and hating it") and James Ellroy's The Cold Six Thousand ("I foresee ten thousand junkies turning Vegas into a shithole").
One other notable example comes from Carl Hiaasen's 1997 novel Lucky You, which includes the line, "'You'd cry, too,' said Bodean Gazzer, 'if you was stuck in a shithole town like this.'" In Jonathon Green's comprehensive reference, Green's Dictionary of Slang, that appears as the earliest example of shithole used as an adjective, defined as, " usu. of places, the worst, the most disgusting." That, of course, is the meaning favored by Trump when he talked about "shithole countries." But the president of the United States, who isn't known for reading, doesn't qualify for the shithole literary pantheon.