The Grammys Paid Lip Service to the Now
Bruno Mars's retro pop swept the big categories after a night of blazing performances and of-the-moment causes.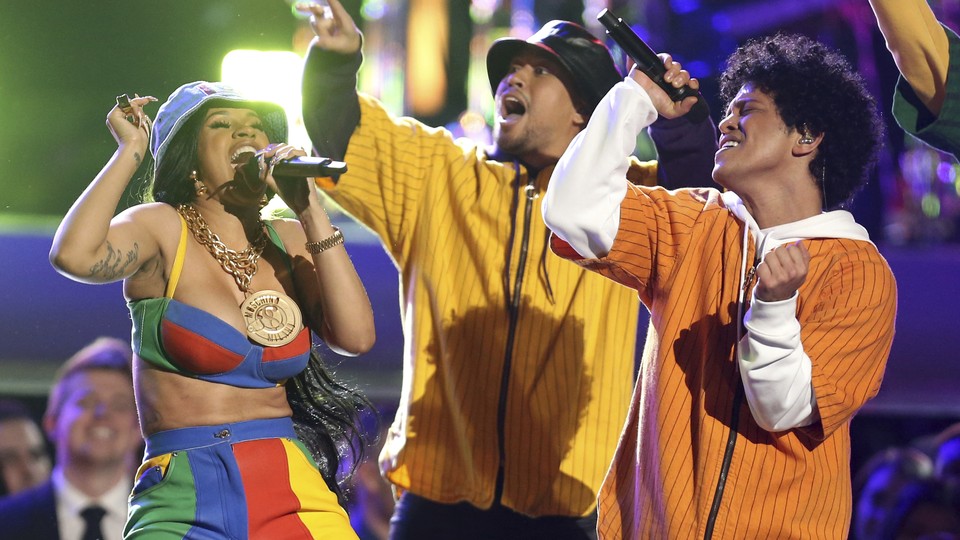 The Grammys pulled off an impressive feat in its 60th year: giving its biggest prizes to the safest possible work—and still making it feel like a shock.
When Bruno Mars, the 32-year-old master craftsman of nostalgic pop, swept Song of the Year (for "That's What I Like"), Record of the Year (for "24K Magic"), and Album of the Year (for 24K Magic), it could hardly be called a surprise. Mars makes hits as reliably as Nestle makes chocolate bars. The Grammys are notorious for rewarding broad-appeal pop grounded with traditionalist musical chops. More than one viewer cracked that we could now think of Bruno Mars as the new Adele, even though the multiracial Mars does break a decade-long whiteness streak for Album of the Year.
But Mars's wins also prevented a few milestones. Hip-hop has not produced a winning Record or Song of the Year in Grammys history, and it hasn't produced an Album of the Year since 2004. If ever there would be a time for the spell to be broken, it would have seemed to be the year rap/R&B became America's most-listened-to genre, the year of monster commercial and critical success by nominees Kendrick Lamar, Jay-Z, Logic, and others.
Mars, to be fair, has real talent and works hard to be so huge, and he's not unconnected to the rap world. Take for evidence his performance of "Finesse," a New Jack Swing confection featuring emcee of the moment Cardi B. With its kindergarten color palette and early '90s bounce, it was the kind of throwback that somehow feels novel. You could also take as evidence his suave Album of the Year acceptance speech, in which he hinted there was something political in making everyone dance. But when he closed by shouting out Grammys producer Ken Ehrlich and president Neil Portnow, it reinforced the suspicion that he was mainly being rewarded for paying industry insiders' rents through a steady stream of content viable at Super Bowls and Supercuts.
Still, the Grammys tried to give the impression this year might be different. The beginning and the end of the night could, for example, hardly have made a starker contrast. To open, Kendrick Lamar blisteringly worked through racially specific anger and grief, with stylized images of militancy and death. (The performance was only slightly undercut by concessions to squeamish viewers: a "satire" disclaimer, the presence of Bono and the Edge, and Dave Chappelle popping up to joke about potential backlash against Lamar.) To close, Mars's sweep happened to have the effect of keeping not only Lamar from making the night's final speech but also Jay-Z, who may have had something to say about Donald Trump's tweet to him earlier that day. Safe.
Between were a slate of performances and stunts that married music and politics. Kesha's luminous choral rendition of "Praying" connected her long saga of alleged abuse with the larger cultural reckoning over sexual assault—though the sidelining of women in the major awards categories (and rumors Lorde had been the one Album of the Year nominee denied a solo performing slot that night) affixed an asterisk. Eric Church, Maren Morris, and Brothers Osborne paid tribute to the victims of the concert killings in Las Vegas and Manchester by performing Eric Clapton's "Tears in Heaven," providing group mourning without a call to action. And a segment in which the host James Corden had stars like Cher and Snoop Dogg read from Michael Wolff's Fire and Fury—a joke on the "Best Spoken Word Album" category—culminated in a feisty Hillary Clinton cameo.
The immigration debate made for a B-plot of the night, with multiple references to the Statue of Liberty's "huddled masses yearning to breathe free" inscription. U2 had that inscription literally read aloud as they played in New York Harbor, in sight of the Statue, with the eyes of refugees projected behind them. They were introduced by Camila Cabello, a first-generation Cuban-Mexican-American currently holding the No. 1 song and album in the country, who spoke up for the Dreamers. The rapper Logic, in a rallying monologue added to the end of his anti-suicide Song of the Year nominee, "1-800-273-8255," triggered a CBS censor with this line: "To all the beautiful countries filled with culture, diversity, and thousands of years of history, you are not a shithole!"
Even some less pointed, more escapist performances carried themes about identity. Luis Fonsi and Daddy Yankee joined with a fleet of dancers for a joyful rendition of "Despacito," the record-smashing Spanish language hit that made an unsuccessful bid to be the first non-English general-category Grammy winner in more than a half century. The polyglot tinge of DJ Khaled's "Wild Thoughts" was newly apparent as Rihanna led a crowd of Harlem Renaissance-by-way-of-Miami voguers to do South Africa's gwara gwara dance. And the aching funk of Childish Gambino's "Terrified" and storytelling of SZA's "Broken Clocks" testified to the vitality of new, forward-thinking R&B.
A diverse range of American icons got their tribute moments as well. Jon Batiste and Gary Clark Jr. staged strong covers of Fats Domino and Chuck Berry. Chris Stapleton and Emmylou Harris did Tom Petty's "Wildflowers" for the "In Memoriam" segment that included Dolores O'Riordan, Chester Bennington, Prodigy, Lil Peep, and many others. Elton John, in an excellent sparkly suit jacket, reinvigorated "Tiny Dancer" with Miley Cyrus's help. More baffling: Sting and Shaggy doing "Englishman in New York," a self-consciously goofy collaboration in a night inexplicably heavy on Sting (he also presented Song of the Year and starred in a lengthy video sketch with Corden).
What explained the disconnect between the tone of the evening and its big winner? The Grammys ceremony is programmed by producers, but the champions are decided by a majority vote of Recording Academy members, and Mars surely benefited from vote-splitting between the hip-hop nominees. The process, one way or another, ensures the story mostly stays the same from year to year. In his speech, Mars showed typical finesse by telling a story about being 15 and performing in Hawaii for tourists who'd come from around the world. 24K Magic was written in that same spirit of togetherness, he said. It's a valid justification for lively pop in tough times. But it's also a message about music you can hear told any year—and as widely acceptable, and indifferent to the now, as Mars's songs.