How They Might Be Giants Changes While Staying the Same
The alt-rock band—which just released its newest album, I Like Fun—has endured for 36 years by appealing across generations and musical tastes.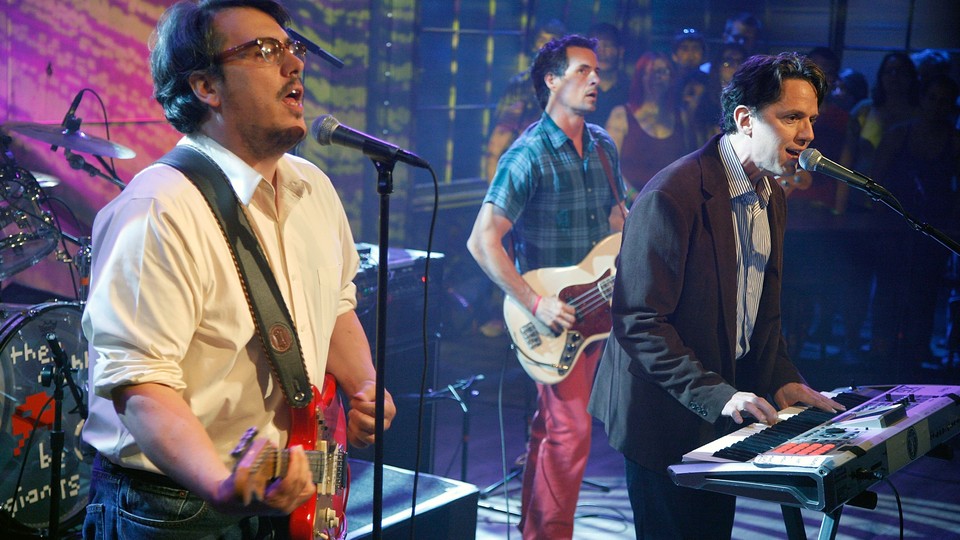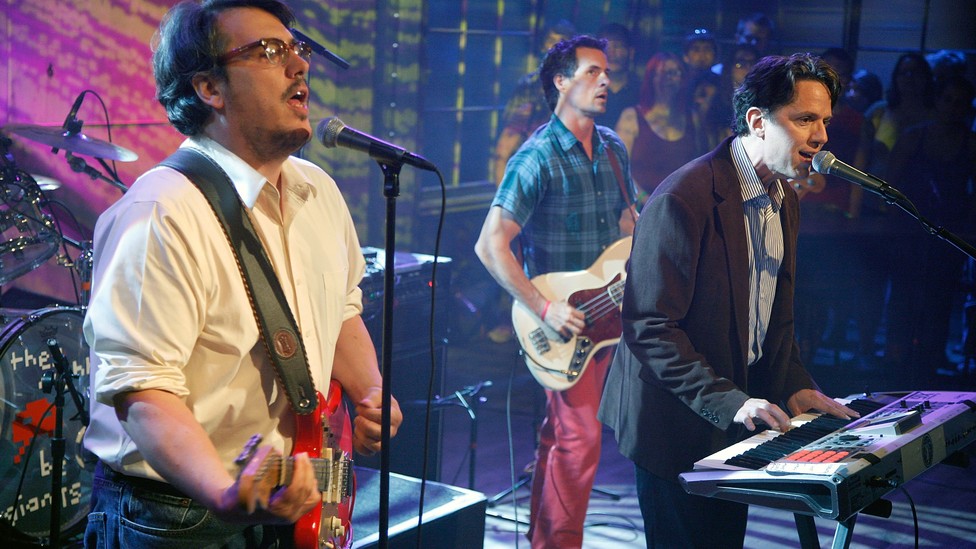 "The best band of all time. Better than the Stones, better than the Beatles, better than Oasis, and better than Crosby, Stills & Nash." That's how the hip-hop artist Open Mike Eagle once described the alt-rock band They Might Be Giants—and whether or not you agree, there's certainly something singular about the group, formed 36 years ago by John Linnell and John Flansburgh. Just look at their biggest single, the revolutionarily geeky "Birdhouse in Your Soul." Or the theme song they wrote for Malcolm in the Middle. Or Squidward's 11 o'clock number in the SpongeBob SquarePants Broadway musical, or their extremely dedicated fanbase.
Over the course of 20 studio albums, They Might Be Giants has weathered seismic changes in the music industry and popular sound, continuing to evolve while somehow remaining the same weird band it's been from the beginning. The group's latest album, I Like Fun, is one of its most sparkling works yet, and gives a few hints as to how They Might Be Giants has endured despite having once been, in Flansburgh's words, "the most stoppable force in rock music."
In case fans were worried They Might Be Giants might have lost its trademark sense of humor, I Like Fun starts with a track wryly titled "Let's Get This Over With." The next few songs flow together smoothly, each built around some sort of continuous sound, whether a wall of guitar chords or a pulsing bass line—but then the title track drops in. "I Like Fun" is filled with stops and starts, and even moments of silence, as Flansburgh waxes philosophical about waiting for a prescription to be refilled and the ups and downs of growing old. But after a sputtering introduction, the song finally blooms into a fluid melody as Flansburgh sings, "I like fun / And so do you / As we float away / So do you." And I do.
The first time I heard They Might Be Giants was in the late '90s. The album Flood is the first CD that I have a clear memory of holding in my hands. My dad, the only person I know whose taste in music is more eccentric than mine (he likes opera as much as he likes Seinabo Sey), had just bought the record at the local Borders, and I was clutching the jewel case in the back seat of the family car. "Why is the world in love again?" a chorus of voices sang sweetly and ceremonially in "Theme From Flood," the album's 28-second intro. "Why are the ocean levels rising up?" They were singing about doom, but they were singing about joy, too, and in an instant, I was hooked. The next week, my dad and I went back to the store to pick up every other They Might Be Giants album in stock.
The intervening years saw my obsession continue as the band came out with a cavalcade of new albums, including a handful of children's records that neatly illustrate how They Might Be Giants' appeal has spanned generations. While the tracks on No! (2002) and Here Come the ABCs (2005) are a little lighter in theme than their "adult" counterparts, they're still as deeply absurd as anything on the group's other albums. No! has an entire song sung from the perspective of a broom fed up with sweeping, and Here Comes Science (2009) refers to the human heart as "the Bloodmobile," a moniker as disturbing as it is cute. Though the arrangements themselves might be comparatively simple, they can be dizzying as they swing from funk to folk. These are children's albums that don't patronize their young audience.
On the distribution side, They Might Be Giants has been notably forward-thinking: It was among the first groups to put its music online, selling MP3s on its own site starting in 2004. Then there's Dial-A-Song, which originated in 1983 as a number people could call to listen to a track in the form of an answering-machine message. The service has offered up some of the band's most charming recent hits, including the entirety of Glean (2015), a cover of Destiny's Child's "Bills, Bills, Bills," and—in anticipation of the new album—the first few singles from I Like Fun. As technology has progressed, Dial-A-Song has developed into a new toll-free number, as well as a website, a YouTube channel, an email-subscription service, and now, in its latest update, a smartphone app.
The band's sound has evolved, too, but remained firmly in touch with its origins. The inclusion of the song "They Might Be Giants" on the band's major label–debut, Flood, raucous and strange as it is, was meant to signal that the group was, in Flansburgh's words, "very much going to carry on as [it] had started—which is to say complicated and impossible to pigeonhole." Indeed, though the musicians are sonic magpies, with country twangs ("Number Three") and Baroque vocal trills ("Sleep") equally present in their work, they're not exactly genre-hopping—despite influencing artists as varied as Open Mike Eagle and Modest Mouse and "Weird Al" Yankovic. There are no attempts to integrate bass drops or otherwise adapt to what's trendy at the moment. The band has also literally grown, with Linnell and Flansburgh presently joined by the guitarist Dan Miller, the bassist Danny Weinkauf, and the drummer Marty Beller. All the while They Might Be Giants has continued to experiment (a drum machine was key to 1988's Lincoln, for example, and Flansburgh and Linnell keep learning to play new instruments) and to explore the eternal themes that have colored the group's work leading up to I Like Fun.
Speaking to the blog NoiseTrade about the new album, Flansburgh noted that themes of dread, death, and disappointment are "evergreens" for the band, but even so, They Might Be Giants isn't a downer. "Melody and music-making, in general, is so life-affirming that it seems to immunize everyone from the initial meaning of even the most dire lyric," Flansburgh explained. "It's like the catharsis is baked into the song-making." That search for delight amid despair surfaces in each one of They Might Be Giants' albums. On The Else (2007), there's "The Mesopotamians," which was written about the Iraq War and yet breaks into a chorus that practically demands that the listener jump up and down. On Apollo 18 (1992), there's the fever dream that is "Fingertips," a suite of 21 micro-songs that average about 10 seconds each, with titles like "Please Pass the Milk" and "I'm Having a Heart Attack."
I Like Fun feels like the natural culmination of all of the above; it's filled with bright crushes of chords, sweet melodies, and hooks that will stay with you long after the tracks are over. When "I Like Fun" kicks in with its curiously halting arrangement, it's as if to remind the listener that They Might Be Giants songs are never as simple as they might first seem. "Push Back the Hands" seems to drive at the same point: It features a peppy, Jackson 5–reminiscent opening but dives straight into lyrics about frustration in the face of the relentless passage of time. "You wanna sing to drown out the car horn / Squeeze your eyes shut and scream like a newborn," Linnell croons, over a twinkling synth backing that seems like it'd just as easily accompany verses about prom night.
They Might Be Giants has made an art out of punching through desperation. Almost two decades after the sounds of Flood first burst through my family's car stereo, I spent the end of 2017 and the beginning of 2018 at They Might Be Giants' New Year's Eve show at the Music Hall of Williamsburg. As the minutes counted down, the gathered crowd, which included people of all ages, sang along to songs that spanned the band's career. The music flowed together, new and old compositions in harmony with one other, all born out of a single aesthetic vision. And at the stroke of midnight, we were bathed in confetti, all the anxieties of passing from one year to another made manageable by music. To grow and survive requires change; it also requires keeping the nightlight on in the birdhouse in your soul.