Camila Cabello, Pop's Understated New Star
The Fifth Harmony ex-member's solo debut reconciles singalong fun with the hazy, reserved mood that has ruled the charts lately.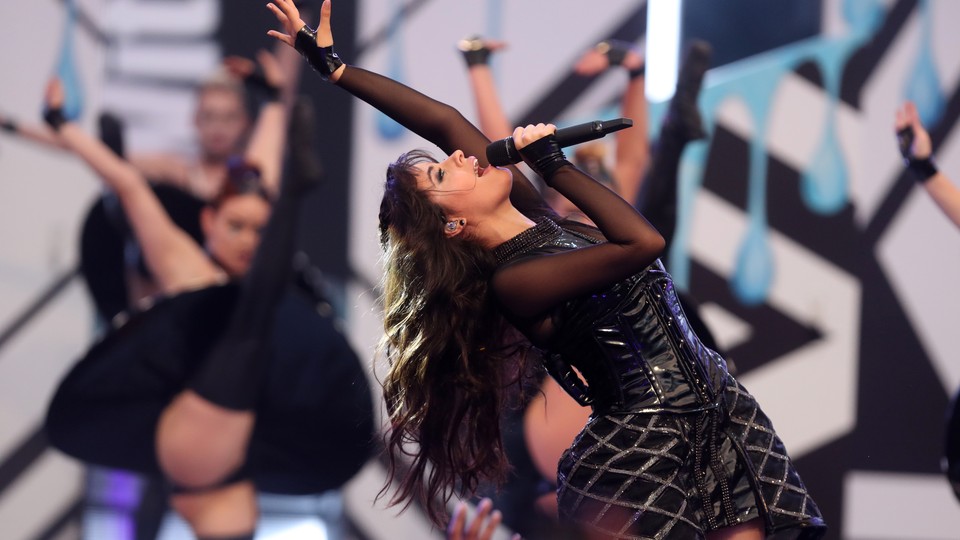 The No. 2 song in the country, Camila Cabello's "Havana," stands out in the charts in a few ways. There's the sauntering, salsa-adjacent piano line. There's the fact that Havana gets rhymed with East Atlanta repeatedly. And there's Cabello's singing, sultry but also unconcerned. It's like she's telling a story while lying on the couch and fiddling with her phone. Yet she's also enunciating comprehensibly and staying locked to the rhythm. The hook trails off: "Na na na." The topic is hot romance; the delivery is cool.
Cabello herself, at 20, stands out in the pop landscape for a few reasons. After leaving the world-conquering girl group Fifth Harmony under less-than-harmonious circumstances, she'll be running the test of whether she can make like Beyoncé or Justin Timberlake and launch a solo career. As a Cuban American whose "Havana" took off during the reign of the historic Spanish-language hit "Despacito," she'll be held up as a leader in a new Latin pop crossover moment. But her debut, Camila, isn't overpowered by the media narratives around it. It's first a quality product of the modern pop machine, showing that the mood of the moment—understatement—can be reconciled with slick, singalong fun.
Anyone trying to describe the sound of the charts lately has to end up using words like hazy, drowsy, and gloomy. That musical mode's arrival has correlated with the downfall of some big-lunged divas who once ruled. Theoretically, this would pose a problem for Fifth Harmony, essentially a diva supergroup that delivers brassy uplift and cardio-class pep. Which means Cabello's late 2016 departure from the group may have been well-timed. Even though Camila was preceded by a few singles that didn't connect and aren't on the album, the singer and her team have successfully leaned into the moment.
They've done so with a kind of feline sensibility, holding back and then pouncing gracefully. The opener, "Never Be the Same," sets the tone with a low organ sound, church bells, and Cabello hushed and solemn. Then Cabello vaults to a high, fragile tone, before returning back down for the chorus. She's feeling something big, but only lets the listener hear the full scale of that feeling in flashes.
On any other gloss-pop album, such a portentous opener would be followed with a stimulant. But Camila's second song, "All These Years," is just made up of acoustic strumming and vocal harmonizing in the mold of Justin Bieber's "Love Yourself." It's a crisp and unfussy sketch of running into an ex—"Your hair's grown a little longer / Your arms look a little stronger"—and its placement on the tracklist makes a statement: catchiness without bombast.
Yet it's in the uptempo material when Cabello's approach best pays off. "Inside Out" is the logical "Havana" follow up, with a jolting piano pattern and pillow-padded dancehall beat in line with the "trop pop" trend of the past few years. It's nice to hear Cabello recenter that sound's lineage with dips into Spanish, but the key is the chorus, a quick little flutter of notes. The arrangement is humid enough already—no need for Cabello to break a sweat.
The other standouts on the refreshingly compact album (just 10 original tracks in an era when it feels like every blockbuster release redefines "deluxe edition") are also low-drama dancefloor anthems scattered among the ballads. "In the Dark" boasts a drinks-in-the-air vibe and a gliding momentum that recalls both the glazed quality of '90s trip-hop and the fizz of Carly Rae Jepsen. The stuttering synthpop of "Into It" makes great use of the modern flirtation catchphrase "I'm into it," with a vibe that's performatively casual yet totally wound up.
Cabello's soft touch, as well as her team's craftiness, should land her hits—though it may not solidify a memorable public persona upon which a lasting solo career can be built. Her singing is in the style that's been ubiquitous recently—the coy, breathy, "indie" affectation—and the lyrics are barely distinctive enough to scrawl on a locker. But pop's first job is pleasure, and right now, there's something oddly irresistible about the sound of restraint.