The Problem With Annihilation's Messy Release
Paramount, the studio behind the upcoming sci-fi thriller, has taken the unusual step of selling its international rights to Netflix.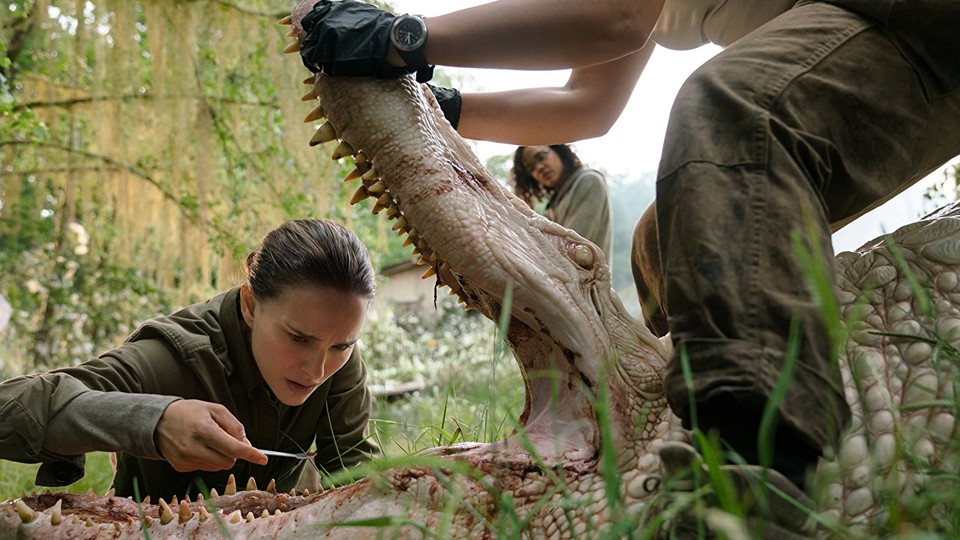 When Paramount released the Amy Adams–starring Arrival in November 2016, it was one of the biggest hits of the year for the studio. It grossed $203 million worldwide, was critically acclaimed, and netted eight Oscar nominations, including Best Picture and Best Director for Denis Villeneuve. On paper, the upcoming sci-fi drama Annihilation looks like a similar project for the studio. It's from an acclaimed filmmaker (Alex Garland, who made Ex Machina), has a big female star (Natalie Portman), and is aimed at the kind of grown-up audience Paramount has targeted in recent years with movies like Fences, Allied, and The Big Short. Only this time, the studio doesn't seem eager to be associated with the project.
Annihilation is being released in American theaters on February 23, but with much less promotional fanfare than Arrival got (February is hardly a prime time to release a film for Oscars contention). Outside of the U.S., Canada, and China, the movie isn't getting a theatrical rollout at all— its international release will be handled by Netflix, to whom Paramount sold the rights in December. This arrangement is practically unheard of for a major studio, since it openly acknowledges that Paramount doesn't think the film will make money. The move has also prompted a disappointed reaction from Garland, who said he made Annihilation to be seen on the big screen; it's the kind of decision that could drive acclaimed filmmakers away from working with the studio in the future. So what's the rationale behind Paramount's decision?
According to The Hollywood Reporter, Paramount sold the international rights to Annihilation after poor test-screening results last summer indicated the film might be "too intellectual" for general audiences. Based on a bestselling book by Jeff VanderMeer, Annihilation follows a biologist (Portman) as she journeys into a hostile, unknown territory called Area X; trailers for the film have emphasized its suspenseful action and surreal visuals. Garland's last movie, Ex Machina, was a pint-sized hit, grossing $25 million and garnering an Oscar nomination for Best Original Screenplay. For the indie studio A24, that was a solid result, and it was enough to get the director a deal at a major studio. But it seems Paramount wanted something more mainstream from Garland.
Annihilation will still hit screens in the world's two biggest markets—the U.S. and China—but the Netflix partnership is an unusually public show of nervousness over the film's profitability. Paramount can use the money from the deal to help recoup the film's reported $55 million budget, but if Annihilation is a hit, the studio will miss out on any international grosses. The deal also effectively signals Paramount's lack of trust in the vision of the filmmaker it hired. According to The Hollywood Reporter, one of the studio's top financiers, David Ellison, clashed with Garland and the producer Scott Rudin over proposed reshoots that would have changed the ending, which the director refused to budge on. Rudin had final-cut privileges on the movie, giving him control over the finished product, and he opted to back Garland.
It's a more extreme version of the clash between commerce and artistry that's repeatedly played out in Hollywood in recent years, though it's rare for such drama to break out after the film is completed. Marvel hired Edgar Wright to make an Ant-Man movie, and it parted ways with him weeks before shooting started over "differences in their vision of the film." The Disney producer Kathleen Kennedy had Tony Gilroy reshoot huge portions of Rogue One after dissatisfaction over the initial cut; in the case of the upcoming Han Solo film, she fired the directors Phil Lord and Christopher Miller in the middle of production because she didn't like their overtly comic take on the character. Last year, the former Warner Bros. president Toby Emmerich was reported as seeking to avoid working with "auteur directors" in the future who would be given final-cut rights (aside from established box-office players like Christopher Nolan and Clint Eastwood).
Paramount selling Annihilation's international rights feels part of a whole with these tales of friction between executives and filmmakers. Rudin's support of Garland meant the director couldn't be replaced for reshoots as those other filmmakers were, so instead Paramount is backing out of its commitment to promote and release the work worldwide. Garland has already communicated his negative feelings over the deal (though he acknowledged the Netflix deal would bring the movie to even more viewers). In a December 2017 interview with Collider, the director said he was disappointed to learn Annihilation wouldn't be seen on the big screen in much of the world, including in his native Britain. "We made the film for cinema. I've got no problem with the small screen at all … But from my point of view and the collective of the people who made it—[it was made] to be seen on a big screen."
Annihilation isn't a small-scale drama; it's a visually inventive sci-fi epic, the likes of which major studios have produced for decades. Paramount bowing out of its international theatrical rollout is another example of the industry shifting away from films that aren't proven box-office quantities. Ironically, the same kind of Netflix deal is reportedly being mulled for another Paramount movie, God Particle, part of the loosely connected Cloverfield franchise. The other two Cloverfield films were hits for Paramount, but according to The Hollywood Reporter, the studio's new CEO Jim Gianopulos has identified the $40 million–budgeted space thriller as a risk. "He sat down and looked at what is theatrical, what is not in this day and age," a source told the Reporter. Paramount films like the upcoming Transformers spinoff Bumblebee fit the bill; God Particle and Annihilation, it seems, may not.
Paramount's decision is partly motivated by internal politics, too. Annihilation was ordered by the late Brad Grey, the studio's prior CEO, who was ousted in February 2017 after a string of flops. His replacement, Gianopulos, has less attachment to the projects Grey shepherded and is seeking to shore things up after the studio's disastrous 2017. Almost all of Paramount's big films last year—Transformers 5, Baywatch, Ghost in the Shell, and Monster Trucks among them—were financial failures, and the only major tentpoles it can look forward to in 2018 are Bumblebee and a new Mission: Impossible movie. But it's rare for an upcoming film to lose theatrical distribution because of the failure of unrelated past projects; Annihilation, after all, had very little to do with Baywatch not connecting with audiences.
Annihilation and God Particle could be one-off casualties dumped onto Netflix as the studio tries to get its books in order. Or this could be the sign of a more worrying Hollywood trend, in which the very idea of a bigger-budgeted film that isn't a guaranteed financial success is simply anathema to a big studio, with Netflix used as a last-resort, cost-saving measure. Another studio, New Line, has cut a deal with the service for an upcoming Shaft movie starring Samuel L. Jackson and Jessie Usher, in which the studios split the production costs and Netflix gets the international rights. It's a model other studios could soon follow. But there's a difference between making such a deal up front and doing it well after a movie has completed production. (There's also a certain irony to Paramount collaborating with Netflix when the latter is openly intent on dismantling the model of theatrical release that the former relies upon for commercial success.)
When Garland made Ex Machina in 2015 and released it to strong reviews, healthy box office (it made more than twice its budget worldwide), and Oscar success, he seemed primed as one of the most exciting new voices in Hollywood. He was a perfect candidate to helm a bigger-budgeted studio film. Paramount's demonstration of its lack of faith in Annihilation is a particularly chilling reminder of how risk-averse many big studios have become, and perhaps a sign to artists to consider taking their work elsewhere.