The Assassination of Gianni Versace's Flawed Beauty
FX's American Crime Story uses lavish detail to tell of an iconic designer's murder—and what it said about society.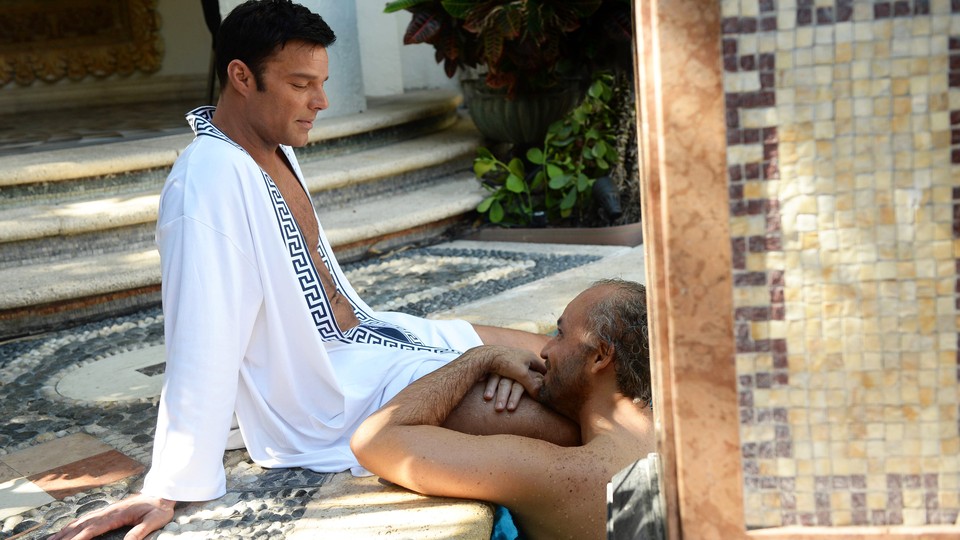 American Crime Story: The Assassination of Gianni Versace tries to test the viewer's appetite for classical beauty. In long, slow, largely wordless sequences, Ryan Murphy's camera pans over the ornate tiling of the Versace villa, over the sun-kissed pastel facades of '90s Miami Beach, and over the speedo-clad bodies that inhabited both. The lens will swoop and dive through a cavernous club populated by shirtless men in angel wings, or it will hover, gnat-like, right up against Penélope Cruz's face. Often, in these moments, the sound of opera plays.
The follow-up to 2016's award-and-acclaim-and-audience-winning The People v. O.J. Simpson spirals out from the 1997 morning when the designer Gianni Versace was gunned down by a serial killer and escort named Andrew Cunanan. Versace, we're told early on by his sister Donatella (Cruz), had "a weakness for beauty." The show is clearly hoping that audiences will share that stereotypically Italian trait as it channels Federico Fellini and The Godfather. Murphy is more of a workman than a high artist, though, and his meanderings here muddle an intrinsically strange, socially resonant story.
There are indeed some pungent visuals, including when Versace's lacquered coffin is licked by the flames of an incinerator, and when a procedural police interview is made surreal by an outrageous backdrop. Yet Murphy's wide-ranging catalogue (Glee, American Horror Story, The Normal Heart) has been more defined by the grotesque than by the gorgeous, and his methods often feel cheap. Whether with chalkboard-scratch strings overused to inject suspense, or with scene-dominating monologues spewing out exposition, he leans on the tricks of industrialized TV to a deadening extent. Last year, Paolo Sorrentino's The Young Pope showcased a truer episodic tribute to baroque (and yes, Italian) sensibility: forceful, hypnotic, uncompromising. By contrast, Murphy's lavishly decorated wall dressings feels like, well, wall dressing.
Which means the viewer might zonk out before getting to the good stuff. Murphy's grand ambitions extend to not only surfaces but also structure, and the show threads together pre-murder and post-murder timelines as well as a multiplicity of points of view. Occasionally this is confusing—especially because Cunanan was hunted by the cops both before and after the shooting. But by the end of the second episode, the rhythms of the show make themselves clear, and the audience should be able to lock in.
The Versace household itself, even when depicted before the tragedy, provides plenty of intrigue. Murphy—ever-gawking at the human instinct to gawk—dramatizes the public fascination with the opulence Versace created, the sensibility clash between designer siblings (Gianni and Donatella), and the supposed salaciousness of a powerful gay man's lifestyle in a less tolerant era. As Gianni lay dying on the steps of his villa, according to the show, one passerby ran to snap a polaroid and then auctioned it off to the media. Another bystander did something even more crass.
Ricky Martin's performance as Antonio D'Amico, Gianni's romantic partner of 15 years, is stiff but believable enough. The cops and the show take a somewhat leering interest in the question of whether his character was exploiting Versace while turning their home into a revolving sex salon, or if he was simply, lovingly, helping to fulfill the designer's desires. Cruz's Donatella doesn't arrive until late in the first episode, but when she does it brings a much-needed note of contrast. She's hard-minded where D'Amico is emotional, swathed in black amid her brother's multi-hued garden.
Darren Criss's Cunanan is positioned as a monster conman in a rich American lineage that includes Patrick Bateman and Donald Trump. He lies insistently, enthusiastically, and imaginatively, and even though he's evading attention from viewers of the FBI mouthpiece America's Most Wanted, he simultaneously brags that he's "the person least likely to be forgotten." As a killer prostitute, the character offers the means through which Murphy can indulge his American Horror Story side to explore how the closet can enable atrocities. While the show plays coy about Cunanan's motivations, you get a sense that gnawing shame and a need for validation helped create him—and that he knew how his pretty face afforded him a measure of social armor.
But smartly, Murphy reserves a lot of empathy for the character who might have stood in as the bigger symbol of surface worship, Gianni Versace himself. His family has disavowed the series, based on Maureen Orth's 1999 book Vulgar Favors, as tawdry and inaccurate. Yet the murder victim is played with real gentleness and sensitivity by Édgar Ramírez, who also nails Versace's physical look. It's not prettiness itself that motivated his work, we're told, but family, loyalty, and a desire to serve. Getting the most out of American Crime Story will similarly mean looking past the frescoes and fabrics to the plight of people whose ken for beauty fascinated a sick man and—Murphy argues—a sick society.