A Futile and Stupid Gesture Is a Basic Comedy Biopic
David Wain's exploration of the career of the National Lampoon founder Doug Kenney skims the surface of his appeal.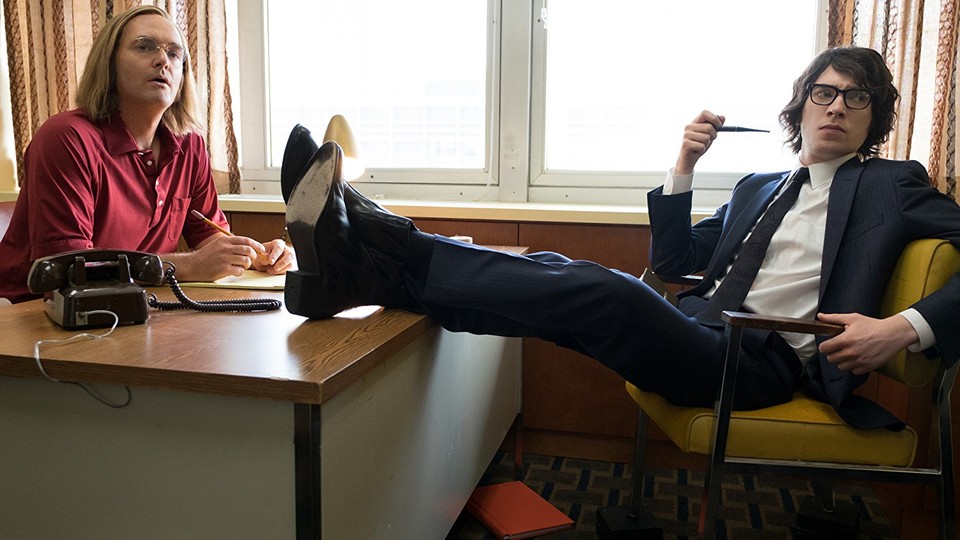 The story of Doug Kenney, the co-founder of National Lampoon magazine and the writer of seminal films like Animal House and Caddyshack, is one that might be unfamiliar to a casual comedy fan. Here was someone who laid the groundwork for so many of America's legendary satirists, particularly the early stars of Saturday Night Live, but who has been somewhat forgotten in the intervening decades. David Wain's movie A Futile and Stupid Gesture, out Friday on Netflix, tries to address that by offering a crash course in Kenney's influence, laying out every important part of the man's short but vital career onscreen in madcap biopic form. Unfortunately, he doesn't provide much more information than you would have gleaned from reading this paragraph.
Kenney (played by Will Forte) went to Harvard, where he edited The Harvard Lampoon and wrote the parody book Bored of the Rings with his friend Henry Beard (Domhnall Gleeson). Together, they launched the National Lampoon in 1970, which offered darker, more anarchic satire than existing favorites like Mad magazine and shaped the comedy generation that followed. Kenney's first film-writing credit, Animal House in 1978, was a colossal success; Caddyshack, released in 1980, was another hit. Wain takes us through the highlights of Kenney's career, having an ensemble of lovable modern-day comedians play veterans like Bill Murray, Chevy Chase, and Gilda Radner, who all worked with Kenney at some point.
But Wain—a talented writer and director who knows the history of cult comedy troupes (having come up with The State) and movies (having made the terrific Wet Hot American Summer, among others)—makes a mistake typical of biopic filmmakers. A Futile and Stupid Gesture feels like a quick tour of a man's greatest hits that relies on his accomplishments, rather than any storytelling artistry, to impress the audience. Yes, Kenney was part of a turning point in American satire, but that alone doesn't make for an interesting film.
The one daring storytelling decision Wain does make (he's working from a script by John Aboud and Michael Colton) is to have an old-age version of Kenney, played by Martin Mull, narrate the action for the viewer on-screen. Mull will walk into scenes and give a self-aware take on what's happening, perhaps poking fun at the overwhelmingly white and male staff of the Lampoon, or the issues Kenney runs into later in his career (namely, cocaine addiction and repeated infidelity).
It's a peculiar device simply because of Kenney's real-life story, one that some viewers will probably already be aware of—Kenney died in 1980 at the age of 33, after falling off a cliff in what was ruled an accidental death. Mull's presence is meant to be an extended gag about the omniscient narrator, but it doesn't land, feeling instead like a weird afterthought in a film that otherwise avoids experimenting much with form. The effect is confusing rather than radical, although Kenney himself may have approved of how convoluted the whole thing is.
After Harvard, A Futile and Stupid Gesture takes us through the rest of Kenney's career and introduces the different people in his orbit. Gleeson is amusingly dry as Beard, the co-founder of the Lampoon; Thomas Lennon is a nice fit as Michael O'Donoghue, a famously acidic Lampoon writer who went on to work at Saturday Night Live; and Joel McHale is relatively inspired casting as a young Chevy Chase (he and Kenney collaborated most closely on Caddyshack). Forte, always a relaxed presence, plays Kenney as quietly manic, a guy who always presented an easygoing affect even as his brain was clearly racing with ideas.
But there's not much in Forte's performance to convince the audience of just why Kenney was so brilliant; the only motivation the movie offers is that he wanted to rebel against his patrician parents. It's a watchable enough film—Wain moves every scene along zippily, and even Kenney's worst moments of drug addiction (he was a heavy cocaine user, which may have contributed to his death) are presented as high-energy montages. Unfortunately, that just further amplifies the sense that A Futile and Stupid Gesture is skimming the surface of the man's life. We see all the ingenious things he was part of, including the Lampoon's famous cover of a dog with a gun to its head and the chaotic set of Animal House. Wain's admiration for Kenney is certainly obvious. But his film may only serve to remind ardent fans what they already know, while leaving the uninitiated feeling like they could have learned as much from a simple Google search.