Will the Angels' Shohei Ohtani Experiment Work?
After years of hype, the young Japanese star has finally arrived stateside. For his new team, the pitcher-slugger is a source of pure potential.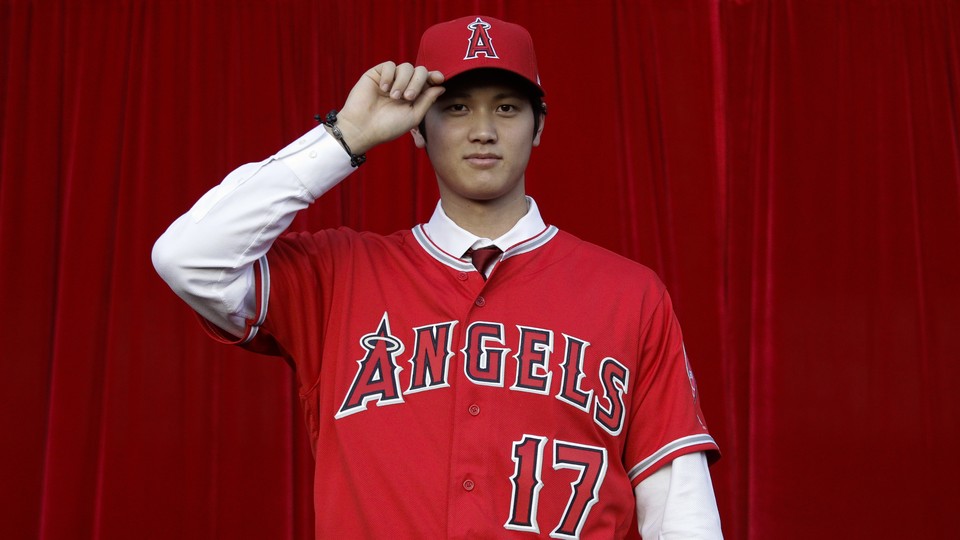 The most exciting player in Major League Baseball has not yet played an inning. The Los Angeles Angels of Anaheim signed Shohei Ohtani, a 23-year-old Japanese hitter and pitcher, last Friday to a minimum-salary contract with a paltry $2.3 million signing bonus, and made official what fans stateside had been looking forward to for months. When next season opens in the spring, MLB will feature something it hasn't in decades: a player as feared at the plate as he is on the mound.
The "Babe Ruth of Japan," as Ohtani has been called—referencing Ruth's status as a star pitcher before he became baseball's archetypal slugger—arrives with extensive credentials. At 6-foot-3 and nearly 200 pounds he has the build teams look for in both workhorse aces and middle-of-the-order hitters, and over the course of his five-year career with the Nippon Ham Fighters, he served as both. He has a 100-mile-per-hour right-handed fastball and a vicious left-handed swing. During three separate seasons, he won 10 or more games as a pitcher with earned-run averages below 3.00; twice he hit for an on-base-plus-slugging percentage of better than .940 (his new teammate Mike Trout's career OPS, for comparison: .976). Ohtani's 2016 season, which cranked up the volume of the international rumblings, remains impressive. He posted a .322 batting average with 22 home runs that year while striking out 174 batters across 140 innings. Translating such numbers to the tougher environment of the American big leagues, FiveThirtyEight guesses Ohtani will hit like Hideki Matsui and pitch like Yu Darvish—a World Series Most Valuable Player and Cy Young Award runner-up, respectively.
To the Angels, Ohtani is a possibly transformative player at a relatively low price. Once news of the signing broke, Las Vegas sports books deemed the team almost twice as likely to win the World Series as it had been before, and Ohtani, for his part, said "I just felt something click" with his new team. But to baseball as a whole, he represents much more. In an increasingly regimented atmosphere, Ohtani is a blast of daring possibility. What makes him special is not just that he can both pitch and hit; it's that he seems so eager to try.
The story of sports, especially over the last decade or so, hinges less on individual genius than on spreading doctrine. New analytically supported findings have moved teams and players toward a kind of strategic consensus, and nowhere is this trend clearer than in baseball. Starting pitchers, formerly night-long protagonists, now work fewer and fewer innings, replaced at the first sign of trouble by cadres of specialized relievers. Batters across the game are encouraged to revise their swings in pursuit of the optimal launch angle for home runs. Everyone has the same numbers, so everyone is playing the same odds.
Ohtani, though, exists so far outside of convention that conventional wisdom does not—indeed, cannot—apply. It's expected that he will work as a starting pitcher and designated hitter, but beyond that, specifics are still to be determined. As Mike Scioscia, the Angels' manager, gushed about the team's acquisition at an introductory press conference on Saturday, he acknowledged that incorporating Ohtani will be a process of discovery. "I think that our job, and we have a lot of work ahead of us, is to see exactly how you get a multi-dimensional, two-way athlete like Shohei to bring his talent to the field often enough to where he leads us to that championship," Scioscia said. "His ability both on the field and in the batter's box is something that doesn't come along—it really never comes along. So our excitement is very, very high."
Months before Ohtani takes the field with his new team, it's thrilling to hear a player spoken about this way. He is not an answer to some preconfigured need but a source of pure potential. His talents will shape his function, not the other way around. Even if the Angels' higher-ups were inclined to impose limits on Ohtani, they'd have a hard time knowing where to begin. Would they sacrifice the batter who can hit home runs all the way to the outfield concourse or the pitcher who can freeze hitters with inch-perfect fastballs?
Ohtani is an aberration in the truest sense—no player since Johnny Cooney in 1924 has started 15 games as a pitcher and hitter in a single season, according to MLB.com—but there's an outside chance he could become a template. Two of the top four picks in June's MLB amateur draft were dual-threat players, the pitcher/shortstop Hunter Greene and the pitcher/first baseman Brendan McKay. Though Greene has since said he will focus on pitching, McKay is still plying both of his trades in the Tampa Bay Rays' minor league system. If Ohtani matches his success from the Pacific League in MLB, more young players may pursue double-sided excellence—and, more importantly, more teams may be willing to indulge the experiment.
Obstacles remain to Ohtani's success, of course. It's highly unlikely that he will immediately pitch and hit to his potential, and the adulation that surrounds him now could quickly turn to scrutiny. Columnists will wonder whether proficiency in two areas costs him a higher level of excellence in one; various talking-head shows likely have their debate-segment titles written already. Ohtani's injury risk is heightened, since if he hurts his throwing arm the Angels essentially lose two players at once. There are the roles of other players to consider as well. Ohtani's designated-hitting duties mean the aging and often hobbled Albert Pujols will have to play more first base; it's not hard to forecast the circumstances under which Pujols's comfort and Ohtani's ambitions come into conflict.
Still, even the inevitable problems will feel refreshing, on some level, given their lack of any clear answers. All season long, Scioscia and the Angels will need to invent new routines for a new type of player. They will have to learn, react, and improvise on the fly. In a sport that mostly adheres to an agreed-upon notion of what's correct, Ohtani reframes conversation and tactics alike, shifting the focus, as few before him have, from what's prudent to what's possible.