U2's Political, Unstoppable, Grating Cheerfulness
Songs of Experience, the band's 14th album, offers unsolicited therapy to the nation.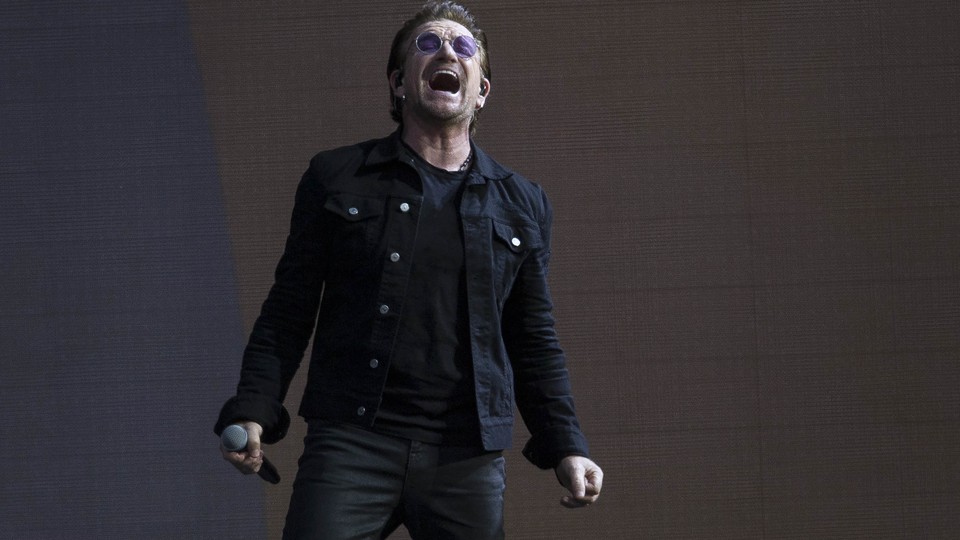 MechaHitler and HiddleSwift, meet RefuJesus. In one of the passages on U2's Songs of Experience, during which the band tamps down its cheerful noisemaking and lets some anxiety show for a few measures, Bono breaks the gloom with a yelp: "Will you be our sanctuary / Ref-you-jeez-us!"  Wait, who? RefuJesus might be the Statue of Liberty, welcoming the tired and huddled. Or it could be the West as a whole. Or just Jesus. Or, naturally, Bono himself. What's clear is that the religious and political concerns that have threaded through U2's career are now getting knotted together more garishly than ever. Never go full portmanteaux.
"The problem with rock now," the singer told The New York Times in September, "is that it's trying to be cool." Songs of Experience, U2's 14th album, is meant to remedy that problem with self-help anthems decked in occasional vocal manipulation and AC/DC riffs. The RefuJesus line clearly shows the band is okay with being laughed at. So does, say, Bono lovingly referring to his wife as a "landlady" who "takes me up in the air." U2 has, for more than 30 years, been pop's savviest provider of can-do uplift, but Songs of Experience reaches a new level: reckless cheer.
The problem with rock now, for the record, is not that it's trying to be cool. The genre's two biggest new commercial successes in recent years, Imagine Dragons and 21 Pilots, certainly don't play coy in the name of hipness. Rather, they channel U2-style tryhard, whether donning costumes or lumbering across genre lines or groaning with arena oomph. No, what really makes U2 out of step in 2017 is their commitment to uplift. The aforementioned two hit bands emphasize ennui and pain; U2 descendants Coldplay and Arcade Fire have entered hyper-cheeky disco phases. The Irish originals meanwhile put at the front of their songs the happy lessons that usually come at the end of sitcom episodes. Just read the titles: "Love Is Bigger Than Anything in Its Way," "You're the Best Thing About Me,"  "Get Out of Your Own Way."
Such stridently insisted-upon joy is meant to be political—as Bono put it to the Times, it's "defiance" in dark times. 2014's Songs of Innocence was unusually small-scale and autobiographical, and for much of the public its music was overshadowed by the way it showed up in their iTunes libraries uninvited. U2 simultaneously recorded this follow-up—always envisioned as musically grander and broader—but then delayed and reworked it in part to respond to the 2016 election. The results include clunkers such as the "RefuJesus" line, causing songs about love or stardom to double as would-be national mood boosters.
The music itself has a canned swagger to match that effort. Rather than have the Edge mesmerize with otherworldly guitar effects, U2 sound strangely like a bar-band here, thrashing and stomping but not actually scaring anyone. A run of tracks in the middle of the album play with tropes of summertime pop—think more the Monkees than the Beach Boys—partly as a strange homage to refugees who die at sea (I'm not kidding). The more misty and anthemic fare works better, with the gentle "13 (There Is a Light)" massaging clichés into something genuinely affecting. When Bono offers, "this is a song … for someone … like me," it feels like an earned nod at the nonpolitical narrative around the album: a recent near-death experience the singer had.
Bono, to be sure, already had the credibility to argue that smiling through crisis is noble. "New Year's Day" poignantly told of love thriving during war. "Pride (In the Name of Love)" espoused a fully sunny read of Martin Luther King Jr.'s life and death. "Beautiful Day" rang out to an ailing country after 9/11. But the specifics are wrong this time. U2 is transposing self-actualization rhetoric—the surety that you are all you need—onto the nation at a moment when listeners probably feel that what's required isn't a pep talk but material change. On Wednesday, while processing the news that the president had just tweeted out a snuff video, I cued up Songs of Experience. The first line, delivered in breathy quiver: "Nothing to stop this being the best day ever." I nearly broke something.
Yet set aside the feeling that you're being condescended to, and the suspicion that reflexive optimism often simply endorses complacency, and you can appreciate some of the lab-perfect hugeness here. "Lights of Home" is a rather gonzo triumph, built on a weird, fractured guitar riff that's, of all things, lifted from Haim's "My Song 5." The chorus offers a patented when-the-Xanax-hits moment, but the band still saves the strongest hook of the album for a final, gang-sung refrain: "Free yourself to be yourself."
If that lyric sounds too much like a chapter title in The Secret, wait until "Get Out of Your Own Way," another instance in which songcraft overpowers annoyance at being lectured about one's own emotions. It's built off a loping, steady beat, and there's something capitulatory and open-handed about the way the chorus melody slopes up and down. To close the track, Kendrick Lamar gives a sermon that feels like a corrective—to U2 itself, and to this album's insistence that simply feeling better will heal the world. "Blessed are the superstars," he raps. "For the magnificence in their light, we understand better our own insignificance."