The Secret Identity of Marvel Comics' Editor
C.B. Cebulski admitted he once used a Japanese pseudonym and fake backstory in order to write comics. Why his actions—and the company's muted response—are troubling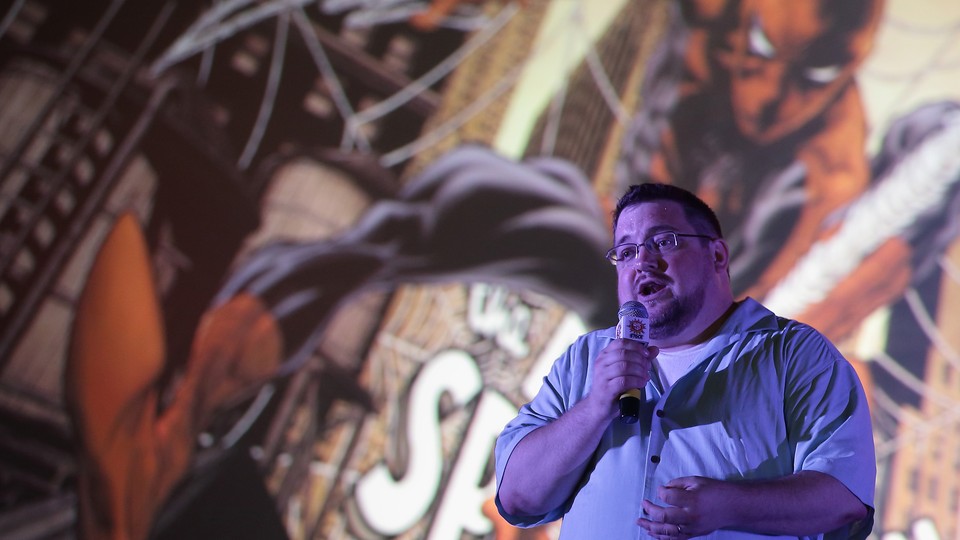 In late November, C.B. Cebulski lost his secret identity. The longtime editor and talent scout for Marvel Comics had just arrived in the United States to become editor in chief, after spending years working for the company in Shanghai. But the start of his tenure was quickly marred by the resurfacing of an issue he had long tried to conceal. A day before Cebulski's plane landed in New York, a branding manager at Image Comics named David Brothers tweeted a request: that someone should ask Cebulski why he had written "a bunch of 'Japanese-y' books" for Marvel in the early 2000s under the name Akira Yoshida.
Cebulski, a white American man, had repeatedly denied the rumor that he'd ever published using a Japanese pseudonym. But the social-media interest in the issue as he began his new job forced him to come clean. "I stopped writing under the pseudonym Akira Yoshida after about a year," Cebulski told Rich Johnston of Bleeding Cool, the comics site that broke the story on November 28. "It wasn't transparent, but it taught me a lot about writing, communication, and pressure. I was young and naïve and had a lot to learn back then. But this is all old news that has been dealt with, and now as Marvel's new Editor-in-Chief, I'm turning a new page and am excited to start sharing all my Marvel experiences with up and coming talent around the globe." (Cebulski later shared a longer statement with The Atlantic addressing the pseudonym; his comments are included below.*)
Marvel Comics has had a rough few years, full of dropping sales, public controversies, and departures by high-profile creators. After the exit of the previous editor Axel Alonso, Cebulski's stewardship was supposed to be a fresh start, an opportunity to regain audiences' trust. Instead, the company is having to deal with the fact that its new editor in chief was part of a larger pattern of white men posing as Asian for personal gain. Marvel's apparently muted response has prompted frustration from some comics creators, critics, and readers—many of whom recognize how Cebulski was enabled by an industry that has long relied on pulp Asian stereotypes and struggled with hiring people of color.
Cebulski, who has lived in Japan and is fluent in the language, was hired as an associate editor by Marvel in 2002, partly due to his background working with Japanese artists. (The initial press release jokingly referred to him as "C.B-san.") He had written for the company before, including a stint on the short-lived "Marvel Mangaverse," which filtered properties like Spider-Man and the X-Men through the lens of classic manga. Soon he was helping to oversee critical darlings like Runaways, now adapted into a new Hulu series. As Bleeding Cool explained, Cebulski's position as an editor meant he wasn't allowed to script comics for Marvel without special permission (and if granted permission, he couldn't be paid extra for his work); yet he began pitching other companies under the Yoshida name in 2003. His work on the Dark Horse books Conan and Hellboy impressed another Marvel editor who, unaware of Yoshida's real identity, asked Cebulski to pitch as well.
Throughout 2004 and 2005, Cebulski wrote several series for Marvel as Yoshida, including Thor: Son of Asgard and X-Men: Age of Apocalypse. Ninjas were a recurring theme in his work, as antagonists in Wolverine: Soultaker and Kitty Pryde: Shadow & Flame, and as main characters in Elektra: The Hand. As the site Comic Book Resources details, Yoshida had an elaborate backstory, which came to light as Cebulski took to giving interviews in character: He had spent time in the U.S. while growing up, had learned English via superhero comics, and had worked for a time at a small Japanese publisher. "My version of The Hand is greatly influenced by my love of Japanese history, [Akira] Kurosawa movies, and samurai manga, like Lone Wolf and Cub, Blade of the Immortal, and even Naruto," Cebulski posing as Yoshida told the comics site Newsarama in 2004. Musing on the topic of cultural borrowing later in the same interview, he remarked that Japanese and Westerners found each others' histories and cultures "mysterious" and "exciting," which inspired them to create interesting comics.
Roughly a decade ago, when Cebulski took a position at Marvel that allowed him to openly write as well as edit, Yoshida abruptly disappeared. This didn't go unnoticed: Rumors that the name had been a pseudonym for a Marvel editor soon began circulating online. Marvel staffers strenuously denied this, while the editor Mike Marts even claimed to have chatted about Godzilla with Yoshida over lunch. (According to Bleeding Cool, the man Marts spoke to was actually a visiting Japanese translator, which raises questions about why Marts said he had met Yoshida.) "I've brought most of the Japanese talent to Marvel and know all the writers and artists personally," Cebulski wrote in a 2005 internet-forum post dismissing the rumors of a writer using an Asian name, before listing a group of Japanese creators that included Akira Yoshida. "I know of people at other companies who have gone the pseudonym route, but not at Marvel. I wonder if there's someone I'm forgetting though … "
Yet the idea that Yoshida was a pseudonym persisted. In July of this year, the former Marvel staffer Gregg Schigiel recorded a podcast outlining the story, though he disguised the identities of the people involved. Schigiel said there were several people at Marvel who knew about the deception, though nothing had been done. "I had to approach it anonymously [so] as to not reveal my sources … but nothing came of it due to lack of hard evidence and no one [being] willing to speak on the record," Schigiel told The Atlantic in an email. "I never could have imagined less than six months later [Cebulski would] be named editor in chief."
* * *
The comics industry has a long history of people adopting pen names. Editors and writers have used them to disguise small staff sizes, or to quietly freelance for the competition. When Stan Lieber and Jacob Kurtzberg published their groundbreaking comics as "Stan Lee" and "Jack Kirby" in 1958, they did so at a time when many American Jews were changing their names to assimilate into mainstream society. Pressures to conform to a white, Anglicized identity can often fall on people with so-called "ethnic" names. In one pertinent example, Chloe Wang—the star of Marvel Television's Agents of SHIELD—has said she goes by Chloe Bennet in order to get roles.
Cebulski's deception calls to mind a longer, more pernicious tradition of white writers posing as people of color for cultural cachet. Often, these individuals have adopted Asian identities. The 18th-century hoaxer George Psalmanazar claimed to be a "savage" from the island of Taiwan and published a book full of its imaginary customs and history. The fictitious poet Araki Yasusada, whose work was published to warm reviews in literary journals in the 1990s, is widely suspected to be a white man named Kent Johnson. In 2015, The New Yorker's Hua Hsu observed that the poet Michael Derrick Hudson, who was criticized for publishing under the pseudonym Yi-Fen Chou, had engaged in the practice of "Orientalist profiteering." "When it comes to such hoaxes," Hsu wrote, "it seems somehow easier to fake Asia, a land still distant and inscrutable to many Americans; while other hoaxes work because of their thoroughness and care, the Asian-themed sort often get by with only a few details, as long as those details seem just 'Asian' enough."
Much of Yoshida's work falls under that umbrella, says Kelly Kanayama, the comics critic and scholar. "[Cebulski] presented a vision of Japanese culture that was just different enough to seem exotic, but that aligned with Western biases about what Japanese culture—and Japanese people—were really like," she told The Atlantic. Marvel executives told Bleeding Cool that Yoshida had stood out for his apparent ability to write "well for an American audience—something [the company] had struggled with in the past when seeking authentic voices." Yoshida's pastiche likely vindicated much of Marvel's previous stereotyping around Asia, which has often been extensive. The X-Men regularly pop over to Japan to fight against (and occasionally hook up with) a revolving cast of ninja, yakuza, and mechanized samurai; Iron Fist and Doctor Strange both trained in ambiguously Himalayan magic cities. Then there's Psylocke, a mutant who stands as an unintentional metaphor for "Orientalist profiteering": a white mind in an Asian body.
There have been notable writers and editors of Asian descent at Marvel. Larry Hama essentially created G.I. Joe for Marvel in the 1980s, while contemporary writers like Greg Pak and Marjorie Liu have done a lot of work for the company. However, most of the Asian and Asian American talent hired by Marvel are artists, including superstar pencilers like Jim Lee (now a co-publisher at DC) and Leinil Francis Yu, along with fan favorites like Gurihiru and Erica Henderson.
"There has always been a preponderance of Asian American artists, because that's the only merit-based aspect of the industry," says Keith Chow, a co-editor of the Asian American comics anthologies Secret Identities and Shattered. "But the editing and writing is where authentic stories come from. [Artists of color] can draw white heroes as well as white artists, but we barely get the chance to write those heroes, people of color or not." While Asian trappings are popular parts of Marvel's universe, the company has historically preferred to hire white writers. In response to the news about Cebulski, some comic-book creators and readers began using the hashtag #ActualAsianComicWriters on Twitter to promote real authors of Asian descent in the industry.
What galls Kanayama, Chow, and other critics is the fact that Cebulski doesn't seem to have faced any visible consequences for his actions, despite his assurances that "this is all old news that has been dealt with." According to the Bleeding Cool report, Cebulski's admission earlier in 2017 sparked significant anger within the company, which, it appears, was learning of it for the first time. But while he was apparently penalized, it's unclear to the public exactly what steps Marvel took. At the very least, it's certain that Marvel did not regard the affair as a dealbreaker for the top job. (The journalist Graeme McMillan joked that the implication is that the promotion itself is a punishment.)
Marvel declined to comment for this piece, beyond confirming that Cebulski had used a pseudonym. In an email to The Atlantic, Cebulski said he has "been reflecting a lot on what's happened over these past two weeks and wanted to share [his] thoughts"*:
I'm truly sorry for the pain, anger, and disappointment I caused over my poor choice of pseudonym. That was never my intention. Throughout my career in anime, manga, and comics, I've made it a point to listen and learn from my mistakes, which is exactly what I've been trying to do with this misstep. Building honest relationships with creators has always been important to me, and I've continued to do that in my new position. I've spoken with talent close to this issue, and have had candid and productive conversations about how we can improve the industry and build better stories, while being mindful of the voices behind them. My passion has always been about bringing the best talent from across the world to work on the best stories in the world, and I'm hopeful that fans and creators alike will join us in that continued mission.
Some Marvel staffers had already spoken out in Cebulski's defense. Sana Amanat, the Pakistani American editor who co-created the new Ms. Marvel, expressed her support of Cebulski in late November: "That man has lived in Japan, speaks Japanese, and has lived all over the world," she argued. "He very much associates with Japanese culture. And I think that him writing, for whatever time it was, was him trying to be a writer more than anything else." Other creators of Asian descent have also been supportive; Christina Strain, for example, has pointed out Cebulski's active role in hiring and supporting artists and writers like herself.
Despite Cebulski's eye for talent and his history of helping the careers of Asian creators, the comics industry as a whole still has a poor record of recruiting people of color. That one of the relatively few writers of Asian descent hired in the early 2000s turned out to be white underscores this. "Akira Yoshida" seems to have been hired with an assumption that he would bring a certain cultural authenticity to standard superhero stories. In an industry that largely operates on a freelance basis, Cebulski got work that might have gone to Asian writers. The lack of transparency about how exactly Marvel executives handled Cebulski's confession also leaves open the question of how seriously they take this type of behavior—undermining the commitment the company has made in the last few years to introducing more diverse stories and creators.
"A genuine apology would require addressing not only Cebulski's behavior as an individual, but [also] the greater industry climate that enabled 'Akira Yoshida' to happen," Kanayama said. "The company [would need to take] a hard look at itself, which might lead to a reassessment of priorities, and then to real structural changes." Perhaps that's a lot to take on. But without a more thorough reckoning, the company leaves the impression that Asian identity itself is a mask, to be slipped on and off at will, for the benefit of the face underneath.