The Never-Ending Story of the Tiger Woods Comeback
Despite years of setbacks and controversy, the embattled golfer can still capture the sports world's attention with one weekend of competence.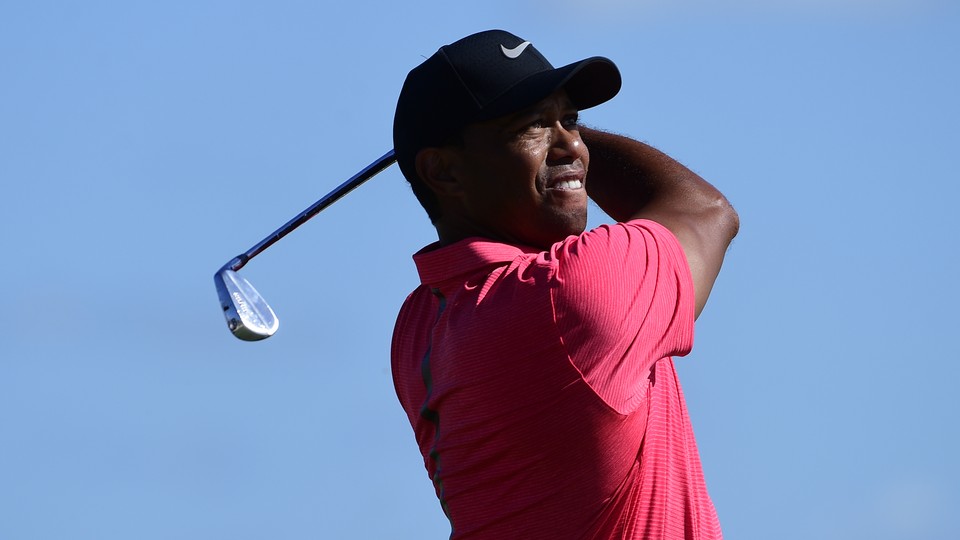 Over the weekend, a familiar story repeated itself: Tiger Woods returned to professional golf. The event in question, this time, was the casual but star-studded Hero World Challenge in the Bahamas, and the time elapsed since his last competitive round was 10 months, during which Woods underwent another in a string of back surgeries and was arrested for driving under the influence of painkillers. The outcome was in keeping with his comebacks from injuries in recent years; Woods looked at some times like the best player in the world, which he used to be, and at others like the 668th-best player, which is where he's presently ranked. He shot eight under par for the tournament and finished in ninth place in an 18-player field.
Returning too was the hype that still surrounds the 41-year-old Woods. His last PGA Tour victory came in 2013, and his last major championship, the category by which he and his fans have charted his career, came five years before that, at the 2008 U.S. Open. Still, despite the series of false starts and setbacks that have plagued Woods in the interim, no other golfer—and few athletes of any sort—can draw attention like him. His competitors spent the weekend tracking his progress; sports luminaries tuned in like it was Game 7 of the NBA Finals. After a strong second round, betting lines fluctuated so wildly that Woods was immediately installed as one of the favorites for April's Masters tournament. Media coverage had a hopeful, almost rooting-for-him tone; a New York Times headline on Friday referred to his temporary position atop the tournament's leaderboard as "A Fleeting but Welcome Sight."
Of all the accomplishments of Woods's career, this ability to maintain such a command of the spotlight may be the most unlikely. The sports world tends to revel in newness, and golf has plenty of fresh faces to offer up in his former place, but Woods has not yet been consigned to the dustbin—quite the opposite, in fact. The public's patience with Woods, its apparent wait for a return to glory, far exceeds that afforded even other great athletes, and neither nostalgia nor the voyeuristic draw of his off-the-course life fully accounts for this. Rather, it is the manner of his former greatness, its particular patterns and modes, that seem impossible to scrub from the collective memory. Woods once dominated an indomitable sport; he made a habit of solving the unsolvable. His fans find it hard to accept, despite mounting evidence, that he likely won't do so again.
* * *
Defeat is the basic condition of golf. In a given tournament, featuring 100 or so of the world's best players, all but one will lose. The natural elements are fickle, the breaks and bounces fluky. Players might go months or years without a victory, and the odds are so steep that two major championships, over careers that last three or four decades, can be enough to qualify a golfer for the Hall of Fame.
Woods, though, regularly refused that condition. Over the course of his prime, he won with greater regularity than anyone in the history of the game. He won multiple majors in four separate years, and 14 over 12 seasons. In the spring of 2001, he became the first and only player in the modern era to win all four consecutively. He won by blowing away the field, as in the case of his remarkable opening salvo at the 1997 Masters, where his closest competitor finished 12 strokes back. He also won by battling to the end, three of his major championships coming by way of a playoff. Following Woods's 2001 Masters victory, Sports Illustrated's Richard Hoffer summed up the tournament and the era alike: "It all felt preordained, inevitable, uneventful even. There wasn't a doubt in the world how this would play out."
That doubtlessness provided its own kind of thrill. The fun was in seeing how, not whether, Woods would overcome whatever problems arose. After disappointing 2003 and 2004 seasons, by his standards, Woods and his coach Hank Haney rebuilt his swing—a proposition that would have been unthinkable to more risk-averse players, but one that lifted him back to his former heights. In 2008, playing on a fractured tibia that had his opponents questioning whether he should even be on the course, Woods limped through an 18-hole playoff to win the U.S. Open. He replaced golf's narrative terms—fleeting successes marked off by long lulls of disappointment—with those of a Hollywood blockbuster, every piece of trouble mere buildup to the inevitable triumph.
Woods taught the world how to watch him, and it has proven a hard habit to break. His infamous infidelity scandal began with a wrecked Escalade on Thanksgiving night 2009; less than five months later, Nike was debuting a commercial voiced by Woods's late father, Earl, positioning learning and self-reflection as the path back to both championships and public adoration. Every comeback since—from injury, impropriety, or some combination thereof—has been accompanied by the same forced optimism. Woods is forever feeling "very comfortable," doing "some really positive things," "[improving] so much."
This time around, Woods claims to have found the ingredient missing in previous comebacks: joy. "I miss playing golf for fun," he said in advance of the Hero World Challenge. "Go out there and hit and giggle and play for some denominations and have a good time. I hadn't done that in two years." The sentiment differed from previous ones only in particulars, the overarching thesis remaining the same: that the last decade of Woods's career has been an interlude, not the end.
* * *
At his sublime, 12-year best, Woods produced no shortage of astonishing moments on golf courses: the escape out of a bunker and over a stand of trees at the 2002 PGA Championship, the impossibly angled chip at the 2005 Masters that he seemed to guide to the hole via telekinesis, the 12-foot birdie putt to force the playoff at the 2008 U.S. Open (celebrated with a double-armed variation of his iconic fist pump). His greatest gift, though, was not for defying expectations but for meeting them. Woods was a perennial presence, the seasonal backdrop of Easter and Father's Day weekends. Time and again, he donned his Sunday red and applied the finishing touches to another championship. "I don't think he did anything particularly amazing at the Memorial this year," Jack Nicklaus once said of Woods after he cruised to a midseason victory. "He was the defending champion and the best golfer in the field. He played the best and won. Pretty simple."
It will never again be that simple for Woods. Even by the forgiving standards of golf, he is an athlete aged past his peak, older than all but a couple of the top 30 players in the PGA Tour rankings. Since 2007, he has suffered serious injuries to his Achilles tendons, his back, and his legs. His ability to make it through a tournament without sustaining a tweak or a tear is, at this stage, news. If it weren't for the Tiger Woods of a decade ago, nobody would think twice about the Tiger Woods of today.
Of course, that's not how it works. Woods once turned something exceedingly difficult into something routine, even reliable. The memory sticks. It is not the objective improbability of a fresh ascent that has the press and public still pulling for Tiger; it is the felt familiarity. Woods wrote his own rules to the game, and everybody else is still following them.