The Spectacular Humanity of The Jungle
A new play about the Calais migrant camp complicates the polarized narratives about the refugee crisis.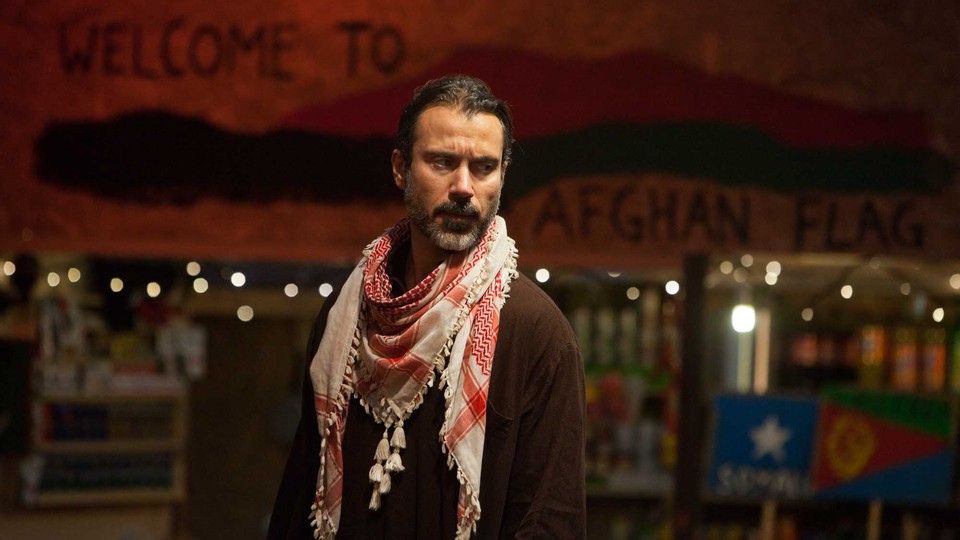 LONDON—Before it was razed in October 2016, the Jungle had acquired something of a mythic status in the British press. Right-leaning newspapers like the Daily Mail and The Sun portrayed the Calais refugee encampment as a squalid, disease-ridden space where thousands of migrants were trying to illegally and violently sneak across the Channel into England. Left-leaning publications described the Jungle both as a colossal humanitarian failure and as a remarkable achievement—a functioning community whose demolishment would only worsen the situation for its residents.
Joe Murphy and Joe Robertson, friends from Oxford University who'd formed a playwriting team, first heard about the Jungle in 2015, and in the late summer, they visited it in person. While they arrived with no intention to stay, what they found was completely different from what they'd been led to expect. The conditions were terrible, but people had also built functioning shops and restaurants—there was even a dentist's office. Newly arrived volunteers from Britain were helping to construct housing and other kinds of infrastructure, and there was an atmosphere, Robertson told me, "of hope, but also of expression. Everyone was going through this terrifying experience in different ways, so we heard lots of music, lots of people telling stories."
Robertson and Murphy, compelled by an idea of the value art could bring to the Jungle, went home, crowdfunded for provisions, and returned in September to set up Good Chance Theatre, a performance and community space. The name is derived from camp slang—"good chance" is how migrants described successfully making their way into Britain, versus "no chance" for failed attempts. As an organization, Good Chance aimed to facilitate expression and dignity for the residents of the Jungle, running performance workshops and encouraging migrants to bring their own artistic traditions to the space. Robertson and Murphy ended up living in the Jungle for seven months, and their time there led to a different, complicated understanding of the refugee crisis. The Jungle, a play currently running at London's Young Vic in a production directed by Stephen Daldry (Billy Elliot, The Crown) and Justin Martin is an attempt to provide a more accurate narrative of what the place was like.
As a play, The Jungle is a remarkable achievement, immersing audiences in the confusion and chaos of a makeshift city where thousands of migrants of different nationalities are living on top of each other. But as a work of testimony it's even more accomplished, challenging the assumptions of liberal and conservative audience members alike. "It's not a play that sits on the side of a progressive, tolerant idea," Robertson said. "It also questions motivations, questions why people try and help." Above all, it humanizes migrants who've so often ​​​​​been distilled down to a homogenous mass: a collective blight on French policies and British consciences. Intrinsic to The Jungle is the idea that art can enable a more productive, more empathetic, more truthful understanding of who refugees are, and why they want what they want.
The play opens in February 2016, during an emergency meeting to discuss French efforts to raze the camp. A British volunteer, Paula (Jo McInnes), is conducting a makeshift census to try and persuade French authorities to leave it in place, and the roll call acts as an introduction to the Jungle's different communities. In Miriam Buether's set, the audience sits not in sections but in "countries," divided into the camp's various factions: Afghanistan, Sudan, Eritrea, Syria, Kurdistan. Benches have been set up near a cafe run by Salar (Ben Turner), a de facto leader of the Jungle's Afghan community. The action takes place on a stage in the middle of the room, but also behind, around, and on top of the audience. Seats are set atop sand and mulch; when French police raid the camp, the smoke that fills the theater is thick and choking.
The play then goes back in time to March 2015, the earliest days of the Jungle, whose name was originally "zhangal," a Pashto word for "forest." Safi (Ammar Haj Ahmad), a Syrian refugee and former student of English literature, is the audience's guide. While migrants move into the new area of land allotted to them by the French government ("In its great wisdom, France made Zhangal only a short walk to the ferry port," Safi says wryly), they decide how to occupy it, dividing it into distinct "nations," with different places of worship, and different unofficial representatives. "No more fighting," Salar says to a Sudanese teenager and an Afghan teenager who've been scuffling. "We are hated by enough people. We do not hate each other."
The Jungle details, but doesn't lionize, the origins of the camp. Robertson and Murphy make clear that it was a dangerous place without adequate sanitation, that thefts and fighting were common, and that the camp's various factions distrusted each other and propagated ugly racial stereotypes. In writing and workshopping the play, Robertson and Murphy worked with a number of performers they'd met in the Jungle, who now make up part of the cast. "It's a collaboration, and therefore in theory has a greater strength to it," Murphy says. "I think we're in a place now where it's truthful, where it shows some of the realities, and where it gets a bit muddy in [portraying] the intentions of the people who were there."
The Jungle is surprisingly clear-eyed, if not cynical, in its portrayal of the British volunteers who arrived at the camp after the death of the 3-year-old Alan Kurdi sparked a greater engagement globally with the refugee crisis. These volunteers, the playwrights acknowledge, included themselves, and are represented in part by the 18-year-old characters of Beth (Rachel Redford) and Sam (Alex Lawther). In the play, the new arrivals blunder somewhat comically into the camp, brandishing selfie sticks and good intentions, and infuriating the residents. While they're trying to help, they're not entirely open to the problems they might be causing, and the assumptions they bear.
The Jungle forces audiences, volunteers, and migrants onto a more equal footing, clustered together in a shambolic environment, experiencing moments that are all-encompassing and at times extremely moving. It contradicts preconceptions about the people undertaking such dangerous and isolating journeys. "When does a place become a place?" Safi asks in one scene, echoing the late food writer A.A. Gill, whose review of an Afghan restaurant in the Jungle forms the play's most cheerful scene. "When does a place become home?" By situating audience members into different cliques of the community within the camp, the show slyly encourages a kind of fraternity with its residents that makes it an active experience rather than a passive one.
Robertson and Murphy don't expect that the show itself can make a substantial difference to a crisis that seems increasingly insurmountable. "I don't think there are any answers at all," Robertson said. "I certainly don't have any." He sees Good Chance's mission less as helping than in enabling better communication and expression between groups of people whose lives have been, and will continue to be, disrupted by mass migration. "Art's the best way because it's disarming," he says. "It's not aggressive. You see people as people."