The Company Working to Make Dance More Inclusive
Opening its 30th season, Axis has spent decades showing that performers with and without disabilities can make powerful work side by side.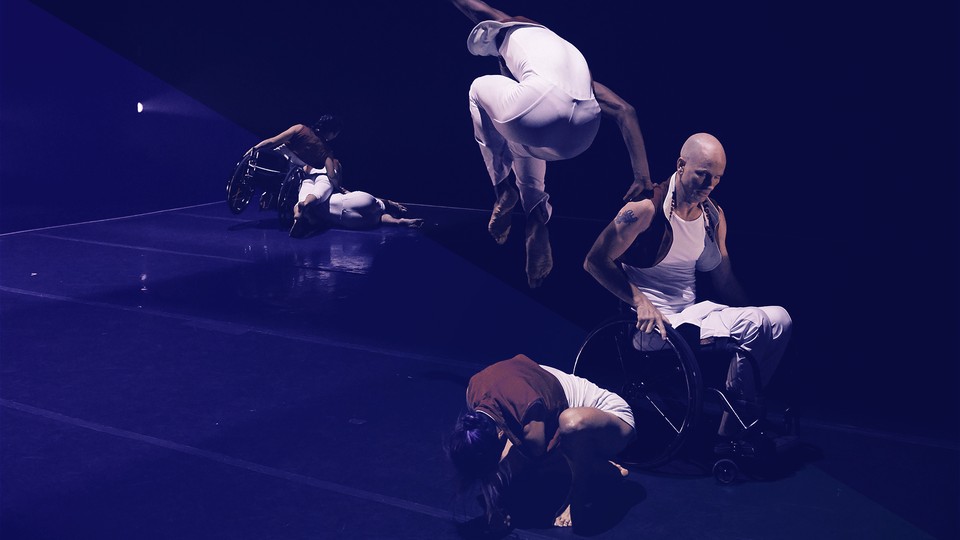 A few minutes into Alex Tetley's 2008 dance To Color Me Different, two performers move quickly across the stage—the man gliding in reverse, the wheels of his chair in profile, and the woman sliding into a backward roll. She turns like a wheel, he rotates his chair's wheel alongside her, and just like that, a simile merges with reality. The moment is a brief respite in this fraught duet, in which the dancers wrestle through an explosive intimacy, alternately yielding to their attraction and pushing apart in frustration. At one point, the man in the wheelchair pulls his partner into his lap. At another, she slowly flips his chair on its side so that he comes to rest on the floor, braced on one arm, under which she slides. The chair's wheel spins in air.
To Color Me Different is just one work that illustrates the creative possibilities of physically integrated dance—an approach where performers with and without disabilities perform side by side. The dancers who brought the piece to life, Rodney Bell and Shonsherée Giles, belonged to a group that wants to both fulfill and upend expectations about what the art form can be. Axis Dance Company, which opened its 30th season this fall, is one of the oldest and most prominent physically integrated dance company in the United States. Based in Oakland, California, Axis tours nationally and internationally, commissions work from well-known contemporary choreographers, and has appeared several times on the Fox reality-competition show So You Think You Can Dance. But over the last two years in particular, Axis has leapt forward into even more rigorous artistry, and into broader advocacy that makes inclusivity in dance more readily visible.
It's worth first establishing that Axis operates within a society that, at least on a mainstream level, isn't particularly comfortable with the subject of disability. Despite the 1990 passage of the landmark Americans With Disabilities Act, which in part improves access for and prohibits discrimination against people with disabilities, challenges remain. Many older buildings still haven't been updated to comply with current accessibility standards, leaving people who use wheelchairs unable to enter or forced to rely on help from strangers. Culturally speaking, disability is often ignored, ridiculed, or fetishized as motivation for able-bodied people, who can unthinkingly contribute to the problem in smaller ways (for example, "helping" by pushing someone's wheelchair without asking, or feeling a right to know how someone became disabled). And yet disability cuts across all other identities, including race, gender, sexuality, and class. Though few want to acknowledge it, disability affects most people at some point in their lives, whether through injury, genetics, illness, or age.
Axis's co-founder Judith Smith was forced to confront this fact when she suffered a car accident in 1977, at age 17; she has been using a wheelchair ever since. As a former champion equestrienne, Smith mourned the loss of her physically active lifestyle until she was introduced to improvisation (spontaneously creating movement) by one of her personal-care assistants, an experience she called life-changing. "It helped me reinhabit my body, and to use my wheelchair in ways that weren't just about getting from point A to point B," Smith said, recalling that at first, "I just didn't know how to relate to the body I was in." Smith eventually discovered martial arts, and during a class she met the dancer Thais Mazur, who was leading a writing and movement workshop for women with disabilities. The two founded Axis soon after in 1987, creating a dance that the company performed a year later at a festival. After that, offers to perform and create kept coming.
But making the case for a serious art form for dancers who use wheelchairs meant a lot of advocacy. (While its performing roster typically includes those with physical conditions such as spinal-cord injuries or amputations, Axis advocates inclusion for people with all kinds of disabilities.) "The first 10 years we spent just trying to convince people in the bigger dance world, the funding world, that what we were doing wasn't 'just therapy,'" Smith told me. "We really wanted to be taken seriously as a dance company." Getting influential people to see performances was key. An early supporter was Jeremy Alliger, the founder of the Dance Umbrella, a Boston-based presenting organization that was active from 1981 to 2001. After seeing Axis perform, Alliger was so drawn to integrated dance that he presented and co-curated with Axis the first ever International Festival of Wheelchair Dance in Boston in 1997. Alliger later helped the company commission its first outside choreographer, marking the start of an impressive repertory.
Today, Axis's work is fairly well known within the field of contemporary dance. It is less visible, however, to the general public for many reasons. One is that touring a physically integrated dance company presents a constellation of challenges. There's the difficulty of travel itself, as well as accommodation issues in theaters; accessibility is often limited to audience areas because the stages weren't designed with disabled performers in mind. Smith has spoken about one engagement where dancers had to be lifted onto an outdoor stage by cattle truck.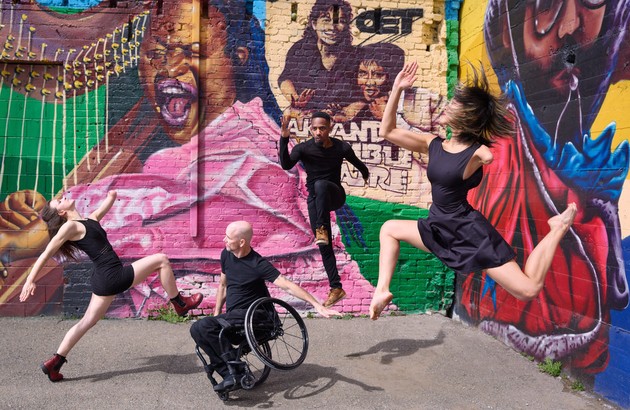 Because of its stature and resources, Axis is better equipped than smaller mixed-ability companies or individual aspiring artists are to reduce barriers for performers with disabilities. The company has offered training for dancers with disabilities since soon after it started—a rare opportunity for those seeking to perform and create at a professional level. Because there are so few training opportunities around the country, the average ballet-studio owner is unlikely to know what to do for a dancer who wheels across the threshold.
Veteran dancers with disabilities today tell stories of joining mainstream classes and figuring out for themselves how best to participate. A dancer in a wheelchair may choose to participate in a ballet class by focusing on port de bras (movement of the arms) and the carriage of the upper body, for example, or by performing exercises with their arms and hands that able-bodied dancers typically perform with their legs and feet. A dancer with cerebral palsy may also uncover unexpected strengths in a dance class, such as enhanced flexibility. While some dance teachers may be open to experimentation to accommodate disabled students, I've learned through interviews with several experts in the field that many are not. With this in mind, Axis trains instructors on the basics of working with students with disabilities so they "don't run screaming out the back door when somebody wheels into class," Smith said.
Axis also considers performance and artistry to be priorities. As Jennifer Kareliusson, the acting director for the National Endowment for the Arts, told me in an email, "They provide important services to the field and have a strong education mandate, but they also make good work." By the mid '90s, Smith and others in the company were getting restless with making their own dances and wanted to recruit some professional choreographers. "I started realizing that we were just recycling the same piece, putting it to different music and calling it something else," she said. (Mazur was not interested in commissioning and left the company in 1997.) The pivotal moment came when Smith convinced several well-known contemporary choreographers, among them Bill T. Jones, Joe Goode, and Sonya Delwaide, to set work on Axis dancers during the 1999–2000 season.
In 1994, Jones had come under fire from The New Yorker's dance critic, Arlene Croce, for his piece Still/Here; the work explored what it is like to live with a life-threatening illness, informed by Jones's own HIV diagnosis. Writing for the magazine, Croce dismissed the work as "victim art" and refused to see it. When Jones agreed to choreograph for Axis, Smith recalled, he said to the dancers, "I'm really intimidated, and because of who I am, and because of who you are, we cannot fail. We have to make a good work." She laughed, adding, "Our first thought was, You're intimidated?!" But she said the process proved meaningful for everyone involved, and the resulting piece, Fantasy in C Major (2000), was as artistically rigorous Axis had hoped. In a 2004 talk given at Princeton University, Jones described Fantasy in C Major as a formal work, set to the music of Schubert, for seven dancers: four in wheelchairs and three not. He discussed what he had learned from working with Axis:
I learned that we shared the determination of not making works built around our otherness. I learned that I had to rethink my notions of synchronicity, gesture, and athleticism as I attempted to find a shared movement vocabulary. I learned that there were times when it was right that people were separated around their abilities and I learned to look for those unexpected opportunities when they could be joined.
As Jones notes, working with mixed-ability dancers forces choreographers out of their creative comfort zones in productive ways. "We give them a whole different palette to work with, movement they've never been able to experience," Smith told me. On being asked for a commission for Axis in 1999, the San Francisco–based choreographer Goode had mixed feelings. "My initial response was one of consternation and fear," he told me. "I thought, 'Oh boy, I work with able-bodied dancers who leap and fall and are fearless and are paragons of athleticism. What is it going to be like, and do I have the skills required to work with people in wheelchairs?'" It turned out he did: Since his first piece with the company, Jane Eyre, Goode has made several more works for Axis, most recently 2015's To Go Again, which draws on the experiences of U.S. veterans.
In the spring, Axis hired the Australian choreographer Marc Brew as its artistic director so that Smith could devote more time to advocacy. Well known in the U.K. for his work in physically integrated dance, Brew said he hopes to create more training opportunities for performers and to boost the production values of Axis's work. "One of the reasons I was hired was to raise the bar for the company," he told me. "I really want Axis to be on an international platform, on the main stages."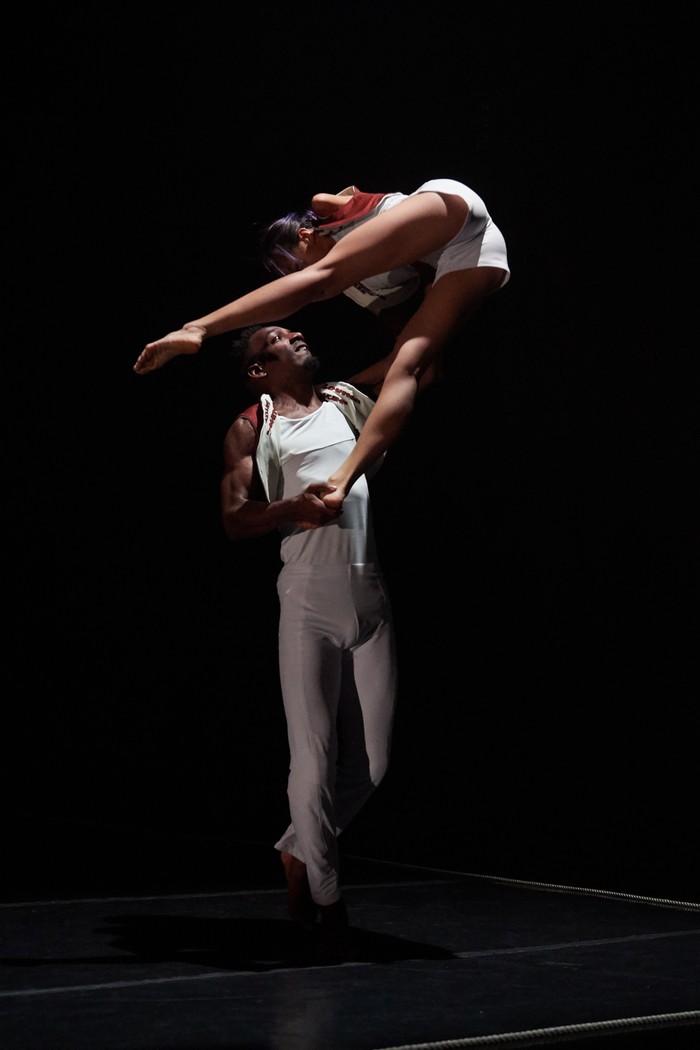 But there are other factors that can complicate how Axis dancers are perceived by audiences. Any mixed-ability company must consider the problem of "inspiration porn"—the pernicious practice of using those with disabilities purely as foils for the able-bodied. For years Axis tried to leave the word inspiration out of its vocabulary. "And then I finally just said, 'Oh to hell with it. Let's just reown it.' I mean, we all need inspiration. I need inspiration," Smith told me. At the same time, she acknowledges the trickiness of the subject: "You want people to be inspired because you're doing good work, not because you got out of bed in the morning." The company's approach to public engagement ultimately involves combatting misconceptions about disability. Familiarity is key. At first people might think, "That woman with a half an arm is scary! Oh my god, I'm not supposed to look at that guy in a wheelchair," Smith said. "But when they have time to stare, we begin to become 'normal' in a way that we weren't 'normal' before."
For the last several years, Smith has broadened the scope of advocacy efforts for physically integrated dance across the U.S. Amy Fitterer, the executive director of the advocacy group Dance/USA, told me, "The physically integrated dance community hasn't been as well networked as it could be," but she applauded Smith for activating those connections. For example, Axis won major funding to bring leaders in the field together for the 2016 National Convening on the Future of Physically Integrated Dance in the U.S.A. (other regional events around the country followed). In a statement at the national meeting, the choreographer and UCLA professor Victoria Marks summed up the field's growth and trajectory: "In the past, physically integrated dance served as a community-building project, but it now presents the possibility of changing the very way we think about bodies."
Western concert dance has long celebrated and policed the body, often ruthlessly, narrowing the range of what kinds of bodies ought to be elevated. But physically integrated dance embodies inclusion in action. Watching a piece performed by mixed-ability dancers can, as Marks noted, compel an audience to reevaluate their understanding of the art form and of who dancers are. For Smith, the work of Axis and groups like it illustrates the power of collaboration: "Because we are a company of such diverse bodies, the movement possibilities are radically expanded; they're not reduced."