The Cinematic Magic of The Shape of Water
Featuring a marvelous performance by Sally Hawkins, Guillermo del Toro's latest fantasy is a romantic fairy tale for grownups.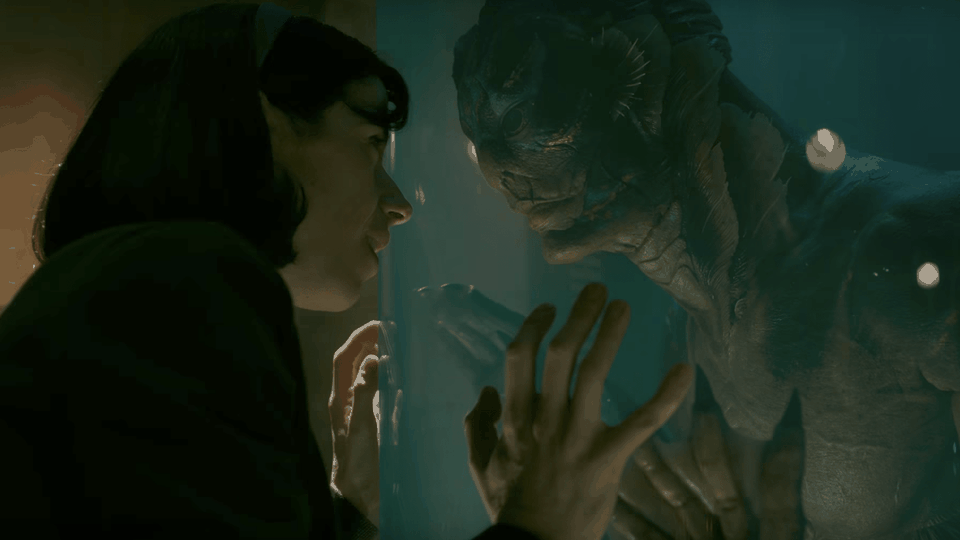 Each day before going to work, Elisa puts eggs on the stove to boil, gets into the bathtub, and pleasures herself.
Eggs, water, and—yes—sex will all play crucial and overlapping roles in the director Guillermo del Toro's The Shape of Water, an adult fairy tale that is at once deeply familiar and utterly original.
Del Toro's principal inspiration for the film was the 1954 monster-movie classic Creature From the Black Lagoon, which he recalls watching when he was 7 years old. "The creature was the most beautiful design I'd ever seen," he told The Hollywood Reporter recently. "I saw him swimming under [actress] Julie Adams, and I loved that the creature was in love with her, and I felt an almost existential desire for them to end up together." Years ago, del Toro even tried to sell Universal Pictures on a remake in which the creature and the woman would end up together. The studio passed. So instead, he has now given us the modest miracle of The Shape of Water.
The setting is the early 1960s, and protagonist Elisa (played with consummate grace by Sally Hawkins) works the night shift as a janitor at a secret Cold War lab outside Baltimore. Thanks to an unexplained childhood injury, she is mute, with parallel scars running along both sides of her neck. Her best friends—perhaps her only friends—are outsiders as well: Zelda (Octavia Spencer), a black woman with an ingrate for a husband; and Giles (Richard Jenkins), a commercial artist who lives in the apartment next door and harbors a secret that got him fired from his corporate job.
One day, however, Elisa meets a true outsider, when her lab brings in the "most sensitive asset ever to be housed in this facility": an amphibious fish-man captured in the Amazon. (Shades again of Black Lagoon.) In a science-race effort to stay ahead of the Russkies, the lab's staff study and experiment upon the creature, often cruelly. Exhibiting particular malice is the head of the operation, Colonel Richard Strickland, who is played by Michael Shannon in a performance that makes up for in intensity what it squanders through caricature.
Elisa, by contrast, senses an immediate kinship, even intimacy, with the fish-man. He, too, cannot speak, except through barks and snarls. So she shares her hard-boiled eggs with him, plays him Glenn Miller records on a portable phonograph, and teaches him rudimentary sign language. (She starts, quite sensibly, with the sign for egg.) It's the beginning of what is, to say the least, a highly uncommon love story.
Indeed, The Shape of Water is a hybrid it is difficult to imagine any other director pulling off sucessfully. It is at once a monster picture, a romantic fable, an ode to classic cinema, a parable of tolerance, and an espionage thriller. (Michael Stuhlbarg offers a customarily appealing turn as a benevolent scientist who has a secret of his own.) Most of all, the film, like del Toro's 2006 masterpiece, Pan's Labyrinth, plays simultaneously as a fantastical dream and as a story set in a very recognizable time and place. If the phrase magical realism hadn't already been coined, someone would have to coin it quickly.
The sumptuous cinematography by Dan Laustsen makes perfect use of the film's Cold War–era setting, and Alexandre Desplat's score is wistfully nostalgic. Elisa and Giles live above a movie theater and spend evenings watching Shirley Temple and Carmen Miranda on the TV, mimicking dance steps as they sit on the sofa. In the film's most unexpected sequence, del Toro unites its science fiction and musical theater elements for a truly bizarre, woman-and-merman, Broadway-style number set to the Harry Warren–Mack Gordon standard "You'll Never Know."
The cast is exceptional across the board, from the eternally forlorn Jenkins to the worldly wise Spencer to the increasingly maniacal Shannon. As the fish-man, actor-mime Doug Jones manages astonishing expressiveness under his deep layers of scaly blue prostheses, essentially reprising (though without speech) his role of Abe Sapien in del Toro's Hellboy films.
But it's Hawkins's wordless performance that holds the movie together and grounds its wilder fancies in a semblance of emotional reality. By turns gentle and curious, vulnerable and fearless, she provides the film with a heroine whose humanity is profoundly irresistible—no matter what your species.