The 24 Best Television Episodes of 2017
Staff selections from a year of great TV
Editor's Note:
Find all of The Atlantic's "Best of 2017" coverage here.

The Atlantic's editors and writers pick their favorite 2017 moments from The Handmaid's Tale, Master of None, The Leftovers, Better Things, and more. (Just to be clear, spoilers abound.)
---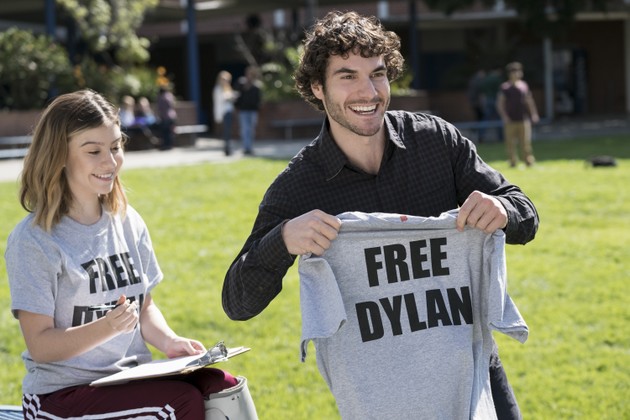 Just as Serial's listeners at some point started to send in their own theories about Sarah Koenig's investigation into a Baltimore cold case, the fictional viewers of the American Vandal mockumentary, five episodes in, joined in the hunt to figure out who drew dicks on the cars parked at a California high school. Self-aware hijinks ensued: Teachers faced consequences for their on-camera blabbing, neighbors got so annoyed by the scuttlebutt that they started destroying crucial evidence, and two nerdy student journalists became campus celebrities. But the best gag reinvigorated the tired trope of the teenage rager. When cruddy Snapchat videos of the party at "Nana's house" was spliced with solemn Steadicam, it made for a hilarious high/low mashup that mocked the true-crime genre's conventions—and the seriousness with which kids take their gossip.
---
Better Things, "Eulogy"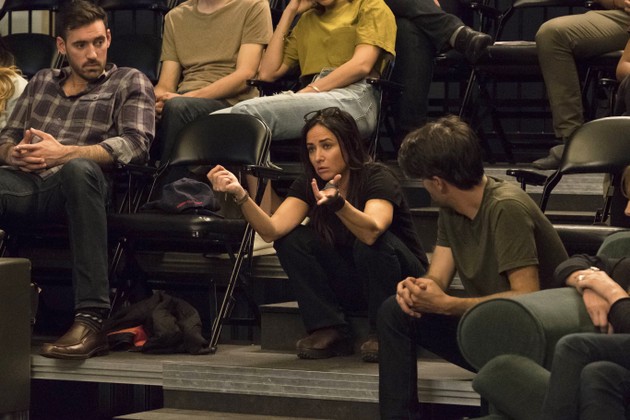 Nothing captures Better Things' glorious weirdness more efficiently than this episode, featuring a storyline in which Sam (Pamela Adlon) demanded that her unappreciative kids pretend that she was dead and eulogize her, hoping to finally spur some acknowledgment of her gifts not only as a mother, but also as an actress. After her daughters mocked the request, Sam stormed out to a local bar, where she received a message telling her to come home. There, her daughters and best friends had prepared the mock funeral she'd always wanted—a loving, ghoulish, emotional tribute to a mother whose parenting skills are entirely unorthodox but surprisingly inspirational. Coming after an episode that paid tribute to how much work acting can be, it was an acknowledgement that women can have careers, and that those careers can be infuriating, exhausting, and incredibly fulfilling, all at the same time.
---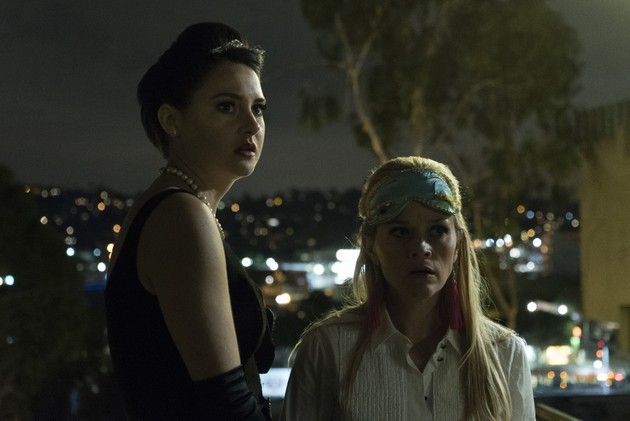 I was not terribly excited about Big Little Lies when HBO first began advertising it (largely via moody images of Reese Witherspoon, Nicole Kidman, and Shailene Woodley running, in both athleisure and slo-mo, on a gray-hued beach). The show's premise—soap opera! rich people! ocean!—seemed tone-deaf and, on top of that, generally uninteresting, this despite the muuuuurder that the ads promised would make its way to Monterey. Episode by episode, though, Big Little Lies, for all its flaws, hooked me: as a sensitive and nuanced exploration of domestic violence; as an analysis of privilege; as a new and creepy version of American gothic. And the show's finale simply sealed the deal. I won't spoil the ending if you haven't seen it, but I will say that we indeed find out who the muuuuurderer is, via a satisfying plot twist—and also that, in the end, that revelation doesn't much matter. This is a show about women, fundamentally and unapologetically (yep, you could even say: The crashing waves that form a backdrop to the show's dramas are feminism's)—and "You Get What You Need" is, in the end, a celebration of sisterhood that reads, in the current moment, as urgent, prescient, and necessary.
---
The Nick Kroll–fronted animated series Big Mouth would not have worked if it had just concentrated on the boys. The Netflix show stood out for its frankness and its vulgarity, centered on a group of seventh graders going through puberty. But though its pilot episode centered on sex-obsessed teenage boys (voiced by Kroll and John Mulaney) being taunted by a mystical creature called the "Hormone Monster" (also Kroll), the show succeeded in tackling the anxieties of its female characters (voiced by Jessi Klein and Jenny Slate) just as grossly and hilariously. In "Girls Are Horny Too," the girls get their own Hormone Monstress (voiced by Maya Rudolph), who stirs up trouble by encouraging the girls' wild imaginations after they begin passing an erotic novel around the playground. Big Mouth could be delightfully crude and hilariously blunt about the ids of its teenage protagonists, but it worked because of its equal-opportunity approach.
---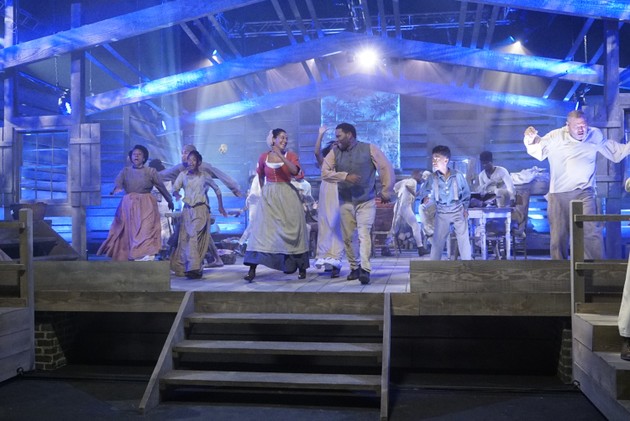 Ambition is not a term typically associated with the sitcom. Instead, the situational comedy, the longstanding and often lowly form, tends to make a virtue of diffidence: It will offer you, the sitcom promises, basically the same thing every week, with characters and settings and stories that change, sure, but only just enough to keep things interesting. Otherwise: consistency, predictability, stability. Not so Black-ish, however, which has been, over the course of several seasons, exploring and expanding the limits of the sitcom as a form. And, fittingly, "Juneteenth: The Musical," the premiere episode of the show's fourth season, features not one, but several, musical numbers—and ambitious ones at that. There's "I'm Just a Slave" (performed by The Roots and set to the tune of Schoolhouse Rock!'s "I'm Just a Bill"), which contains clever-and-cutting lyrics like, "I am a slave, yes I'm only a slave, they'll place my body in an unmarked grave." And, later, the show moves to the 1800s, casting the Johnson family in two Hamilton-esque musical numbers that are gospel-inflected and alternately rousing and scathing. These performances are not merely entertaining and illuminating; they are also evidence of something Black-ish long ago embraced: the power a sitcom can have when, recognizing that it is watched by millions of viewers, it dares to be ambitious.
---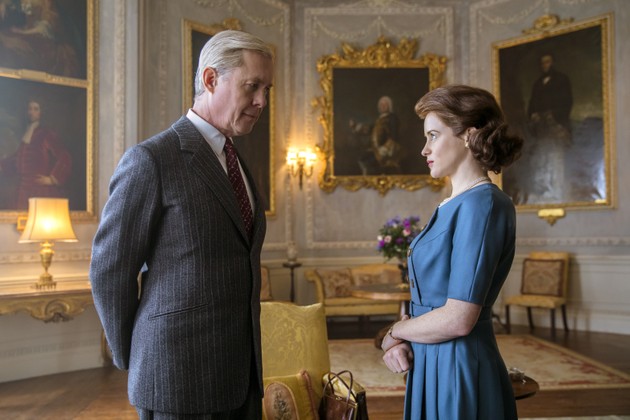 The best episode of The Crown's second season explored Elizabeth's (Claire Foy) sense of duty by juxtaposing it with her Uncle David's (Alex Jennings) sybaritic exile in Paris, and his self-pitying efforts to find employment after finally getting bored with pug birthday parties and merman costumes. But the unexploded bomb looming over the story was the Marburg Files, a collection of documents discovered by Allied Forces at the end of World War II that uncovered Edward VIII's possible "arrangement" with Hitler that would restore him to the crown after a Nazi victory. Nor was that even the worst of it, as Tommy Lascelles (Pip Torrens) informed her Majesty, whose features were duly stricken at the depths of her uncle's betrayal to his nation. The episode ended with real photos of the former king visiting Hitler in Germany—a jarring reminder of the show's historical accuracy.
---
Dear White People, "Chapter V"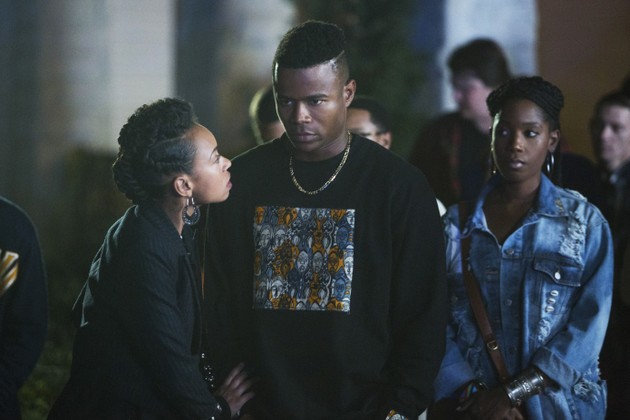 The fifth episode of Justin Simien's series-length Netflix adaptation of his movie of the same name was directed by Barry Jenkins, the Oscar-winning director of Moonlight. But that fact wasn't disclosed till the final credits rolled, immediately after the heartbreaking visual of Reggie (Marque Richardson) sobbing on one side of the door after having a gun pulled on him by a campus police officer. An episode that started with a James Baldwin quote ("Not everything that is faced can be changed. But nothing can be changed until it is faced.") ended with a horrifying confrontation at a party. The scene's instant escalation, its nail-biting tension, came from the camera's slow tracking from the gun to Reggie's face, with the cop always in the background, his features unseen. Dear White People is a show replete with thoughtful dialogue, but here was a moment in which images managed to convey infinitely more than language could.
---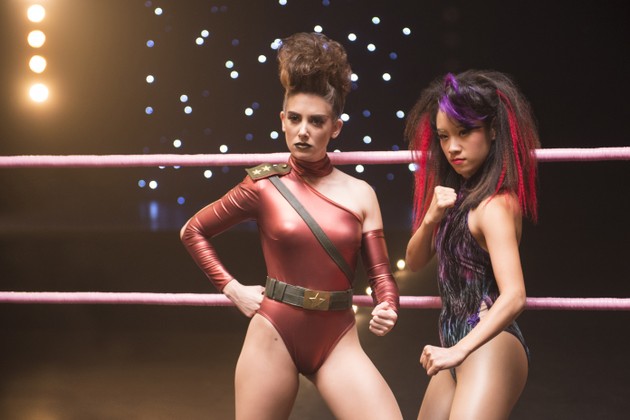 Netflix's GLOW skewered the falseness of the drama that drives professional wrestling and soap operas—while also, cleverly, hooking its viewers on the same sort of drama. That meta approach, as well as the show's other scrappy charms, got a full showcase in the season finale, which included a climactic debut bout for the Gorgeous Ladies of Wrestling. The match was a triple-header: paying off the characters' striving throughout the season, revealing the real prejudices that fake stories can inflame, and dosing viewers with the same glee that actual wrestling fans know well. Off camera, two rivals negotiated a twist ending—which then was upended by another secret scheme, wowing the women in the ring, the folks cheering in the stands, and those of us gawking from our couches.
---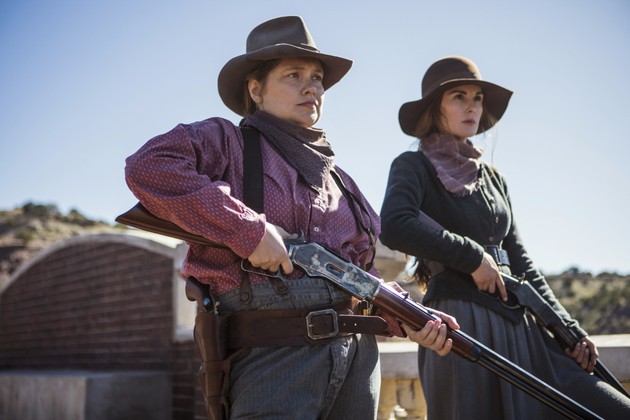 Godless might have been a subversive Western, but it was still a Western, which meant each of its seven episodes seemed to build toward the final showdown between the citizens of La Belle and Frank Griffin (Jeff Daniels). That gripping confrontation finally arrived in "Homecoming." La Belle having lost most of its menfolk in a mining accident meant the women were charged with protecting their town from Griffin and his band of outlaws, in a gunfight that was as exhilarating as it was brutal. Maggie (Merritt Wever) and Alice (Michelle Dockery) took the lead, directing surgical attacks on Griffin's men. In a neat twist on Western tradition, Alice even saved the life of Roy Goode (Jack O'Connell), who returned to face his mentor Frank. If the inevitable meet between the two felt a little truncated, the episode's best twist was the long-awaited arrival of the preacher, in a symbolic end to Frank's reign of terror on the "godless" West.
---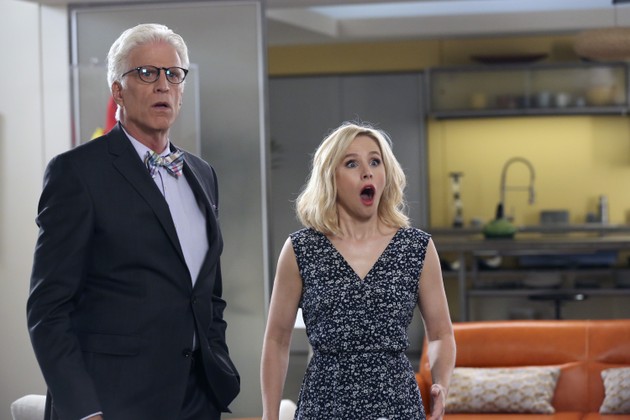 To the Villainous Cackling Hall of Fame add Ted Danson's performance in The Good Place's first-season finale. Soul-chilling on a visceral level, his sneering laugh ratified that his character had changed before the viewer's eyes—or rather, that the viewer's eyes needed to adjust to who the character was all along. The accompanying twist was an all-time great one, and The Good Place deserves credit for not only pulling it off but staging it smartly, as a bridge between flashbacks to Michael's backstory and a climactic conflict involving the show's hapless heroes in the afterlife. That the grand epiphany was just that—an epiphany, reached through reasoning—was perfect for a show about how self-improvement only ever happens through self-examination.
---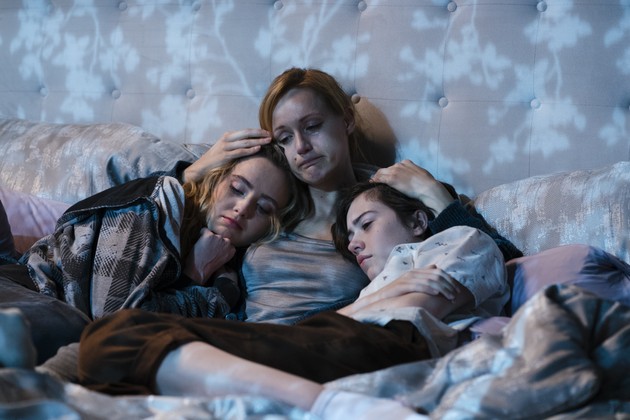 The fourth and final season of the tremendous tech epic Halt and Catch Fire zoomed out and took stock of the unending boom-and-bust cycle of its ensemble's lives. This was a show about the excitement of launching a passion project in the tech world, the wrenching misery that could come with it, and how to balance career success without ruining the lives around you. Rather than wrap things up neatly, the show opted to look ahead, promising joy as well as sadness in its characters' future. But "Who Needs A Guy," the seventh (of 10 episodes) in this final season, was a little different. It had a significant plot twist: The surprising death of a major character, which would reverberate throughout the rest of the season. More than other episodes, it had a sense of finality. But it also had its eye on the future, with said character experiencing his death as a series of visions of his wife and children, who then became the centerpiece of following episodes as they forged their lives ahead.
---
The Handmaid's Tale, "Offred"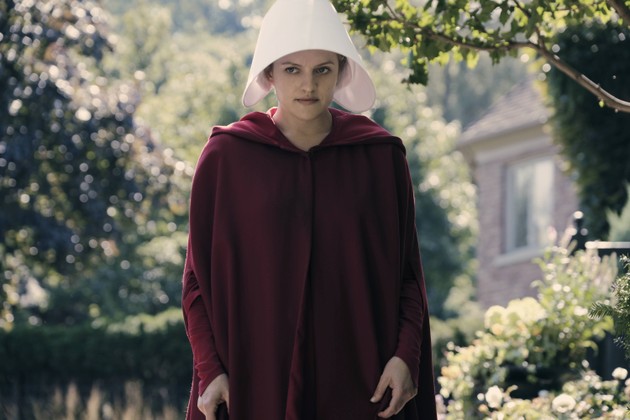 Really, any episode of this lush Hulu series could earn its place on a best-of-2017 list. But "Offred" is remarkable both in its simple elegance and in its audacity. So often, the pilot of a show—especially one like The Handmaid's Tale, which builds a new world and inhabits it at the same time—will show its seams and reveal its labors: clunky exposition, the dutiful introduction of characters, the craft of the storytelling. "Offred," however, manages to avoid all that: It plunges you into its story, and into its world, in medias res, in a way that is as jarring and as compelling as its subject deserves. Here is Gilead, in all its cold uncanniness, a world so different—yet so eerily familiar—to our own. There is Offred (Elisabeth Moss), the show's narrator and its protagonist. There is Margaret Atwood, making a shadowed cameo. And there, in the scene that remains my favorite of all of them in the series's first season, are the handmaids participating in the ceremony known as the Salvaging: Together, they beat a man who has caused (they have been told) a pregnant woman to lose her baby. It's a scene that haunts me, many months later: the women, their anger turned into violence. The injustice that has been done to them redirected toward someone else, making them complicit in Gilead's brute legalities. The flailing. The pounding. The helplessness. The rage that turns in on itself because, in this world, it has nowhere else to go.
---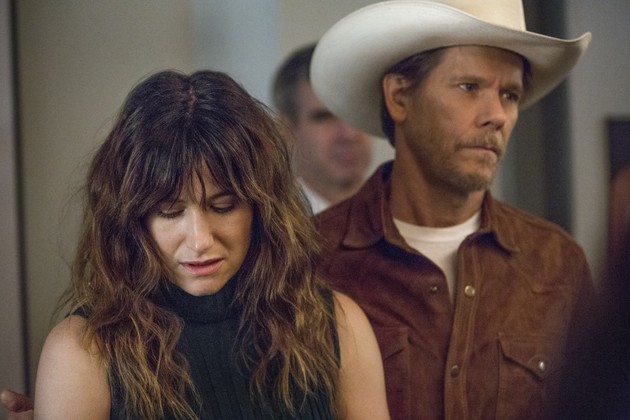 Jill Soloway's adaptation of Chris Kraus's 1997 book I Love Dick, a radical testament of the author's obsession with a male sociologist, was never better than in this 20-minute episode. Written by the Pulitzer Prize–winning playwright Annie Baker and the Obie Award–winner Heidi Schreck, "A Short History of Weird Girls" explored the oddities and quirks of female desire. Despite its compressed running time, the episode was a surprisingly deft illustration of how intricately lust can be tied up with identity. Devon (Roberta Colindrez) considered how much her own sexual persona was influenced by Dick (Kevin Bacon), and his swaggering, cocksure machismo. Paula (Lily Mojekwu) recalled her childhood obsession with her mother. Toby (India Menuez) articulated the first time she watched pornography, a subject that formed the basis for her academic exploration. And Chris (Kathryn Hahn) considered how her psychosexual fixation on Dick was about her, not him. "I don't care if you want me," she said. "It's better if you don't. It's enough I want you." The narratives formed a whole that was somehow abstract, insightful, and completely compelling.
---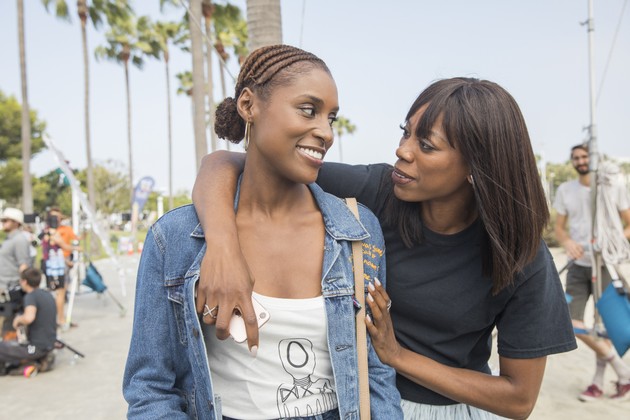 Insecure is the master of the artistically productive fake-out: From the beginning, the show has made dramatic use of its twists—not just at the level of the plot, but at the level of the scene itself—to keep audiences on their toes, and to highlight the way people's choices are not merely choices in the moment, but choices about paths and lives and fates. Insecure had one such twist at the beginning of its second season on HBO. But it uses an even more striking one in "Hella Perspective," the finale to that season that aired in September. That the show makes repeated use of the device—that there's a rhythmic nature to Insecure's thwarted expectations—should have prepared me for the twist that comes as Issa (Issa Rae) and Lawrence (Jay Ellis) decide their future together. It did not. Instead, via a scene that pulses with pathos—the possibilities embraced and abandoned, the people loved and lost, all the roads explored and not taken, all the maybes and could-have-beens that hover over a life—it gutted me. Mostly in a good way. Mostly.
---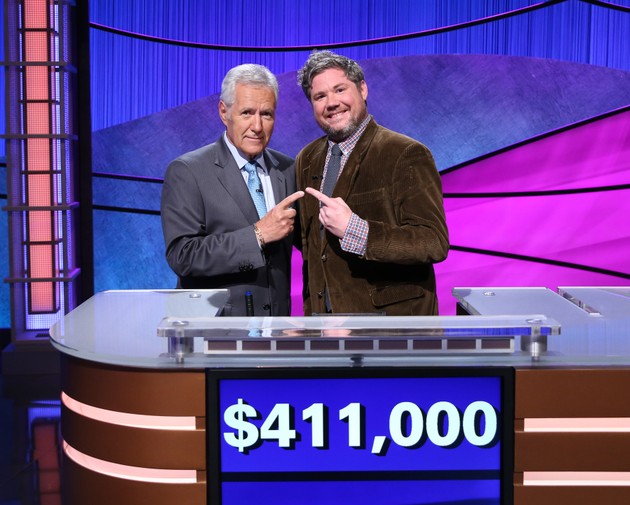 Jeopardy!, the quiz show that has been around for approximately 812 years and that has been basically unchanged through all of them, is the TV equivalent of a warm cup of tea: calming, consistent, soothing even despite the interruptive commercials urging you to buy life insurance. There the show is, day after day—year after year—decade after decade—taking the hard facts of the world and making a game of them. This season of Jeopardy! deviated from the others, though, just a bit, because this season of Jeopardy! featured Austin Rogers, a hand-talking, rumple-jacketed bartender from New York City. Austin bet big and bold in the Daily Doubles. He mastered the show's infamously fickle signaling device. Most of all, though, he made Alex—and the rest of us—laugh along with his antics, which ranged from odd pantomimes to even odder personal stories to the accidental invention of a new kind of tree. And when Austin made his triumphant return to the show in the Tournament of Champions this fall—with fellow Jeopardy! masters Buzzy Cohen and Alan Lin—his whimsy proved infectious: As the camera panned down Contestants' Row during the start of the tournament's finale, Austin covered his eyes. And then Alan covered his ears. And then Buzzy covered his mouth. See no evil, hear no evil, speak no evil. For no discernible purpose except delight. A: This Jeopardy! contestant made the show, and the world, better just for being on it. Q: Who. Is. Austin.
---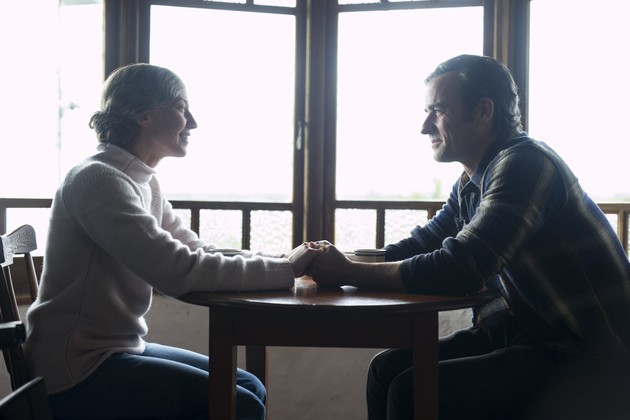 Chances are if you've seen The Leftovers, you don't need convincing that its series finale was sublime. But since this show was criminally under-watched and it's far more likely you haven't seen it, I'll be vague and hold out the promise of a virtually perfect ending. The Leftovers began with an alluring premise: What if 2 percent of the earth's population vanished without an explanation? Over three seasons, the series offered a fascinating and intricately plotted meditation on how people—as individuals, as families, as communities, as societies—deal with the unfathomable. Which is why it came as a surprise that the show's closer offered something akin to an explanation to the central mystery. Sort of. "The Book of Nora" can be described as a love letter in the shape of a puzzle box posing as a biblical text. It's an episode that at first appears to shelve the show's most ambitious questions about the human condition, but then illustrates with breathtaking simplicity why answers are so often beside the point.
---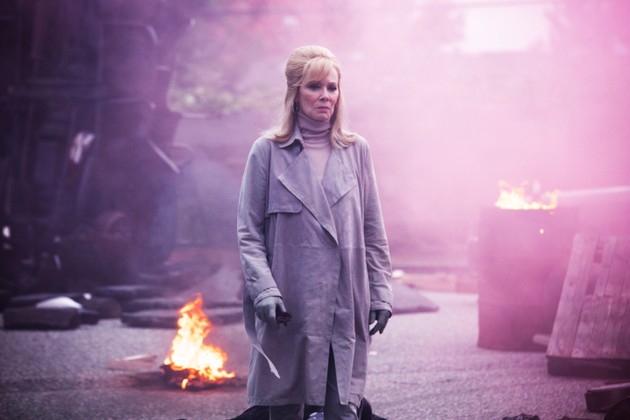 "It'll be fun," said supreme telepath David to his bodysnatching love interest Syd. "Kick some ass, save the girl, get a snack." This being Legion, Noah Hawley's 10,000-piece puzzle of a Marvel superhero show, the promise of straightforward asskicking was a feint—though "Chapter 5" did deliver a relatively clean-cut quest amid its unforgettable psychedelic loop-de-loops. David made such quick work of his earthly enemies that the carnage had to be reviewed later, on security-camera footage, by his own allies. But the most stunning action happened in the shadow realm of the tortured protagonist's head, where for a time all speech was snuffed out in an echo of Buffy's famous "Hush" episode. And that was before a truly nightmarish confrontation confoundingly delivered the characters right back to where the show began.
---
Amy Sherman-Palladino's vigorous, blisteringly funny period comedy for Amazon followed two fascinating courses in its first season. The first was the dissolution of its title character's marriage, with Midge Maisel (Rachel Brosnahan) seeing her upper-middle-class Manhattan life fall apart as her husband Joel (Michael Zegen) left her for his secretary. The other was Midge's fledgling career as a stand-up comedian, where she used the stage to vent her rage and confusion at her lot in life. Set in 1958, Mrs. Maisel used the pioneering idea of a female stand-up as a way to explore the burgeoning women's liberation movement and how it tied together with the idea of speaking out and being frank about sex, love, and family in ways that no one would have considered in the past. That came together in the show's spectacular finale, where Joel finally saw his ex-wife perform and was simultaneously enraged by and impressed with her skill, fighting some hecklers outside her club to both defend her talent and work through his own shock at seeing the woman he left air her feelings so publicly.
---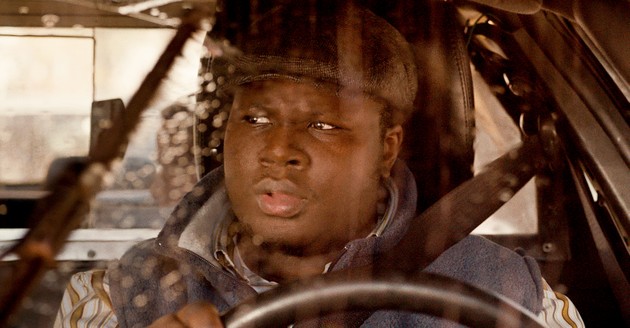 Empathy is a word that, so deeply resonant as it is with this moment, threatens to be undone by its own utility: Creators and critics talk about it so often that the word—and the ethic behind it—can easily verge into the realm of cliche. But Master of None's "New York, I Love You" is an exploration of empathy that manages to feel singularly fresh and urgent: a fitting companion to the rightly celebrated installment "Thanksgiving." "New York" eschews the show's primary characters to focus on the lives of people who so often aren't the focus of television's gaze: Samuel (Enock Ntekereze), a cab driver; Eddie (Frank Harts), a doorman; and Maya (Treshelle Edmond), a bodega employee. (Maya's story is the most striking of the three: She is deaf, and her moments of focus are given over to storytelling that is entirely visual, accompanied by stark silence—a striking way for a sitcom to inhabit, fully and simply, a character's world.) It's a narrative approach that threatens, at any moment, to become glibly Love Actually-esque in its execution; it never does, though. Instead, the episode manages to feel joyful and melancholic and, somehow, nostalgic. It's a love letter not just to New York, but to the people who make a city—and, indeed, who make any place—what it is: all the familiar strangers, all the lives collided and diverged, all the possibilities embraced and foreclosed. All the people you have never met, and will never meet again.
---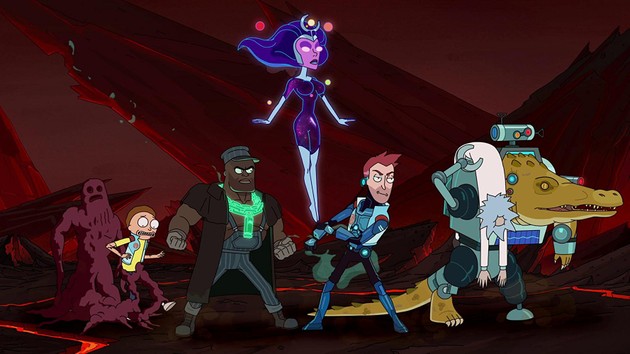 After a head-spinningly meta second season, Dan Harmon and Justin Roiland's animated cult favorite Rick and Morty returned this year, zeroing back in on its title characters and their relationship. But that didn't mean the show wasn't above a bit of hilarious meta-commentary about the entertainment world at large. "Vindicators 3: The Return of Worldender" was a parody of every superhero franchise choking the airwaves, as the more happy-go-lucky Morty (a teenager) teamed up with a group of superheroes to save the universe. His mad-scientist grandfather Rick, disdainful of the apparent simplicity of the Vindicators' heroic narrative, eventually does battle with them and reveals their more cynical underpinnings to Morty. It's an episode that was simultaneously creative (every Vindicator was hilariously designed, including the aptly named "Million Ants"), wincingly funny, and heart-rending, since Rick's hatred of these surface-level heroes was so obviously rooted in his own jealousy of them. In short, it was a Rick and Morty episode—a really good one.
---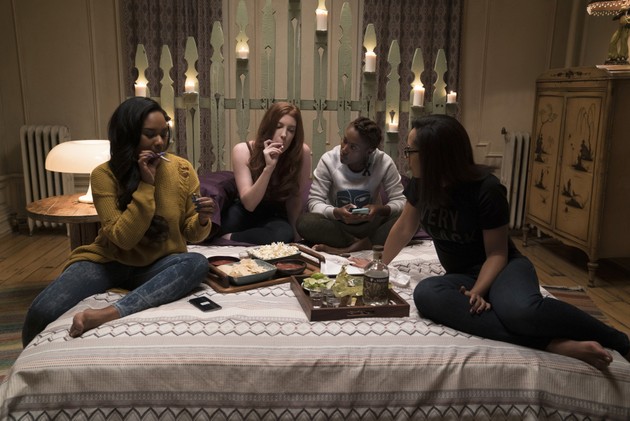 The first five minutes of "#LoveDontPayDaRent" had virtually no connection to the rest of this episode of She's Gotta Have It, which saw Nola (DeWanda Wise) engage in a series of side hustles after being threatened with eviction. But the introduction stands apart as one of the best artistic articulations yet of the grief many Americans felt after the election of Donald Trump. Spike Lee intersperses the music video for Stew & The Negro Problem's "Klown Wit Da Nuclear Code"—which he directed—with footage of characters reacting to Trump's win, in a slow, emotive montage. Mars (Anthony Ramos) helps his sister with a cleansing ritual. Greer (Cleo Anthony) works out frantically on his elliptical. Jamie (Lyriq Bent) takes a silent walk with his wife and son. Nola's friends smoke wordlessly on a bed, their faces numb. Raqueletta Moss (De'Adre Aziza) holds up the official portrait of Barack Obama, as if in protest. And Nola paints a portrait of the Obama family, their faces sheathed in smiles. As the song ends, the camera stays on an upside-down American flag, a potent symbol of how for each of the characters the world seems to have been upended overnight.
---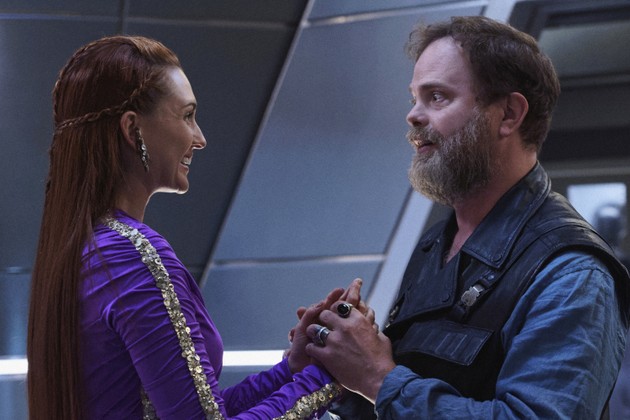 Like every single new Star Trek show, Discovery launched with the problem of trying to balance an established fanbase against an attempt to revitalize the franchise's 50-year-old formula. The storytelling rigors of Gene Roddenberry's original creation forbid so many classic narrative tropes, including conflict among the crew, and fans are still ready to raise hue and cry if they're violated. Discovery, nonetheless, has charted a more exciting, serialized course, alienating some fans and delighting others with its freshness. The best episode of its first season so far has been "Magic to Make the Sanest Man Go Mad," which was a delightful blend of old and new. It featured Harry Mudd (Rainn Wilson), an updated version of a character from the original 1960s series, and a plot mechanism (the ship getting stuck in a time loop) that Star Trek has seen before. But it managed to feel fresh and fun without sacrificing the more analytical notes of Discovery's forbears, setting a promising blueprint for the show's future.
---
Twin Peaks: The Return, "Part 8"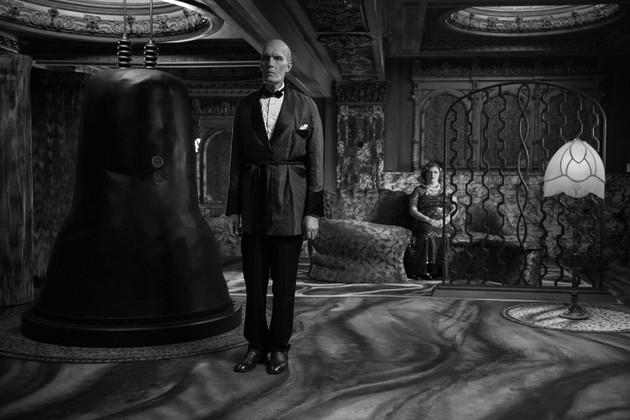 It's not an exaggeration to say the eighth episode of David Lynch and Mark Frost's revival of their '90s cult series is like nothing that's ever appeared on television. A 10-minute opener features the doppelganger of the original show's Agent Dale Cooper getting executed, his guts scooped out by interdimensional demons, then coming back to life. There's an abrasive musical interlude performed by Nine Inch Nails (who are introduced as The Nine Inch Nails). And that's only 5 percent as jaw-dropping as what follows: a mostly black-and-white, dialogue-free nightmare journey into the center of an atomic mushroom cloud set to Krzysztof Penderecki's Threnody to the Victims of Hiroshima, and what amounts to a kind of origin story for evil itself. (Somehow it also has everything to do with the tale of Laura Palmer) A masterpiece of TV that smashes almost every convention of the medium, "Part 8" is a lot like The Return as a whole: disturbing, audacious, and bewildering, a piece of art you can't believe exists but are grateful does.
---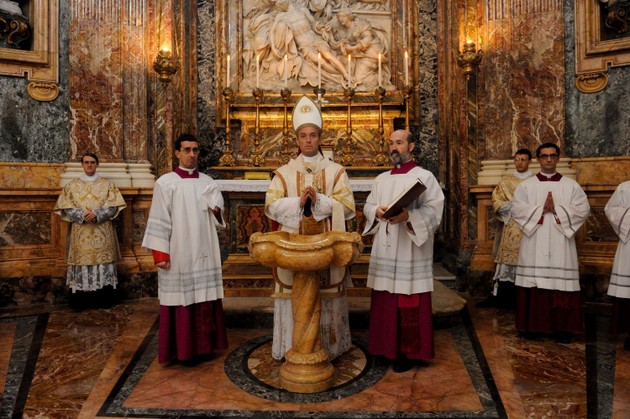 There was nothing subtle about The Young Pope using LMFAO's "Sexy and I Know It" to convey that Pope Pius XIII was sexy and he knew it as he tried on loafers. Nor was it subtle to have him defeat a traitorous underling while literally standing over said underling, bellowing "I am the young pope!" Same went for a suddenly blooming flower that signaled a barren worshipper had been miraculously impregnated. Yet every groan-and-grin moment in the The Young Pope's fifth episode fit with Lenny Belardo's belief that God works not in mysterious ways but in grand and freaky ones. His long-awaited address to the congregation of the cardinals was accordingly a masterwork of bombast, marked by fierce hardline rhetoric and fiercer glimmering vestments. Though Belardo ordered clergymen to fit themselves through a tiny doorway and kiss his red-slippered feet, thrillingly, The Young Pope never humbled itself in such a manner.