Taylor Swift and Beyoncé Speak Through—Not to—the Media
Whether landing magazine covers or making political statements, stars are avoiding the scrutiny of traditional interviews.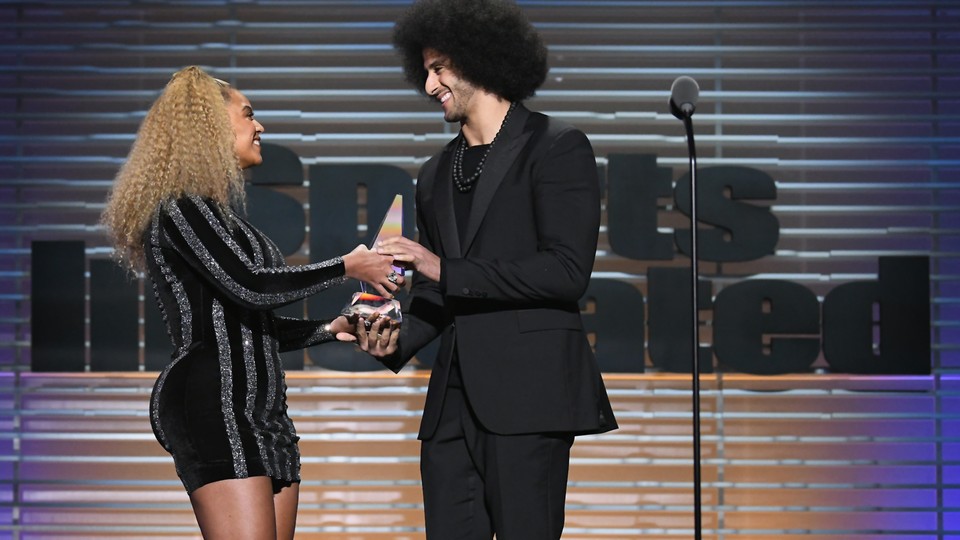 Taylor Swift stares defiantly from the cover of her album Reputation, newsprint scrawled on the side. Taken together, the image and the title are a taunt to the media, to whom she hasn't given any interviews about the album.
This week, though, Taylor Swift stares out from the covers of two mega-famous magazines: the Person-of-the-Year issue of Time, and the U.K. edition of Vogue. Both are striking examples of how she is helping pioneer a new image-management playbook, one in which politics and paparazzi have moved celebrities to speak through the media without necessarily speaking to it.
For Time, she stands in a group of women labeled "The Silence Breakers" who've come forward with accusations of sexual assault. The related #MeToo movement has largely focused on stories of harassment in media starting with the New York Times exposé of Harvey Weinstein. But Time's package widens the scope, both by including stories from service workers—some anonymous—as well as pre-Weinstein sagas such as Swift's.
Swift privately accused the radio host David Mueller of reaching under her skirt at a meet-and-greet in 2013, and he sued her for defamation after his employer fired him. She prevailed in the resulting trial this past summer, which generated headlines because of her candid testimony: "I'm not going to allow you or your client to make me feel in any way that this is my fault," she told Mueller's lawyer.
Much of the #MeToo discourse has focused on the unequal power dynamics between attackers and victims, and in a short Q&A with Time, Swift now articulates how her case fits into that paradigm: "I figured that if he would be brazen enough to assault me under these risky circumstances and high stakes, imagine what he might do to a vulnerable, young artist if given the chance."
Swift's evasion of full-on interviews, the kind that typically accompany magazine covers and album releases, has allowed her to avoid directly confronting questions about social and political issues in an especially outrage-prone moment (as well as about gossip regarding her friendships and feuds). But by speaking briefly to Time on this one topic, she further cements her bona fides with a cause she clearly cares about: fighting sexual assault. She's done so in an especially savvy manner, using her platform to also bring up the plight of her pop peer Kesha and ending her interview with the kind of cutting detail that she might use in a song: "When the jury found in my favor, the man who sexually assaulted me was court-ordered to give me a symbolic $1. To this day he has not paid me that dollar, and I think that act of defiance is symbolic in itself."
At British Vogue, meanwhile, Swift shows up in high-glam images by Mert Alas and Marcus Piggott, the same team who snapped her Reputation album photos. Rather than submit to a profile, she submitted a short poem that the magazine has published. Titled The Trick to Holding On, it reads like an opaque explanation for the cagey career phase she's now in: "Let go of the ones who hurt you / Let go of the ones you outgrow / Let go of the words they hurl your way / as you're walking out the door."
The Vogue cover clearly reasserts her status as an enviable superstar, but it also asserts her control over the media machine that would otherwise profit from scrutinizing her. Some editions of Reputation, incidentally, came with a tie-in "magazine" containing photos by Alas and Piggott, poetry by the singer … and no tough questions answered. British Vogue might as well be more of her merchandise.
The 1.2 million copies of Reputation sold in its first week speak well enough to the efficacy of Swift's media strategy. But Swift is not the first celebrity to take a ubiquitously-seen-but-rarely-heard approach. Beyoncé in part cleared this path, keeping journalistic access to a radical minimum while also reserving the right to make surgical strikes in the media. You could see her doing that very thing twice this week in high-impact, low-verbiage public appearances.
At Tuesday night's Sports Illustrated Sportsman of the Year ceremony, Beyoncé appeared as a surprise presenter to give Colin Kaepernick the Muhammad Ali Legacy Award. Someone who only gives interviews in controlled settings if at all—her last sit-down, to promote a new fashion line, was conducted with a journalist who also happened to be a family friend—would seem to be trying to avoid controversy. But the truth is that Beyoncé, like Swift, carefully picks and chooses which political dramas she wants to wade into and how. The statement she gave on stage was written to both demonstrate solidarity and persuade critics:
It's been said that racism is so American that when we protest racism, some assume we're protesting America. So, let's be very clear. Colin has always been very respectful of the individuals who selfless serve and protect our country and our communities and our families. His message is solely focused on social injustice for historically disenfranchised people. Let's not get that mistaken.
Beyoncé's other excellent media jiujitsu moment recently came when she and Jay-Z emerged from an elevator to paparazzi flashes at a movie screening for the rapper's 48th birthday. Doing so recalled the event that, more than three years ago, possibly sent the couple into media lockdown in the first place: leaked security camera footage showing Beyoncé's sister Solange pushing Jay-Z around in an elevator at a Met Gala afterparty. The married stars' albums since then have made art out of the domestic discord that many believed to be the reason for the scrap.
Now, they seem to be cheekily sending a new message about the saga. Beyoncé may never directly address a journalist's question about what happened at the Met Gala afterparty, or what the state of her marriage is. But as she emerged from the elevator with Jay-Z this week, on the sleeve of her dress was one word that offered perhaps the only statement she needs to give: "UNITY."