Stephen Colbert's Favorite Things About Mike Pence
The late-show host devoted a portion of his Friday monologue to the many "juicy nuggets" in The Atlantic's recent profile of the vice president.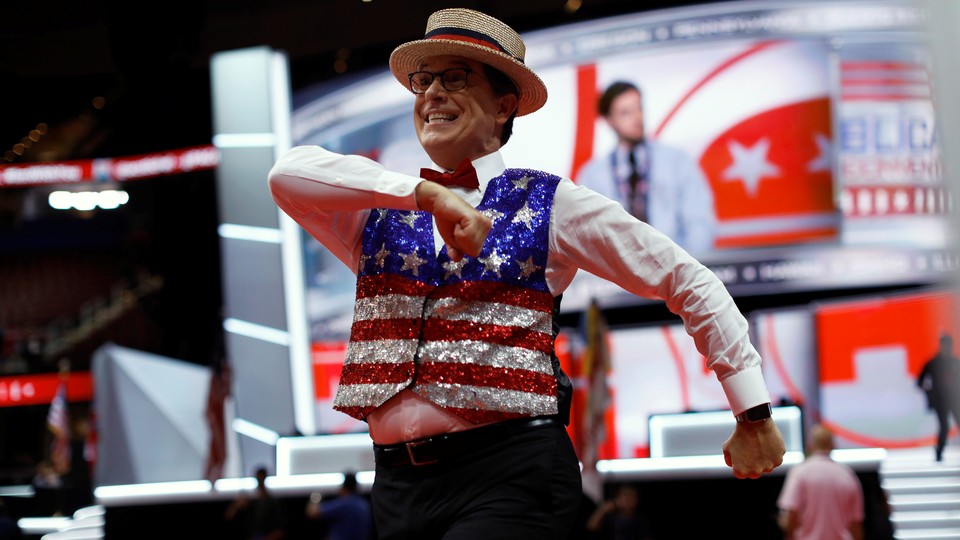 Mike Pence was, by his own account, a terribly unpopular kid. Long before he became vice president of the United States, Pence was a total outcast. He was miserable at football, and he was overweight—"the real pumpkin in a pickle patch," as Pence put it in an interview with The Republic, an Indiana newspaper, during his campaign for Congress in 1988.
That memorable line is one of the many colorful details that The Atlantic's McKay Coppins unearthed in his sprawling profile of Pence, and it's one of several things about the story that caught the comedian Stephen Colbert's attention.
"The real pumpkin in the pickle patch! That is the folksiest way to describe childhood sadness I have ever heard," Colbert told his late-show audience on Friday. "Yep, I was a pumpkin in the pickle patch, a lemon in the old melon bowl, a real weeping loner at the freshman formal. Whoops! That wasn't a metaphor." Colbert devoted much of his opening monologue to his favorite parts of the Pence profile.
Colbert, who describes Pence as a "man who thinks seltzer water is too spicy," seemed particularly tickled by the nickname Pence earned among legislators: Mike Dense. "I hope soon he'll be President Dense," Colbert said.
"But what really comes through in this piece is Pence's belief that he's doing the Lord's work," Colbert added. "As [Coppins] puts it, 'What critics should worry about is not that Pence believes in God, but that he seems so certain God believes in him.'"
Colbert ends the segment by interviewing an animated version of God himself. The result is—well, ridiculous. You can watch the whole segment here:
And you can read the profile of Pence here.