Eminem and 2017's Many-Splendored Protest Songs
The rapper's attempts to troll Donald Trump come at the end of a year of political pop, some of it as clunky as his.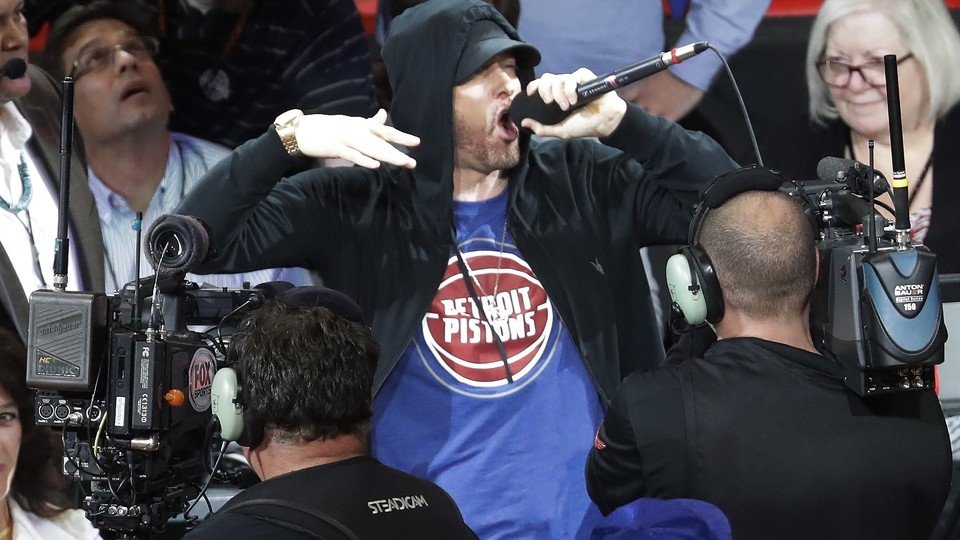 Eminem's performance at the BET Hip-Hop Awards won the notice of plenty of rap fans and TV pundits, but it failed in its main goal: trolling Donald Trump. "I feel like he's not paying attention to me," Eminem said in an interview after he called Trump "a kamikaze that'll probably cause a nuclear holocaust," among other things, in the viral clip. "I was kind of waiting for him to say something, and for some reason, he didn't say anything."
To another reporter, Eminem hinted that he had comeback lines prewritten in case the president had called him out in Twitter—which, in turn, led the president's son to tweet, "WillTheRealLoserPleaseStandUp."
Eminem has been trolling celebrities for his entire career, but there is something new in his reasonable expectation of presidential reply. In 2017, entertainers spoke out against the commander-in-chief like rarely before—and like never before, the commander-in-chief relished in speaking back.
Madonna kicked off the year in political-pop squabbles by confessing, at the Women's March, to daydreaming about blowing up the White House, a remark Trump called "disgusting" and claimed, not incorrectly, had hurt her cause. This came after the president turned a polite 2016 Hamilton statement into a national football, and before he made football itself a public enemy by attacking the athletes who kneel to protest police brutality and an ESPN journalist who tacitly agreed with them. It also came before he blasted Snoop Dogg for a music video in which a toy gun is pointed at a clown Trump, and before he nicked Kathy Griffin for her faux-beheading photo.
Now comes Eminem openly courting the president's scorn—and not getting it. Perhaps the mission was inherently futile as he, unlike the other entertainers to be wielded as cultural wedges by Trump, is a white male. Still, the rapper doubled down with last week's No. 1 album, Revival, an unwieldy, largely joyless, multi-front effort that, among other things, encapsulates what made protest music in 2017 work—or, depending on the desired result, not work.
There's a song called "Offended," in which Eminem makes like Eminem is supposed to and spills his most vile thoughts. So: "Like Bill Cosby at will, popping a pill then spill Oxys in Jill's coffee." And: vulgar come-ons to Melania and Ivanka Trump and Kellyanne Conway. Another track, "Framed," joins the rapper's corpus of serial-killer roleplay songs: "How the fuck is Ivanka Trump in the trunk of my car?" The first purpose of these songs is to provoke, a fact he cops to on "Offended" with the line, "Till I get the President to respond, my pen and pencil is a missile launcher." Can anyone listen to thirst for attention this undisguised and not feel a bit uncomfortable for the creator?
But airing bloodthirsty, rude, and evil thoughts about politics can be more than simply a trolling move. Eminem's wordplay is less spectacular than it's been before, but if you want to marvel you can (he lost me on the album's second track, which is built around a really dopy simile: "I started from the bottom / Like a snowman, ground-up"). Moreover, you can hear him work out some seriously dark thoughts—kind of like Madonna was doing at the Women's March.
This year's most drastic example in the genre of performative gruesomeness: Tim Heidecker's Too Dumb for Suicide, a surrealist comedian's collection of easy-listening songs—think the Eagles and Jimmy Buffett—about such topics as Trump dying by execution, plane crash, colonic rupture, and heart attack caused by him eating deregulated chicken. Some of the songs are genuinely funny, more of them are genuinely disturbing, and all aim their animus both at Trump the individual and at what he stands for. The album doesn't fix anything, but it does leave no doubts about how its creator feels—and, in a way, about just how deeply Trump has unsettled the country.
A different protest mode can be seen in Revival's promo single "Untouchable," an itchy, overwritten epic about race in America. In the verses, Eminem's speaking from the perspective of a racist white cop, taunting "black boy, black boy"; in the choruses, he's yammering that racist white cops never get punished. Eminem comes off as a devoted Howard Zinn student, questioning the country's very identity: "Home of the brave is still racist 'ville / So this whole nation feels like a plantation field / In a country that claims that its foundation was based on United States ideals / That had its Natives killed."
In the way it intricately spells out political ideas, "Untouchable" is an example of a type of protest song that rappers, in particular, can attempt. An Eminem disciple, Joyner Lucas, recently landed a viral conversation piece with "I'm Not Racist," a verbose, hypothetical duel between a Trump-supporting white man and an anti-Trump black man. Ice-T opened "No Lives Matter" by his enduringly dyspeptic rock group Body Count with a political spiel, sans music.
Such songs, well-intentioned and sweated-over as they are, can be tedious, as protest music is often parodied as being. They also riskily presume that listeners who disagree with the artist's worldview will be willing to sit through the song. Eminem has more of a right to that presumption than most, given that his fanbase definitely includes a few disaffected white male Michiganders who may have helped wing the election. Then again, for his BET spot, the rapper more or less asked those people to tune him out permanently.
The better works of rap-as-political-argument this year also were rap-as-memoir and rap-as-entertainment: much of Joey Bada$$'s All-Amerikkkan Bada$$ album, much of Kendrick Lamar's Damn, 21 Savage's "Nothin New," Vince Staples's "BagBak," and other pissed-and-personal works. None of those examples made their points all that subtly, but they didn't feel like they were putting message first, story second. The result was that fans put them on repeat as they would any other song by the artist, a first step to protest music that endures.
There's a third political-song type on Revival as well: "Like Home," a down-the-middle inspirational ballad aiming to land an op-ed near the top of the charts. Between keening choruses sung by Alicia Keys, Eminem's verses include both standard-issue disses about the president using spray tan and resembling Hitler, and earnest attempts at argumentation: "Why you think he banned transgenders from the military with a tweet? He's tryin' to divide us." Piano tinkles ever-more-loudly, and then Keys erupts with a line meant to claim the patriotic mantle for the resistance: "Here's to the land that made me." Is that goosebumps you're feeling, or the flush of embarrassment?
It's standard pop uplift with an unusually specific message, reminiscent of Macklemore and Ryan Lewis's "Same Love" or Logic's "1-800-273-8255," the latter an anti-suicide hit that's commercially the most effective "issue" song of the year. In 2017, listeners looking for electoral calls to action in catchy choruses could have enjoyed them from works that played more like intimate conversations than convention speeches, such as Mavis Staples's worldly but inspiring If All I Was Was Black, or Oshun's silkily defiant "Not My President."
More broadly pitched efforts were quickly forgotten. Fifth Harmony and Kelly Clarkson recorded songs that gently repurposed Democratic slogans, but didn't release them as singles. Meanwhile Katy Perry's cryptically "woke" comeback song, "Chained to the Rhythm," stalled out. And the rock/rap slogans-as-choruses from the supergroup Prophets of Rage failed to transform the national dialogue as they'd loudly been intended to do. The gooey but barbed "Like Home" may well suffer the same fate once it gets its push as a single, but Eminem can dream: If he wants to hear from a rival as media-obsessed as Donald Trump, the surest—though most difficult—way would be by getting the entire country to listen to him first.