Breaking Down a Crucial Phone Call in The Post
The Atlantic looks back on the key film scenes of 2017, this time Meryl Streep's big moment in Steven Spielberg's 1970s newspaper drama.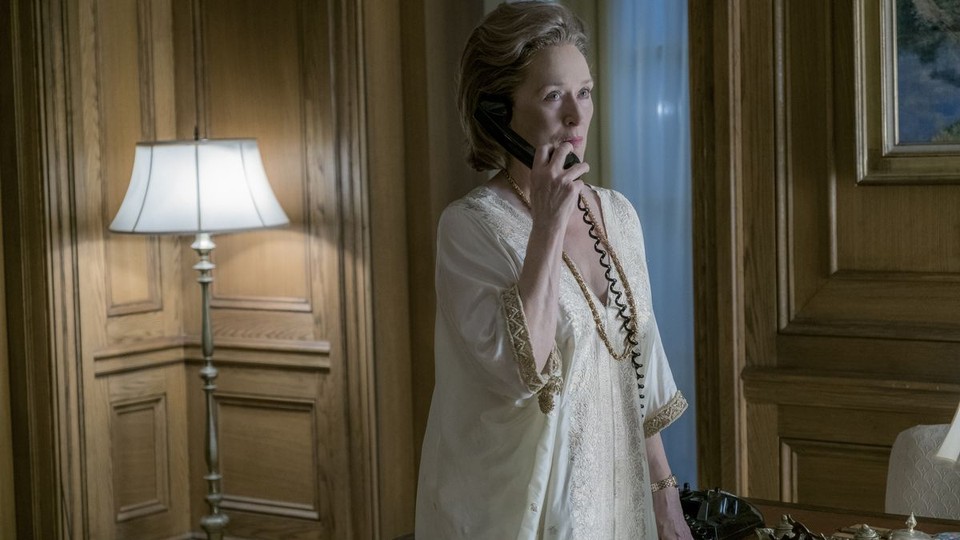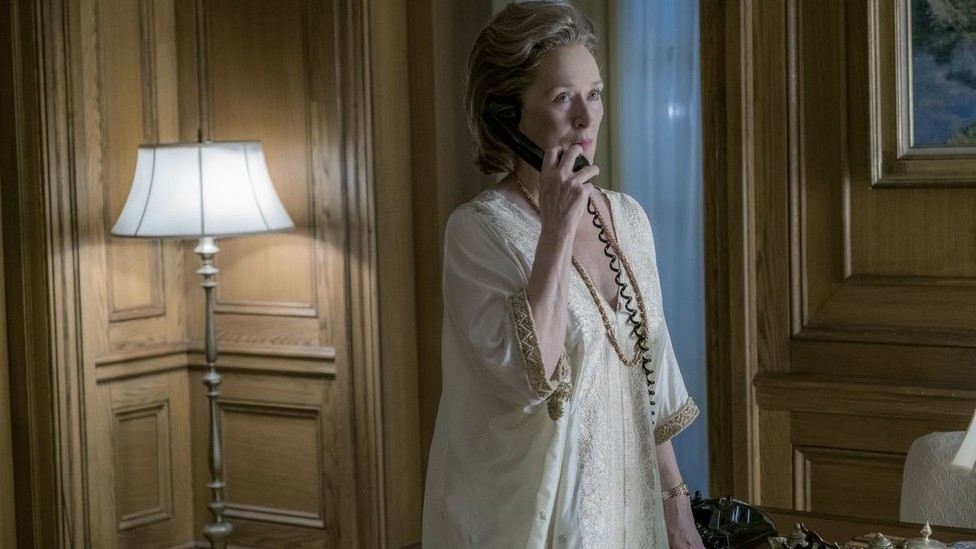 Over the last month, The Atlantic delved into some of the most interesting films of 2017 by examining a single, noteworthy moment in each. Today: Steven Spielberg's The Post. This will be the year's final installment of the "And, Scene" series, which can be found in its entirety here.
---
The topicality of The Post is hard to miss, even if it's a period drama set in 1971. The movie's heroes are the news media, specifically a bunch of largely unsung reporters at The Washington Post (one of three competing daily newspapers in the city at the time ). The chief villain is the White House, specifically President Richard Nixon, played by the man himself (through his tape archives). The Post is trying, like The New York Times, to publish information from the Pentagon Papers, a damning internal study of U.S. involvement in the ongoing Vietnam War. Nixon, citing national security, is trying to block the outlets from doing so by any means necessary.
Steven Spielberg's film is a paean to the essential role of a free press, one the director felt he had to make in 2017 (he first read Liz Hannah's original script earlier this year and rushed it into production). "I haven't said anything about Trump. This is my way to respond to what's going on," was how Josh Singer, who joined the project as a co-writer before shooting began, summed up Spielberg's view of the movie. But The Post isn't just a parable about the noble stance the newspaper took in defying Nixon; if it were, the film would probably have focused more on the Times' role in publishing the Papers first and fighting for that right before the Supreme Court.
No, The Post is also about Katharine Graham (Meryl Streep), the former publisher of The Washington Post and the first female CEO of a Fortune 500 company. Though it has all the crackling energy and wit of many a '70s political thriller (with an unusually mobile, roving camera for a Spielberg drama), the movie boils down to a single stately moment, one in which a woman asserts her authority in a way that even her male subordinates, who technically report to her, are unprepared for. Graham was certainly not the only notable figure in the Pentagon Papers saga. But in 2017, she feels like a fitting protagonist, particularly after an election where the very idea of female leadership was a polarizing topic.
The dramatic lynchpin of Hannah's script comes from a surprising coincidence described in Graham's 1997 Pulitzer Prize–winning autobiography Personal History—that the Washington Post Company was in the process of going public the week that the executive editor Ben Bradlee (Tom Hanks) got his hands on the Pentagon Papers and began working on a front-page story about them, disobeying instructions from Nixon's Justice Department. As the film's final act begins, Graham is ushered out of a D.C. society party she's hosting to take a call with Bradlee, her trusted adviser Fritz Beebe (Tracy Letts), and the disapproving board member Arthur Parsons (Bradley Whitford). The question in front of them: Should the Post publish, at the risk of being held in contempt of court?
Bradlee is, of course, vociferously arguing in the affirmative, as Parsons (a composite character, representing many members of the company's board) urges prudence. Beebe hovers in the background; we've witnessed, in earlier scenes, how Graham relies on him to be heard in the all-male boardrooms she has to navigate, and often defers to his advice. In her autobiography, Graham talked about how few female role models she had in the business world and how timid she was when she initially took charge of the Post in 1963, after her husband Philip's shocking death by suicide. Parsons and Beebe are both fearful that publishing the papers will cause the company's initial public offering to fall apart. Bradlee doesn't care.
"The only way to assert the right to publish is to publish," Bradlee cries, adding that if they bend to Nixon's demands, the paper's reputation will be ruined. "Fritz, is Fritz there? Fritz, are you on?" Graham asks, her voice cracking. "What do you think I should do?" Beebe is his usual gregarious self, saying he understands where Bradlee is coming from, but his advice is clear: Don't publish. The camera slowly pans in on Graham, this icon of D.C. civility, clad in a magnificent white and gold caftan, as she blinks nervously and gives her final order. "Let's go, let's do it. Let's go, let's go, let's go. Let's publish." Spielberg then immediately cuts to a crane shot, arcing above Graham, as she hangs up with satisfied certitude. In that moment—framed in a near heavenly manner—she's become a part of history. Her decision is something the film has spent an hour building toward, dramatizing Graham's nervy debates with Bradlee, with Beebe, and with her lawyers over the necessity of standing up to Nixon. But once she makes her choice, it's ironclad.
The scene isn't exactly subtle, and yet, it's still a remarkably quiet moment for Spielberg to use for what amounts to the movie's applause break. The Post is a story of process: So much of its screentime is devoted to the how and why of the reporters getting the Pentagon Papers, sifting through them, and hitting on what to write about them. But nestled within that process, to Spielberg, is a pressure point that required someone to make a moral decision rather than a business-minded one. That's why The Post works—because its locus point is a humane, sincere portrayal of a woman in a position of power, and the huge impact she ended up having. It made for an ideal capper to 2017, a year in film that was rarely understated, but also rarely felt more vital.
Previously: The Disaster Artist