Bon Jovi and Nina Simone, Rock and Roll Hall of Famers at Last
The Cars, Dire Straits, the Moody Blues, and Sister Rosetta Tharpe also made it in a less-than-forward-looking induction class.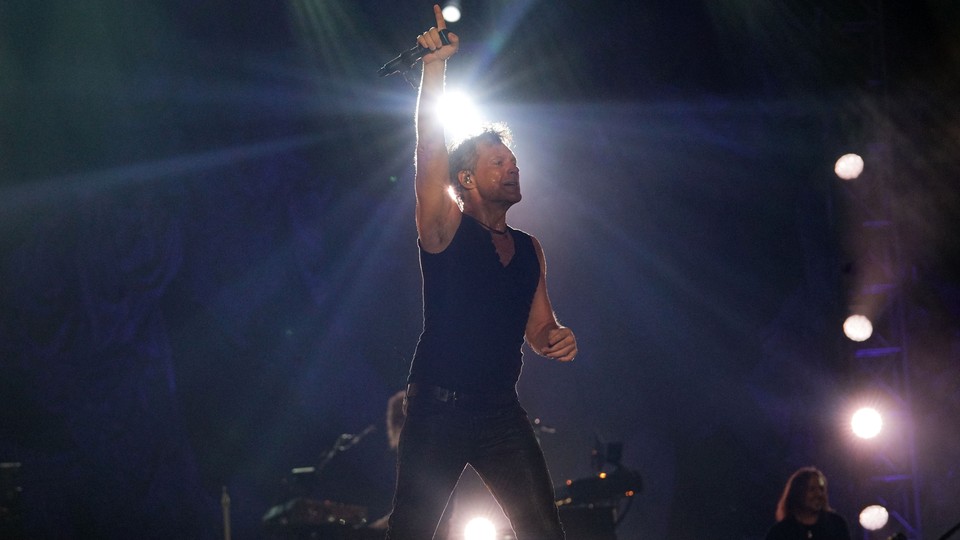 In Joe Hagan's recent biography of Jann Wenner, the co-founder of Rolling Stone and the Rock and Roll Hall of Fame, it becomes clear that the Hall of Fame has been largely shaped by the preferences of just a few guys. The self-made gatekeeper "especially disliked Jon Bon Jovi, who Wenner said campaigned unsuccessfully to get himself inducted into the Hall of Fame by enlisting billionaire investor Ron Perelman for muscle," Hagan writes. "'I don't think he's that important,' said Wenner. 'What does Bon Jovi mean in the history of music? Nothing.'"
The times have been a-changin', though, at least since KISS—another act once blackballed by Hall of Fame leaders—made it into the Cleveland institution in 2014. Now, Bon Jovi has been named in the next induction class.
To the question of what the New Jersey band means to the history of music, the Hall of Fame website has its reply: "Bon Jovi redefined the rock anthem by dominating arenas and captivating audiences with hooks that continue to define the decade." But the more fitting answer is the circular one intrinsic to any arbitrary process like the Hall of Fame's. Bon Jovi means something because they meant something to enough voters.
The other four inductees to the big "performers" category for 2018 are the new wavers The Cars, the roots-rock explorers Dire Straits, the contemplative proto-prog act the Moody Blues, and the soul legend Nina Simone. Sister Rosetta Tharpe, the gospel and folk singer of mid-century, is being inducted as an early influencer.
Recent Hall of Fame classes started to canonize the '90s or otherwise brought in new sounds, but this year's class more simply ratifies long-settled legacies and burrows more deeply into the classic-rock lists. Radiohead, the prognosticators' favorite nominee this year, didn't make it in, and neither did their louder peers Rage Against the Machine. Depeche Mode, the synth goths whose extreme influence was recently affirmed by them embarking on one of the highest grossing concert tours of 2017, were left out, though their keyboard-wielding forbearers The Cars did make it in. LL Cool J, the only hip-hop act nominated this year, will also have to wait for recognition.
Yet even for long-familiar acts whose heydays were more than three decades ago, induction can be spun as triumphs for the underdogs. Certainly Simone's recognition seems preposterously late, as I wrote in October. And Bon Jovi's diehards must feel vindicated. The band won the Hall of Fame's "fan poll" with more than a million votes, which collectively counts as one ballot amid the more than 900 submitted by industry insiders. Jon Bon Jovi, seeming to confirm that he'd lobbied for this honor over the years, isn't playing coy about finally getting in, telling The New York Times: "It's about time."