Against All Odds, LeBron James Is Still Getting Better
Forced to carry a heavier burden than ever this season, the 15-year NBA veteran is showing the basketball world he's not yet finished adding to his game.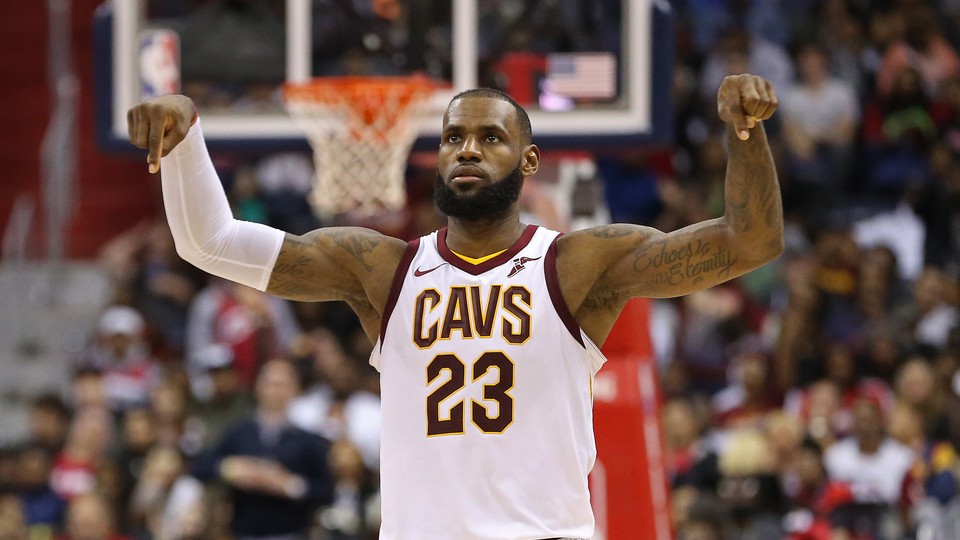 LeBron James's talents are so encompassing that it can be hard to imagine any room for improvement. From nearly the day he first stepped on an NBA court, he has been one of the league's most unstoppable scorers, best passers, most daunting defenders, and keenest observers. He has played every position and filled every role. It is natural to expect the almost-33-year-old's abilities to diminish, at some point, or at least to stop growing. And yet, 15 years and some 42,000 minutes into his professional career, the world's best player is somehow getting better.
Back before it started, this season was thought to represent a kind of holding pattern for James. Over the summer, his Cleveland Cavaliers lost Kyrie Irving—and with him, a good portion of their hopes for beating the Golden State Warriors in a potential fourth-straight Finals matchup. At that time, talk around the NBA centered not on how James might lift up his team in 2017–18, but on where he'd play the following year, after his current contract expired. His two Los Angeles homes and filmmaking aspirations connected him to the Lakers, and his saying that he'll "approach [free agency] when the summer comes" did little to dispel such chatter. Cleveland losing five of its first eight games to start the year only increased the sense that rumors and innuendo would seize the spotlight away from basketball, that the real action would wait until the offseason.
Since the opening fortnight, though, the Cavaliers have been rolling, and James has surpassed his usual stratospheric standards. He's averaging 27.8 points per game (his highest total in eight years), 9.3 assists (his highest ever), and 8.5 rebounds (a fraction off his career-best). He's shooting 40 percent from beyond the three-point line and an unfathomable 63 percent inside it. He has played the most minutes in the league. One night in November, James poured in 57 points, the highest total by any player this season. And heading into Tuesday night's showdown against the Milwaukee Bucks and their young phenom Giannis Antetokounmpo, he has logged four triple-doubles in his last five games.
At times, James seems to amaze even himself. In the first quarter of a recent victory over the Utah Jazz, he darted out on a fast break, awaiting a routine alley-oop pass. The lob didn't quite synchronize with James's jump, though, so he hung in the air, waited, reached back with his left hand, and—with his head now nearly behind the backboard—corralled the ball and jammed it through the rim. The play looked as though it had been concocted via suspension wires or CGI. When James landed, he stopped and stared at his palm for a moment, as if in wonderment.
"What he's doing at his age, his 15th year, is unbelievable," James's head coach, Tyronn Lue, said last week. The appraisal was accurate; the roster of athletes who have produced this ably a decade and a half into their playing days is nearly nonexistent. Michael Jordan's 15th season was his last one, a somber and playoff-less campaign with the Washington Wizards. Neither Larry Bird nor Magic Johnson made it that long, due to injury and illness. Tim Duncan, by the time his 15th season came around, was well along in his transition from focal point to elder statesman. Kobe Bryant, while still scoring at a high clip, was not close to matching James's efficiency or all-around contributions.
Basketball doesn't damage its players' bodies in the way football does, but it is nevertheless a grind. Even Hall of Famers fall victim to diminished bounce and quickness, to nagging injuries, to the simple, physical exhaustion that comes with running and jumping on a wooden floor two and a half hours at a time, 82 nights a year. The average NBA player's peak comes in his mid-20s, and the early-30s usually portend serious decline, but James is playing and talking like he'll have none of that. "I want to break the mold of guys, of the stereotype of this prime thing," he says, as if growing older were a contrived media narrative instead of a fact of life.
If James's elaborate fitness regimens partly account for his seeming agelessness, his knowledge of the game deserves a greater share of the credit. He can still soar and sprint because he so often doesn't have to. Against the Washington Wizards last weekend, James logged 20 points, 15 assists, 12 rebounds, and one block—the kind of numbers that, for most players, might mark the best game of the season—while hardly leaving cruising speed. He worked patiently on the low block, dipping his shoulder for layups or pivoting into fallaways. He sent passes to every sector of the floor, including a length-of-the-court 75-footer that led to a teammate's easy dunk. James himself didn't dunk at all; it would have seemed out of place during that easygoing evening.
The current version of the Cavaliers—without Irving or his injured replacement Isaiah Thomas, staffed largely by castoffs and broken-down ex-stars—would almost certainly be out of playoff position without James, but with him they have posted a 23–8 record, one loss away from the Eastern Conference's top spot. Whatever the range of talent that shares the floor with him at a given moment, he makes it work.
The season probably won't end up quite so smoothly for James. Despite how it's playing at the moment, his team remains less equipped to deal with the Warriors than it has been in years, and a Christmas Day showdown against Golden State looms early next week as a reality check. Rumors of relocation have quieted but not ceased; linking James to championship aspirants from the Philadelphia 76ers to the Houston Rockets has become a kind of parlor game among league forecasters. The summer still figures to bring another in a series of difficult choices. Will he change teams yet again, looking for the ideal coda to a career that surely must wind down at some point? It's still anyone's guess.
In the meantime, though, this year is shaping up as a welcome corrective. Due to some combination of voter fatigue and a rationing of his effort in preparation for the playoffs, James hasn't won a Most Valuable Player award in five seasons, though he has widely been considered the league's supreme talent for the duration of that stretch. Now, he has little choice but to show the basketball world everything he's still capable of. Such circumstances may not portend a fourth championship this June, but they make for a spectacular show. "This is the best I've felt in my career," James says, and nobody watching can doubt the truth of the statement.