A Meaningful Chat With a Flock of Birds in The Florida Project
The Atlantic looks back on the key film scenes of 2017, this time a moment in Sean Baker's must-see movie The Florida Project.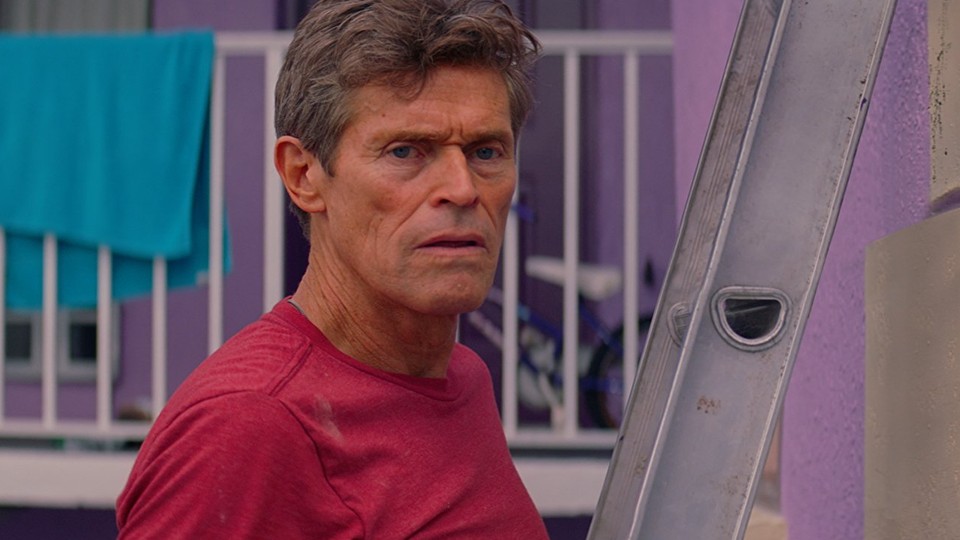 Over the next month, The Atlantic's "And, Scene" series will delve into some of the most interesting films of the year by examining a single, noteworthy moment and unpacking what it says about 2017. Next up is Sean Baker's The Florida Project. (Read our previous entries here.)
---
The Magic Castle Inn & Suites in Kissimmee, Florida, is not quite as enchanting as its fairytale namesake one town over in Orlando's Disney World. Its bright purple exterior is somewhere between kitsch and outright eyesore, and its inhabitants are an unpredictable bunch. "The man in there gets arrested a lot," 6-year-old Moonee (Brooklynn Prince) explains to a friend as she shows her around the building. "This woman thinks she's married to Jesus." Moonee and her young mother Halley (Bria Vinaite) live a tough life in one of the Magic Castle's motel rooms. They're part of the country's "hidden homeless," people (often single parents and children) who have a temporary roof over their heads but no longer-term housing of their own.
To the viewer, Moonee's life might seem distressing. Neglected by her mom, she spends most of her time running around the motel with her friends, causing serious trouble, and often harassing other residents. But Moonee still appears carefree, partly because of her young age and partly because of Bobby (Willem Dafoe), the gently wound manager of the Magic Castle who devotes much of his day to looking out for her. To Moonee, Bobby sometimes seems like a tyrant, always arriving at the wrong moment to spoil her amusement, but the audience can see that he's more of a grizzled guardian angel. There's no scene that better sums up Bobby's character than one brief, private exchange between him and a flock of birds that arrives near the end of the movie.
The Florida Project is, for most of its running time, a verité slice-of-life film without much of a real plot; the director Sean Baker's camera stays low to the ground as he follows Moonee and her pals on various little adventures. But in its third act, things begin to unravel. Halley, who made money mostly by selling knock-off perfume to tourists, has turned to sex work and started behaving erratically. Moonee accidentally set a fire at a nearby abandoned tract of houses that became a local spectacle. The world of the film looks like it's falling apart, but through it all, Bobby remains a calming presence.
"Boys, good morning!" he says, exiting his office at the start of the day, talking to some unseen visitors. "Yep, you gotta go home," he continues, as Baker cheekily keeps the camera pointed away from whomever he's addressing. Finally, the lens swings around, and we see them: a bunch of tall birds, some sort of ibis, standing lazily in the street. "There's cars coming through here! We got guests! No harm, no foul? No fowl? There's a joke in there somewhere. All right fellas, all right. Have a good day," Bobby rambles to himself as he chases these beautiful creatures away for their own safety.
This has been Bobby's role for the whole movie: He's a protector. He's kind and dad-jokey, softly spoken but authoritative as he takes care of a place that looks hellish at first glance. Bobby, though, is uninterested in accolades and is largely on the receiving end of verbal abuse from customers like Halley. In depicting Moonee and Halley's life on the margins, Baker could have dialed up the gritty depravity just to drive home the film's larger societal message. But The Florida Project is all the more powerful for portraying tenderness and optimism where one might not have expected it.
Bobby isn't a hero. He's just a person trying to make the lives of others a little easier, whether it's Moonee and Halley (whom he indulges despite her increasingly difficult behavior) or the passing ibises, who serve as a reminder of the weird magical fantasyland that Florida still is. In the end, Bobby's help only means so much—the end of the film sees him trying, and failing, to comfort Moonee as case workers from the Department of Children and Families attempt to take her away. It's his effort that's moving, not the result. The world Baker is showing viewers is mostly miserable, which makes the moments of compassion matter that much more.
Right after Bobby's confrontation with the birds, the film cuts to Moonee and Halley sneaking into a fancier hotel and treating themselves to a big buffet breakfast, pretending to be guests to get a free meal. Moonee's face fills the frame as she names all the foods she's eating and narrates her delight as Halley looks on smiling. It's an act of kindness from a mother who, in many ways, has failed her child. She might be scamming the hotel, but Baker still doesn't want to overlook the goodness that drove her actions. That's why The Florida Project is so transcendent, and one of the very best films of the year, despite its bleak subject matter: It's a movie that can find something bright in the darkest corners, and can locate deep humanity even in a jokey, throwaway conversation with a flock of birds.
Previously: Stronger
Next Up: Lady Bird