2017 in Pop: Revenge of the Strummer Boy
Ed Sheeran, Justin Bieber's followers, and the One Direction diaspora succeeded with PG, easy-listening pop.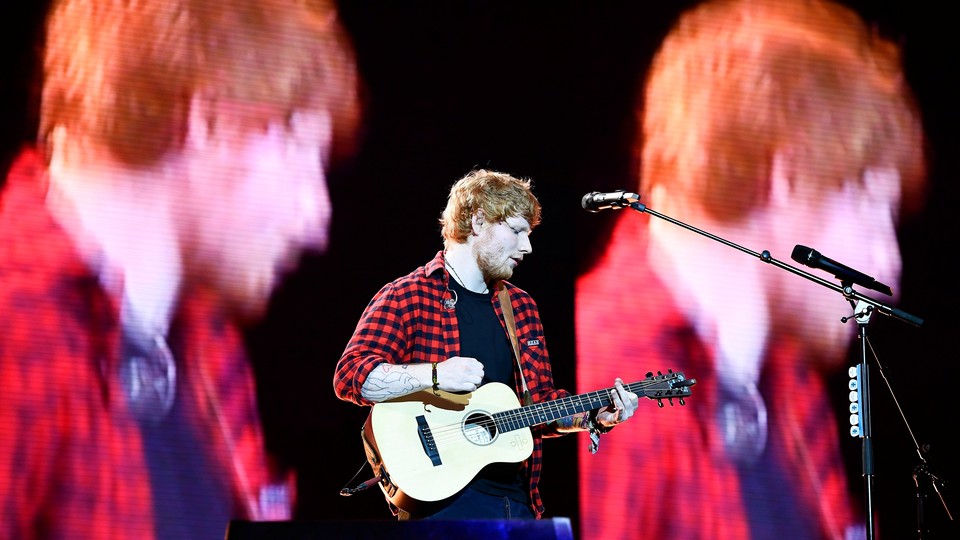 When Prince Charles awarded Ed Sheeran membership in the Order of the British Empire last week, it underscored what an extraordinary year the 26-year-old singer has had. His 2017 hit "Shape of You" is the most streamed song ever on Spotify. His album Divide, is the second-best-selling album of the year, certified Double Platinum by the RIAA. His recent duet with Beyoncé just gave her her first No. 1 single since 2008. His face, and flop of red hair, even were granted the rare distinction of making a Game of Thrones cameo.
So Sheeran's success is pretty singular. But looking back on the year in the pop, it's also easy to see him as a sign of the times, leading a sudden boom of white male solo singers with hits.
You can tell a few different stories about the Billboard Hot 100 in 2017, or maybe just one story with various ramifications. Much of the year was a wash-out for women, who didn't land many big smashes until Cardi B, Taylor Swift, and Camila Cabello helped shore up the gender gap in Q4. Which might just be another way of saying it was a historic coup for hip-hop, a largely male-dominated form that enjoyed new commercial power this year. But that analysis is complicated by another notable ingredient in the charts this year: Sheeran and guys skiing in his wake.
Just a few years ago, critics marveled at the likes of Katy Perry, Lorde, and Miley Cyrus—three artists with underwhelming sales this year—elbowing aside the boys. Some headlines from 2014 and 2015: "Why 2014 Was Pop's 'End of Men' Moment," "Where Have All the Male Pop Stars Gone?," "The Slow, Curious Fade of the Male Pop Star," "All the Great Male Pop Stars Have Disappeared." Those articles wondered if feminism drove the diva boom, but also mentioned other factors. Lady Gaga's manager suggested to Entertainment Weekly that pop being "such a fashion- and spectacle-dominated world" meant "there's a bigger set of tools that women have to go out and sell their product." Drake, Sam Smith, Bruno Mars, and the Weeknd were scoring hits, but were—depending on the writer—seen as outliers, representatives of genres other than pure pop, or else lacking that ineffable factor, "personality."
Which, in turn, might all have reflected a kind of identity politics. The Billboard charts have always been tinged with segregation—first de jure and then de facto—and singers of color have complained that they're labeled R&B or hip-hop regardless of their music's formal attributes. And even though hip-hop/R&B is now the most popular thing to listen to in America, many gatekeepers are hesitant to call it "pop." Partly that's because "contemporary hit radio" or "Top 40" stations—the kind anchored by Ryan Seacrests and aimed at suburban school carpools—prize singalong anthems in which rapping is only ever a side dish. (At a time when rap is ascendant, such stations are going to seem more and more niche even as they dictate the terms of "pop." And indeed, there are signs of them faltering in listeners lately.)
Several of pop's female titans sat 2017 out save for savvy hit collaborations, like Beyoncé with Sheeran, or Rihanna with DJ Khaled and Bryson Tiller for "Wild Thoughts." Others have, for various reasons, struggled to continue producing hit product. Perry's "Chained to the Rhythm" peaked at No. 8 on Billboard's Mainstream Top 40 chart this year—after she lodged 11 No. 1s on that chart previously. Cyrus's "Malibu" got no higher than No. 16 on the top 40, and Gaga's "The Cure" stalled at No. 20. Some more recently famous women have faired better, including the newcomer Dua Lipa and Fifth Harmony's Cabello. But they've been competing with a proliferation of male solo singers aiming for the ever-narrowing pop center with greater success than in recent memory.
* * *
Sheeran has been making smashes since 2011, and he's often discussed as a continuation of the familiar sensitive-strummer archetype. But he is this era's head boy in pop not only because of his conversational croon and facility with an acoustic guitar; he's also a sponge, absorbing all the elements in the pop sea.
Listen to "Shape of You," which spent 12 weeks in the No. 1 spot of the Hot 100. It's built off a chiming marimba pattern that I still confuse for the one that opens Sia's "Cheap Thrills," which itself is a pure example of the "trop pop" sound—whitewashed calypso and dancehall—that's been hot for a few years. Sheeran's melody is made up of a lot of short notes, delivered in sing-talking that you could almost call "rap." He said he originally envisioned the song going to Rihanna.
It still, though, is quite Sheeran-esque. Anyone who finds him to be generally a cornball may have winced when they first heard the song's borrowed sex talk: "put that body on me." But the borrowing is the point. "The club isn't the best place to find a lover, so the bar is where I go," at the song's start, establishes the pose: He may be performing music associated with urban hedonist fantasy, but he's also performing the identity of a regular schmo who's alienated by that fantasy. This is a millionaire singing about taking "thrifty" dates. This is a guy who challenged Waka Flocka Flame to freestyle battles in real life but talks, in his hit, about putting Van Morrison on the jukebox. When Lorde tried on rap swagger while criticizing its materialism on "Royals," or when Macklemore did the same on "Thrift Shop," they were pulling a similar trick.
Which recalls the maneuver Justin Bieber used in the year's other tale of extreme male pop success: his remix of Luis Fonsi and Daddy Yankee's "Despacito," which tied the record for longest-running Hot 100 No. 1 ever, served as the uncontested song of the summer, and became the biggest Spanish-language hit in U.S. history. The duet between the two Puerto Rican singers—Fonsi a popular balladeer and Daddy Yankee a reggaeton fixture—was already becoming ubiquitous in the Latin world when Bieber came across it while on tour. His people reached out to Fonsi's people, and Bieber recorded new vocals laid on top of the original track.
Those vocals don't add much other than two things most Americans recognize: Bieber's voice, and the English language. That was enough, though. Prior to Bieber's involvement, the incontrovertible earworm would likely have seen little traction among most listeners in the States. Any suspicion that Bieber's involvement was mercenary, that he had no real interest in the song as a piece of expression, was confirmed when he sang on stage, "I don't know the words, so I say 'Dorito'" in place of the chorus.
Bieber's been influential in other ways this year, even if another attempted hit—the chirpy BloodPop collaboration "Friends"—didn't land. From the very start of his career as a tween idol, record execs have understood that the chances of him remaining successful into adulthood were slim—as they are for all child stars. So the industry began actively searching for "the next Justin Bieber," and the internet for a time was littered with listicles about angelic-voiced white boys who might have appealed to teen-girl masses. But as Bieber defied the odds with his transformation into a grown-up star, some of his would-be successors also have begun to mature into formidable all-ages hitmakers.
One of them is Shawn Mendes, a Canadian who built buzz throughout high school and is now an arena headliner at age 19. Just as Bieber took advantage of the cutting-edge distribution platform of his time, YouTube, Mendes attracted attention through Vine, the already-defunct microvideo service. With a guitar perpetually slung around his shoulder and his voice ever an intimate rasp, he's musically the closest of this crop to John Mayer.
But unlike Mayer, Mendes has uncomplicated bubblegum goals—and a nice-guy image so committed that it might even be authentic. On last year's needling "Treat You Better," he called himself, without a hint of irony, a "gentleman." And this year's Hot 100 No. 6  entry "There's Nothing Holdin' Me Back" is about submitting to a strong woman's "control." That latest hit foregrounds strumming and vocal control, but the background handclaps and parts of Mendes's cadence are modern dance-pop, explicitly inspired by Timbaland's work with Justin Timberlake, godfather to all the men discussed in this piece.
Mendes has been touring with Charlie Puth, and the two internet-bred crooners are easy to mix up. But Puth, a little older at 26, boasts a more distinctive instrument in his gossamer falsetto, already familiar to America from the chorus of Wiz Khalifa's sappy 2015 Furious 7 soundtrack smash "See You Again." And Puth, in contrast to Mendes and other competitors, is not really trying for cuddly anymore. Watch this explainer video about his 2017 hit "Attention." He not only cops to the song being inspired by him ditching one girl for another one who wouldn't let him "get it in." He also humblebrags about having perfect pitch, and transparently talks about songwriting as profit-driven science: "I have a very Swedish approach to lyrics. … As long as the syllables sound good."
Which, in a weird way, suits the fact that Puth is the best popsmith of the bunch. His 2016 collaboration with Selena Gomez, "We Don't Talk Anymore," was silken and meta, with fingerpicked guitar meeting a digital-tropical beat as he chirped out an effortless hook. He engineered excellence again with "Attention," a vacuum-sealed package of spite that reached No. 5 on the Hot 100. His album, Voicenotes, is out in January. Prepare yourselves.
* * *
The maleness of the charts this year is, in part, due to the simple math of the One Direction diaspora. The boy band that formed on The X Factor in 2010 earned a huge following due to its cutesy self-awareness and an oddly out-of-time approach to pop, grafting classic-rock references onto fluffiness that made almost no capitulations to hip-hop. The band effectively breaking up last year so its members could each pursue individual careers has had the effect of multiplying the solo male presence on the charts. It has also handily clarified the menu of options when it comes to identity and middlebrow pop.
Zayn Malik left the group before anyone else, and he quickly staked out a spot more interesting and current than his bandmates would go on to do. He wanted to make pouty, misty, Weeknd-style fare; he did it, and was rewarded with hits throughout 2016. Malik then rang in 2017 by helping Taylor Swift introduce her darker, more bionic new sound.
Next came frontman Harry Styles, fully embracing the cultural archetype associated with his phenotype and hair length: rock star. His self-titled debut payed solemn—if not particularly inspired—tribute to the Rolling Stones, David Bowie, and Oasis, and made more of a statement than it did hits. The admirably cinematic lead single "Sign of the Times" began at No. 4 on the Hot 100 thanks to the power of public anticipation, but quickly fell. And yet, and yet: Rolling Stone named it the best song of 2017. That's a signal that his respectability play worked—and also, possibly, of the hunger that some gatekeepers have for a millennial to carry on boomer traditions.
On the other end of the musical spectrum is Liam Payne, chucking respectability out to make doofy tip-your-exotic-dancer songs, not unlike Timberlake's also-ran JC Chasez. Payne's solo hit, "Strip That Down," rides a minimalist beat of the kind that was trendy on YG songs three years ago and features a verse from Quavo of Migos. Payne's chorus is self-referential—"I used to be in 1D / now I'm out, free"—and in interviews he has suggested the stripping concept is less about seduction than about music: This is the real him. He doesn't quite sell the proposition in the video, in which he mugs halfheartedly while other people, mostly nonwhite, do the dancing. Ed Sheeran co-wrote the song.
Niall Horan, splitting the difference between Styles's guitar worship and Payne's charts chasing, is the year's other big Directioner (Louis Tomlinson only released a passable duet with Bebe Rexha, apparently saving his moment for later). Some songs on Horan's solid debut album, Flicker, strikingly re-create the wistful ballad style of Goo Goo Dolls or Edwin McCain—not a sound of the moment, but presumably one that could, in the right circumstances, make a comeback. On his lead single, "Slow Hands," he used creaky, bluesy vocal affect and a sauntering groove to reach No. 1 on the Top 40 and No. 11 on the Hot 100. Like many of his peers, he sings of sex obliquely, and from the position of object rather than subject. "We should take this back to my place," he begins, adding, "that's what she said right to my face."
What unites all the guys discussed above is their musical conservatism in contrast to the rest of the Top 40 contenders in 2017. Selena Gomez's "Bad Liar" wowed music critics with its tricky interpolation of the Talking Heads, and her "Fetish" lobbed serious sultriness at the radio. Dua Lipa's "New Rules," is a heart-racing and tough-minded take on modern dating. Alessia Cara has carved out a firm spot in writing empowerment anthems with a smoldering croon. Taylor Swift famously has tried to shock at every turn this year. Even the male-fronted bands to score big in 2017 pop, like Imagine Dragons and Portugal. the Man, have their own somewhat distinct sounds.
And more broadly, the true breakthroughs of popular music in 2017 were largely made by artists—many of color—mincing no words about sex or ambition or drugs. Even setting aside rappers, the newly arrived singers Khalid and SZA dented the Hot 100 spots with super-specific, attitude-packed, musically adventuresome songs about love and loneliness in the app age. Sheeran and the other solo boys with guitars, meanwhile, may occasionally dabble in racier subjects or borrow from hip-hop—but only to bring those things back to the realm of easy listening. On Divide's "What Do I Know?" Sheeran flirts openly with the idea of being edgier, but it's just to shrug about how he has nothing to say besides the very most obvious. "Everybody's talking 'bout exponential growth, and the stock market crashing and their portfolios," he says. "While I'll be sitting here with a song that I wrote / Sing, love could change the world in a moment."