Will a U.S. Adaptation Ruin Sebastian Lelio's Gloria?
The Chilean director's 2013 drama is perhaps the best recent portrayal of female aging—one that American filmmakers could stand to learn from.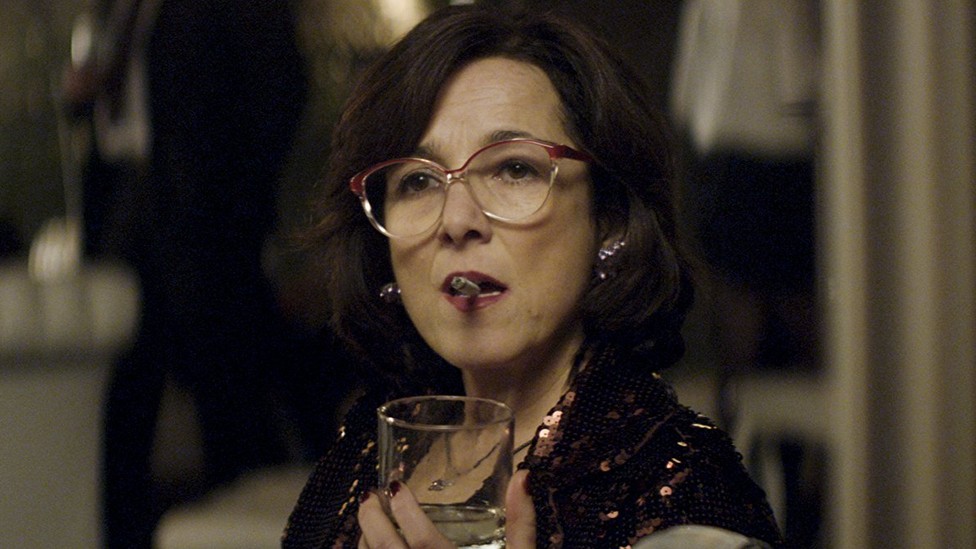 When asked about the field research he conducted for his film Gloria, the Chilean director Sebastian Lelio described going out with his mother and her friends. "When I have a drink with them," Lelio told the magazine Cromos in 2014, "I see things from their side because they're living something so fierce: a cruel process of disappearance, of becoming invisible in a society in which beauty is understood as an obsession with youth." Despite his choice of words, the 43-year-old director—who is now working on adapting a version of the 2013 drama for American audiences—didn't actually make a movie that dismisses women beyond their child-bearing years as "disappearing."
Gloria doesn't insist on an essential tragicomic sadness in female aging like so many films do. The story's eponymous hero is 58 and long divorced, checking in at an office job by day, and working Santiago's swank club-circuit for mature singles by night. Played by a radiant Paulina García, Gloria doesn't explicitly reject her modest place in Chile's free-market, so-called "miracle" economy. Instead, she seeks alternative fates on the dance floor, in the narcotic power of Lite FM nostalgia radio, and in the companionship of a retired naval officer named Rodolfo (Sergio Hernandez). Mostly, though, even with the specter of abandonment and blindness (she gets a glaucoma diagnosis at one point), Gloria luxuriates in her own selfhood. She's empathic and open and essentially untethered to the stultifying dramas that confine the lives of those around her, including Rodolfo and her grown children.
Critics in Europe and the United States praised Gloria for, among other things, its "authenticity." Carlos Boyero of El Pais wrote that the film dares to show "with naturalness the nudity of people who've entered winter, it shows the desire of their bodies." Betsy Sharkey observed for the Los Angeles Times that Lelio depicts sex between older adults in a way that "is neither gratuitous nor gross nor glossy." But this marveling is ironically a feature of how invisibility is assigned and thrives. With Gloria, the tragedy is not in aging, but in the much-remarked novelty of a 60-ish woman in bed as something undistorted and even natural—as if it's a surprise that human desire might persist to the end of life.
Gloria launched Lelio into the ranks of Chilean directors on the international radar, notably Pablo Larrain (of No and Jackie fame) and Sebastian Silva (The Maid). Lelio's latest film, Una Mujer Fantástica, starring the trans actress Daniela Vega, opens in theaters across the U.S. in February. His first English-language feature, Disobedience, with Rachel Weisz and Rachel McAdams, debuted at the Toronto International Film Festival this fall to acclaim. And now, Lelio is also writing and directing a U.S. adaptation of Gloria, which will be inspired by the original story rather than a regular remake, according to The Hollywood Reporter. The film will star Julianne Moore, who has made a career of playing fascinating women across the spectrum of human experience, from a porn actress who's lost custody of her son in 1997's Boogie Nights to a linguistics professor with Alzheimer's in 2014's Still Alice. With a film as innovative as Gloria, whose ethos of self-deliverance translates across cultural boundaries, the prospect of a "reimagining" is bittersweet. But there's reason to hope that, with Lelio at the helm, the Hollywood version could be the director's rebuke to the fact that Gloria has few equivalents in American cinema.
Most stories about women in or nearing middle age form part of the small canon of post-divorce bildungsroman films, including Paul Mazursky's An Unmarried Woman (1978), in which an electrifying Jill Clayburgh ultimately thrives after her marriage unravels. More recent examples of similar reckoning include Mike Nichols's Heartburn (1986), based on Nora Ephron's novel and screenplay; Richard LaGravenese's Living Out Loud (1998); Audrey Wells's Under the Tuscan Sun; and Diane English's The Women (2008). Still, these movies are about women considerably younger than Gloria and in the midst or immediate aftermath of ill-fated marriages.
Meanwhile, Nancy Meyers's Something's Gotta Give (2003) and It's Complicated (2009) are genial, indulgent films about the desirability of their accomplished, older heroines. But each film winks at viewers with the improbability and counterintuitive humor of its premise; suitors swarm, romantic triangles emerge, and sex is reduced to geriatric antics. Isabel Coixet's Learning To Drive (2014), based on a Katha Pollitt New Yorker essay, stands out as a quieter study of personal restoration and tackling long-delayed projects in the wake of divorce.
But these are all isolated examples of movies in the vein of Gloria. Since John Cassavetes's defining films from the '60s and '70s, in which the inevitability of aging hangs like a guillotine blade, few directors have taken an interest in the full-dimensional humanity of older women. More typically, an aging woman's longings are mawkish, or else her besottedness makes for absurdist fun. In Alfonso Cuarón's Great Expectations (1998), the characters are lithe, contemporary reinventions with the grotesque exception of Nora Dinsmoor (Charles Dickens's Miss Havisham) played by Anne Bancroft. Nora is all thwarted womanhood, a permanently jilted bride aghast at the dispossession accrued by age. Her face weeps mortician-grade makeup, a willful perversion of Charles Baudelaire's idea that women wear cosmetics "to make divine their fragile beauty."
Somewhere on this same small spectrum, Sally Field plays a disheveled 60-something woman who dons a Minnie Mouse bow and stalks after a younger colleague in Michael Showalter's Hello, My Name Is Doris (2016). Like Gloria, Doris spends her days in a cubicle—that overused emblem of stifled promise. It turns out she's a "holdover" from a corporate takeover so that even her age is an eccentricity in an office filled with insouciant youth. Then, with one innocuous and misinterpreted elevator exchange, Doris is suddenly reminded of her own vitality, perhaps for the first time since her fizzled aspirations as a bride decades earlier. But now, the movie suggests, it's too late for her to enter any desirable man's field of vision, much less a young one. The comedy, of course, rides on her increasingly frantic efforts to do just that.
And this is where Gloria's protagonist departs from most similar American heroines: She's not essentially in conflict with herself. Her loneliness is not a grasping sort, but a dignified bid for transcendence. García appears in every frame with near unwavering grace, even when high on pisco sour and making out with a stranger against a graffiti-scrawled lamppost in Viña del Mar. Viewers watch the surface turbulence of Gloria's life from a still, clear depth, as though the events are ultimately incidental: Rodolfo's inability to leave the collection of broken, dependent adults that make up his family; Gloria's ex-husband's drunken regrets at a fraught family reunion; and her own son and daughter's unpromising relationships. Gloria cries privately at her daughter's abrupt departure from Chile at one point, not in a bereft sense, but the way parents can feel like helpless onlookers to their adult children's flawed lives.
Lelio has said Gloria's script, written with Gonzalo Maza, draws lightly on his mother's life, and is broadly an exploration of her generation—women raised for marriage and later caught in the unfettered economic and social changes in Chile after its transition to democracy in the late 1980s. Rising inequality, living costs, and divorce rates spurred by rapid modernization echo in the story's margins, as do darker insinuations of the country's unresolved military past in the figure of Rodolfo. The audience sees a backdrop of confinement—stairwells, parking lots, tidy apartments. Santiago is reduced to a gray drift of development that registers vaguely in the reflection of Gloria's car window. But Lelio defies tendencies to turn each new Latin American film into a thinly veiled comment on history and politics. Gloria's physical surroundings are bleakly dim and unspecific, with the exception of a brilliant beach where she wakes up at one point, hungover and robbed of her purse.
Of the new English-language version, Lelio has said, "It's going to be like jazz, you'll feel the spirit of the original story but it'll be reinvigorated and vital." It's hard to imagine how Lelio's film needs to be reinvigorated. It'd be easy to make another comically disruptive spectacle of a female character's post-menopausal sexuality. In less adept hands, if the erratic history of American remakes is any guide—from duds like The Vanishing (1993) and Shall We Dance (2004) to the accomplished The Departed (2006)—viewers might be served up an accelerated plot or sentimental pathos. The Hollywood Reporter inauspiciously suggested that, in Lelio's as-yet untitled U.S. adaptation, Moore's character will be "vacillating between hope and despair" over a love affair, before ending on a note of personal vindication.
Admirers of Lelio's work can only hope the director will handle his new film with the same deftness he used in the original. What's radical in the director's vision is that Gloria's body and desire are gracefully unremarkable frames for seeking pleasure and fulfillment. And that she's startlingly visible in her ordinariness. Gloria is a sobering reminder that it's not the "invisibility" of older women that's the problem, but rather their systemic exclusion from cultural relevance. Whatever acts of contortion Lelio might end up performing to cater to American sensibilities, there's hope that he'll at least flout Hollywood biases against the aging female body. And if not, there's always the original, in which Gloria, in a memorable revenge scene, confronts her fatuous lover with the cool of a hired assassin. How does she follow this act? With a night out—dancing alone.