The Inevitability of NPR's Meltdown
A timeline of a firing—and a reminder of the stubbornness of the status quo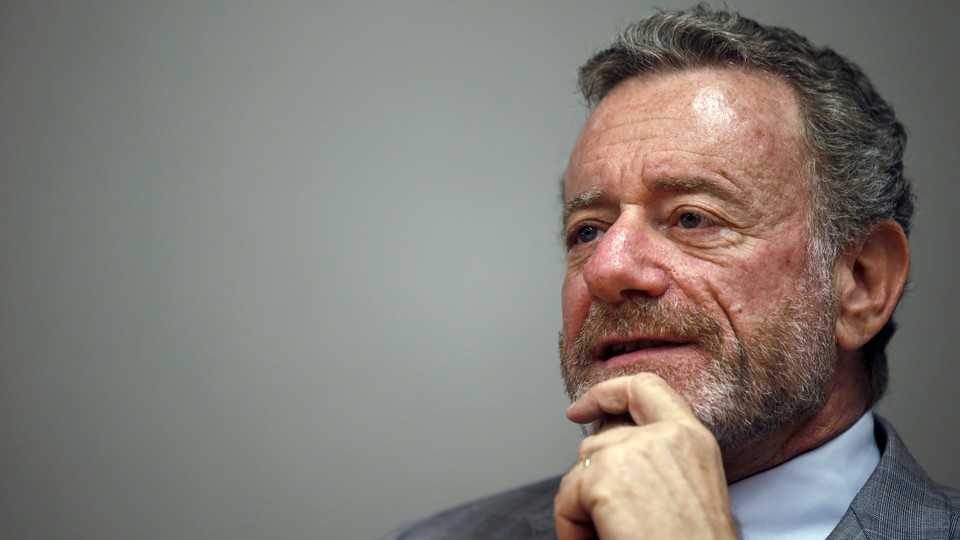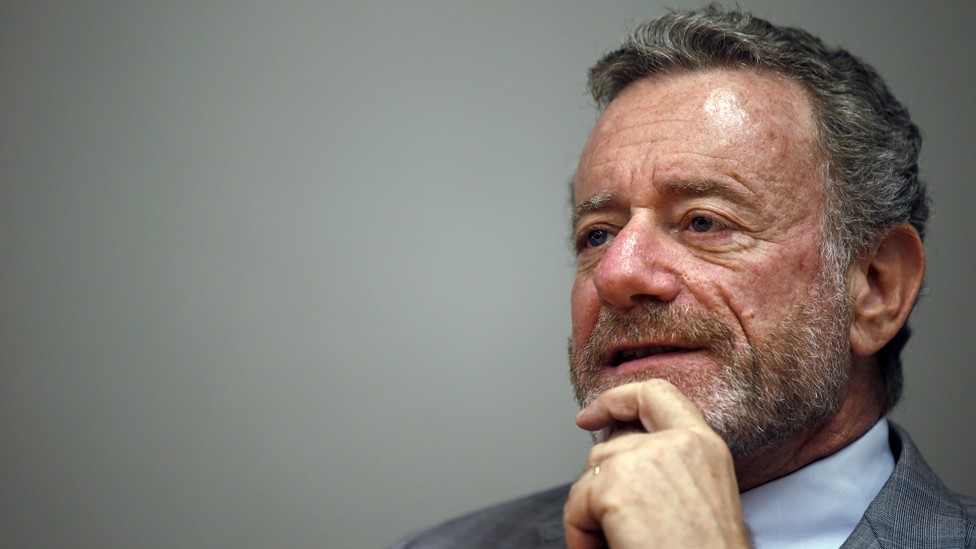 It went, roughly, like this: On Tuesday, The Washington Post reported that Michael Oreskes, the senior vice president and editorial director at National Public Radio—NPR's top news executive—had been accused by two women of sexual harassment. "In separate complaints," The Post's Paul Farhi wrote, "the women said Oreskes—at the time, the Washington bureau chief of The New York Times—abruptly kissed them while they were speaking with him about working at the newspaper."
Both women, Farhi noted, "told similar stories: After meeting Oreskes and discussing their job prospects, they said he unexpectedly kissed them on the lips and stuck his tongue in their mouths."
The allegations concerned events of the 1990s, when Oreskes was in his 40s. (He is now 63.) They did not include accusations from women at NPR. And later on Tuesday, in The Post's report, NPR provided a statement that both expressed concern about the allegations against its high-ranking editor and declined to offer specific comment. "We take these kinds of allegations very seriously," the statement said. "If a concern is raised, we review the matter promptly and take appropriate steps as warranted to assure a safe, comfortable, and productive work environment. As a matter of policy, we do not comment about personnel matters."
Even later on Tuesday, NPR's media reporter, David Folkenflik, aired a story on All Things Considered reporting that another woman, Rebecca Hersher, had filed a complaint about Oreskes to NPR's human-resources department—in October of 2015. "At the time a 26-year-old assistant producer on Weekend All Things Considered," Folkenflik reported, "she said Oreskes hijacked a career counseling session into a three-hour-long dinner that delved into deeply personal territory."
It was too much. On Wednesday, as CNN's Brian Stelter reported, Jarl Mohn, NPR's president and CEO, asked Oreskes to resign. And by lunchtime, his resignation was official: One more powerful man, powerful no longer. One more instance of the Weinstein effect in action. Another domino toppled, another dam broken and sealed. Oreskes said in a statement that "my behavior was wrong and inexcusable, and I accept full responsibility," and in one way that was the end of it. –30–, as we say in journalism.
But Oreskes's resignation, it turned out, would not be the end of the story. After all: not just the 1990s, but 2015. What had NPR known, and when had it known it? Had it, in merely "formally rebuking" Oreskes, also enabled him? Editors at The Times, it seems, had coddled him, and, in that, had prioritized the interests of a top (male) editor over those of younger (female) staffers; had NPR done something similar?
On Wednesday morning, this time on Morning Edition, Folkenflik was interviewed by David Greene. Their conversation turned to NPR's leadership. The discussion went, in part, like this:
GREENE: Okay. So you said we have not heard directly from Michael Oreskes yet. How is NPR responding to all of this?

FOLKENFLIK: Well, two years ago, Rebecca Hersher filed a formal complaint of sexual harassment to NPR. It, you know, formally and explicitly rebuked him, and told him that his behavior toward her had been inappropriate and informed top other officials at the network. When these other allegations surfaced in The Washington Post yesterday, it appears that NPR placed him on leave. I have confirmed that yesterday was the day he was on leave, not when these women first shared these concerns with NPR a bit earlier this month.

GREENE: And why did it take so long to learn about this accusation from two years ago?

FOLKENFLIK: Well, I first started reporting on Rebecca Hersher's incident about a year and a half ago, and what I can tell you is at that time she wasn't willing to go on the record, but also that I was not able to discern any pattern, any prior behavior, either at other news organizations or here at NPR. It seemed like a less severe incident. Not everything that happens is national news. At that time, we decided it wasn't news yet. Obviously with the new reports, that changed the dynamic greatly.
Folkenflik's reporting, in other words, suggested that Mohn himself had had at least some knowledge of the allegations against Oreskes before this week's revelations. In response to Hersher's claim, Folkenflik said in his story, NPR "formally rebuked Oreskes and informed other top network executives." Hersher made the allegation in 2015. Mohn had become NPR's chief executive in July of 2014.
Later on Wednesday, Mohn sent a memo to NPR staffers—a document decidedly defensive in tone. "We have been acting," the executive told his employees. "Some of the steps we took were visible and others weren't. We have a process in place and we followed that process."
Among staffers, however, the frustration grew. Whisper networks got louder.  That which had been a family affair broke out into the open. Oreskes's behavior—behavior that, it soon became painfully clear, had been yet another open secret—was secret no longer.
Later on Wednesday, CNN's Brian Stelter reported that word of the several allegations against Oreskes had in fact been spread within NPR not over recent days, but "in recent weeks." And multiple people told Stelter that, as the allegations had come to light, senior executives at NPR, including general counsel Jonathan Hart and Chief Operating Officer Loren Mayor, had "urged Mohn to take action" against Oreskes. Stelter reported as well that "Mohn pushed back."
It's worth noting here that Oreskes—who had been the Associated Press's vice president and senior managing editor prior to his 2015 move to NPR—was Mohn's early and high-profile hire when Mohn took over as NPR's CEO. Mohn had forced out Kinsey Wilson, then NPR's chief content officer and perhaps its most vocal advocate for digital experiments and transitions; the new chief executive had brought on Oreskes the following spring. Which is to say that the reputations and prospects of Mohn and Oreskes have been, since 2015, deeply intertwined. (As Politico put it at the time, "Mohn put one marker down last week, hiring Michael Oreskes to head NPR news operations. After a small exodus of top staffers, Oreskes's appointment was an important early maneuver of the Mohn era.")
Also worth noting: NPR has long been a popular target for vitriolic criticism, much of it of a partisan stripe. Mohn himself, whose background is in television and commercial radio, took on the CEO role after an especially turbulent time at the organization. In 2011, Vivian Schiller, who had been NPR's CEO and president since January 2009, resigned in "the wake of the second high-profile controversy to hit the organization in the past six months." She was succeeded by Gary Knell, the former president and CEO of the Sesame Workshop; he lasted less than 2 years in the role. Knell, according to reports at the time, was brought on in large part to calm the political waters: NPR's board, in deciding to let Schiller go, had made a particular point of disapproving of "controversies" that had occurred at the organization during her tenure.
No organization wants a scandal on its hands. NPR, however, is perhaps especially repelled by the notion of allegations made public, of high-profile firings. That may help to explain why—as a source told Brian Stelter in mid-October—"Mohn feels he has done his duty and doesn't want to fire Oreskes."
On Wednesday, for a segment that aired that evening, Mohn sat for an interview with NPR's Mary Louise Kelly: a conversation that was at once a master class in a media organization reporting on itself, and also, at times, decidedly uncomfortable. Mohn told Kelly that, after he had received word of the allegations again Oreskes from the 1990s—earlier in October—he sent a memo "asking for anyone that has experienced or witnessed any of this behavior to please come forward." There was nothing more he could have done, the chief executive suggested. "We laid out a whole array of ways they could contact us," he told Kelly. "Over that two-week period of time, we got no complaints. No one stepped forward."
Kelly also asked Mohn about an allegation that had surfaced this time last year, in October of 2016. That portion of the conversation went like this:
KELLY: A year later, October 2016, NPR learned about a woman complaining of harassment by Oreskes at The New York Times nearly two decades ago. This complaint involved physical contact. She says he kissed her. He forced his tongue into her mouth, correct?

MOHN: Well, that's what we heard. And that would have been, I think, in the fall of '16, yes.
Mohn, overall, acknowledged to Kelly that "there had been rumors circulating around the building here, about [Oreskes's] behavior. Rumors and gossip." He added, however: "We can't act on that. We have to act on facts."
And yet: There are facts here. Many of them. What is becoming clear, as the open secret slides out from the shadows, is that many women at NPR simply did not feel comfortable sharing those facts with their organization's leadership. They did not trust that their facts would be valued. They did not trust that they, themselves, would be valued, against the great worth of the news director of National Public Radio. That's the thing about an open secret: It's apathetic. It's perfectly comfortable hiding in plain sight. It prefers the status quo.
"Women warn one another about Oreskes," one (woman) reporter told Brian Stelter.
"Oreskes is the talk of the newsroom. Many are aware of his behavior."
"I personally declined every invitation to meet with him, even just in his office, possibly to the detriment of my own career advancement, specifically because his reputation was so well known."
"Male staffers know, they sigh and feel similarly powerless to speak up given his position."
"Why haven't actions been taken at NPR when there have been complaints and everyone seems to know about this problem?"
Late on Wednesday, the Post's Paul Farhi, who first—publicly—broke the news of Oreskes's behavior, published another story about the saga. This one had a new headline: "NPR Bosses Knew About Harassment Allegations, but Kept Top Editor on Job."