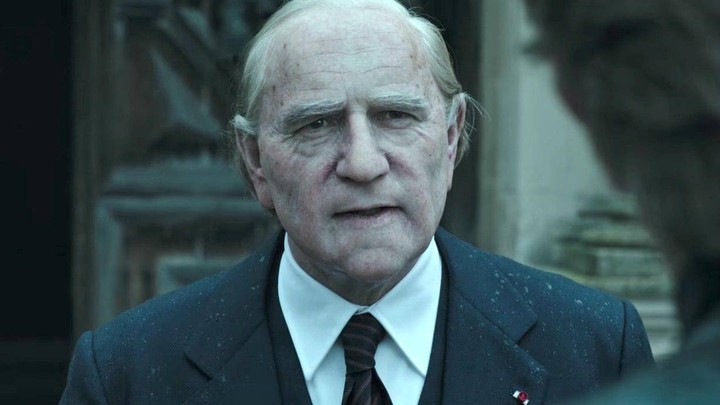 Usually, when a film goes through last-minute reshoots, it's to remove a location, or a specific set piece—like how Spider-Man removed an action scene involving the World Trade Center post–9/11, or how Gangster Squad spent weeks changing a gun battle set inside a movie theater because of the 2012 Aurora shooting. But with his film All the Money in the World, Ridley Scott is excising a person: The director is spending millions of dollars (of the studio Sony's money) to totally cut out Kevin Spacey, the subject of many sexual-assault allegations who has seen his vaunted reputation obliterated in recent weeks. The performer, who had a supporting role, will be replaced by the Oscar-winner Christopher Plummer.
Spacey's rapid downfall came after the actor Anthony Rapp accused him, in a story for BuzzFeed, of making a sexual advance toward him in 1986, when Rapp was 14. Several others (some anonymous) have come forward with similar tales of predatory behavior, while eight House of Cards staff members told CNN about Spacey allegedly groping and harassing people on set. House of Cards has already suspended production on its sixth season and fired Spacey. Producers are now considering whether to kill off his character and hand the show over to his co-star Robin Wright, with a Variety story noting 300 cast and crew members would lose their jobs should the series come to a sudden end.
Sony and Scott are adopting a similar line of thinking with All the Money in the World, a true-crime thriller about the 1973 kidnapping of John Paul Getty III. Spacey, caked in prosthetic makeup, was cast as the oil tycoon J. Paul Getty, who famously refused to pay his grandson's ransom and then harshly negotiated the terms. He was being positioned for a Best Supporting Actor Oscar campaign and loomed prominently in the film's trailer. Now, that version of the movie will never see the light of day—Scott is busy reshooting scenes with Plummer, who was ironically his original choice for the role (the studio reportedly insisted on a "bigger name," so Spacey was hired).
The recasting may be the most drastic example to date of the "Weinstein effect"—the wider reckoning sparked by women coming forward with sexual-assault allegations against the mega-producer Harvey Weinstein—affecting the material business of Hollywood moviemaking. It's one thing for House of Cards to freeze production and try to find another way to complete the season without Spacey; the show has no set release date. All the Money in the World is due out in less than two months on December 22. But Scott is apparently committed to sticking to that date, as are the project's co-stars, Mark Wahlberg and Michelle Williams.
If Scott pulls off the reshoot in time, it'll be a remarkable filmmaking feat, though he is famed for working quickly and has already released one movie—the big-budget Alien: Covenant—this year. The dramatic lengths to which Sony was willing to go to salvage its project suggests the studio recognizes the weight of the wide-ranging allegations that are gripping Hollywood. This isn't a typical industry scandal, where a celebrity can apologize, retreat into privacy (perhaps attending a rehabilitation program), and then reemerge after a while, perhaps even taking advantage of a "comeback" narrative as some do. Spacey, who tested the waters with a "mea culpa" approach that immediately backfired, may never make a movie again, certainly not within the studio system.
There are other instances of the industry actively adapting to the wave of assault and harassment allegations. Wind River, The Weinstein Company's most prominent 2017 film, stripped out the Weinstein name in its home release after a concerted effort by the movie's director and stars. "[Weinstein] did terrible things, and they affected a lot of people, and they affected our film," Wind River's writer and director Taylor Sheridan said of the process. "And now, the profits he would have made are going to benefit people that endured exactly the abuse that he doled out." (The movie's DVD and streaming profits are being donated to the National Indigenous Women's Resource Center.)
It's harder to imagine Sony doing something similar with its profits for All the Money in the World, given the millions the studio is spending on these drastic reshoots. But rather than bury the movie because of Spacey, the studio and Scott have decided to bury Spacey instead. Given the sheer number of works the actor has appeared in, the age-old question of whether you can separate a toxic artist from his art will persist. But in this case, Scott is erasing that very quandary.
"There are over 800 other actors, writers, artists, craftspeople, and crew who worked tirelessly and ethically on this film," Sony said in a statement. "It would be a gross injustice to punish all of them for the wrongdoings of one supporting actor in the film."
We want to hear what you think about this article. Submit a letter to the editor or write to letters@theatlantic.com.
David Sims
is a staff writer at
The Atlantic
, where he covers culture.