Vince Carter and the Slam Dunk's Day of Reckoning
After 20 years in the NBA, the most influential dunker of all time is winding down his career—and the game prepares for a new era of high-flyers.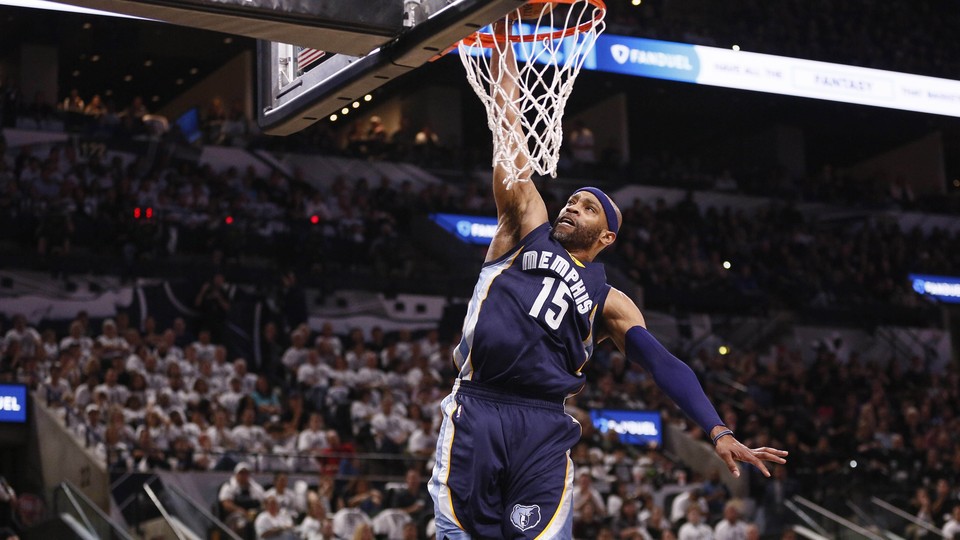 To dunk is to tempt fate. It is a combustible mixture of elements inclined toward destruction: a high rate of speed, a defiance of physical laws, the unrestrained ego. It is ephemeral—you go up, you come right back down—yet over that brief flight time, an eternity spawns in a second. Through this natural transcendence, dunks have a way of living forever.
The dunk has persevered since it came alive during the height of the civil-rights movement. There were dunks before then, of course, but the shifting social subtext of the '60s loaned the act a political relevancy. In 1967, the UCLA Bruins' starting center, a 19-year-old sophomore from New York City named Lew Alcindor, led them to a 30–0 record and a national championship. But the year before, the championship game had pitted Texas Western College (an all-black starting lineup) against the University of Kentucky (an all-white team). Early in the game, the Texas Western center Dave Lattin dunked over the Kentucky guard Pat Riley, an act that infuriated Adolph Rupp, the legendary Kentucky head coach.
After Alcindor's breakout year followed, Rupp successfully lobbied the NCAA to ban the dunk in time for the 1967–68 season. The dunk was unskilled, the traditionalists argued, and destroying the sanctity of the game. They put forth fantastically reductive arguments, devoid of critical thought or inquiry, but it stuck. The NCAA's ban on dunking survived for nearly a decade, until 1976. The NCAA claimed the ban was instituted to protect the players, but the NCAA was only protecting white fragility. "The white establishment has an uncomfortable feeling that blacks are dominating too many areas of sports," said Robert Bownes, an assistant coach at Hunter College, back in 1969.  "Everyone knows that dunking is a trademark of great playground black athletes. And so they took it away. It's as simple as that."
The dunk marked a shift in a sport that has veered in new directions since. Compared to 40 years ago, the dunk is not what it once was. There's little room left for innovation, limited real estate left to claim. The '70s brought Julius "Dr. J" Erving, David "Skywalker" Thompson, Darryl "Chocolate Thunder" Dawkins. The '80s brought Dominique Wilkins and Michael Jordan. Shawn Kemp, Penny Hardaway, and more came of age in the '90s. Each generation forged from the one before, each adding their own artistic expression and own stylistic tics.
Then the game evolved again. It is now perimeter-oriented, heavily focused on player efficiency and versatility. Today's dunks are mostly utilitarian, about function rather than form; they are cold and clinical in contrast to what they once were. There are exceptions, of course, but the overall impression is one of sanitized creativity. The artfulness of the dunk has largely been lost—if not forgotten, then ignored.
Surprisingly, the game's greatest dunker—and arguably the NBA's most important player of the early '00s—is still active. This season, Vincent Lamar Carter turns 41 years old. He has been in the NBA nearly as long as his youngest current teammate has been alive. The twilight of his career is unfolding in Northern California, with the perpetually adrift Sacramento Kings, an inauspicious basketball locale but a fitting geographic terminus. The beach is only a couple of hours' drive away, and when he finally does succumb to his looming retirement—very likely after this season—Carter has earned a seat at the bar, ocean view and everything.
Carter entered the NBA as the next Jordan, but soon he will leave it as only himself. No championships rings, no Most Valuable Player awards, not even a single appearance in the Finals. His career never reached the apex many envisioned, but this is not a bad or tragic or even unfortunate thing. Because of the dunk, Vince Carter became Vince Carter, and his exceptionalism came to define an era.
* * *
The smile is still there, the one that sold shoes and filled posters and billboards across North America. For his first six-plus seasons, Carter belonged to Toronto, which meant, by extension, he belonged to all of Canada. Now, as he labors through his 20th season, that friendly countenance is framed by a thick beard, flecked with gray. That he is on the verge of completing two full decades of service in the NBA is remarkable, as few could've confidently predicted such longevity during Carter's earlier, spectacular (but rickety) years.
When he was healthy and at his peak, Carter's athleticism made his peers, some of the finest athletes on the planet, appear perpetually bloated and hungover. Carter's dunks defied our fundamental desires to explain events and processes. The dunks were not rational, but did they have to be? They awakened and enlivened the senses. There is an era that lives inside those dunks, with the spring-coiled shoes and the ill-fitting suits and sweatbands. Then came the commercials, with Carter leaping up to snatch wayward cats from tree branches before returning them to thankful grandmothers, the arrival of Dr. Funk and his unending windmill in Rucker Park, and the sneaker-squeaking, rim-rattling, backboard-breaking rhythm of a dunk-off with Richard Jefferson.
Then there was the dunk contest in February of 2000, with the elbow-in-rim greatness and the unifying, shared joy of Carter's gravitational buoyancy. It was not just basketball that night. It was emotional labor. It was spiritual work.
In a run of a few seasons, Carter became one of the NBA's most electrifying athletes and inspired a new generation of basketball players across the United States and Canada. There was an artistry to his dunks, an efficiency of motion so refined that it falsely gave the impression of ease.
In the present day, it could be argued that the game's most exceptional dunker is Russell Westbrook, who, maybe more than any other player, embodies a similar aesthetic quality in his dunks. They are marked with personal expression and they are vicious, a means to puncture the aspirations of his opponents. Westbrook is notoriously cagey with reporters, entirely uninterested in most any question and that's perfectly fine. The dunks say enough.
After Carter himself leapt into basketball immortality in early 2000, he cemented his reputation for all time with the Dunk of Death at the 2000 Summer Olympics, a dunk so spectacular that it rerouted the life of Frédéric Weis, the 7-foot-2 Frenchman that Carter scaled in a single bound. After that, there was nowhere else to go but down. And the journey from peak to the precipice is never easy.
Soon after, Carter started to fly with less regularity. He was shipped out of Toronto under less than amicable circumstances, and went on to play for New Jersey, Orlando, Dallas, Phoenix, and Memphis. On occasion, there have been flashes, but their intensity has dimmed. After the Dunk of Death, it was never the same, but that is the stark reality that often engulfs those masters of the dunk. As the Jewish theologian and philosopher Abraham Joshua Heschel said, "An individual dies when he ceases to be surprised." And being defined by an act of liberation can, in time, start to feel constrictive.
* * *
When Carter finally retires—​likely after this season, during which he has sat out the last four games due to kidney stones—​he will be leaving behind a league that is vastly different than the one he entered 20 years ago. It is now a game that functions on efficiency, where the three-point shot is a necessity and the mid-range game has been all but excised from game plans. Dunking is an inseparable part of the game's DNA. Without the dunks, the sport would become something else, just as it was once something else before. The first basketball game, after all, was played nine-on-nine and ended in a score of 1–0.
The good thing about dunking is that it only requires one athlete, one moment, to remind you of possibility, of the bending of human limitation. There is a new generation of athletes—rookies like De'Aaron Fox, Donovan Mitchell, Malik Monk, Dennis Smith Jr., and Josh Jackson, to name a few—that are bringing their own style and speaking their own language, but they have that same uncanny confidence to challenge physics and laws of nature and the biggest dude in the room. If you watch Dennis Smith Jr. fly, you can see the blueprint drafted by Carter, from the ease of movement to the joyful swagger.
Here is another truth: Dunking eventually takes away everything it gives. The energy, the exuberance, the effect. The career of every leaper is short-lived. Knees weaken, backs wither, ankles snap. This makes Carter's endurance even more remarkable. His spring is not yet fully gone, his powers not yet fully revoked, but time is relentless and inexorable. Eventually, an ordinariness will settle into what was once magical.
Even so, dunks are timeless. They stubbornly endure, and that is the gift these top athletes are able to provide. Memories take root in these singular feats and, in that way, the players come and go but the dunks never die.