Three Billboards Outside Ebbing, Missouri Is an Absolute Marvel
Featuring standout performances from Frances McDormand, Woody Harrelson, and Sam Rockwell, the writer-director Martin McDonagh's latest is one of the best films of the year.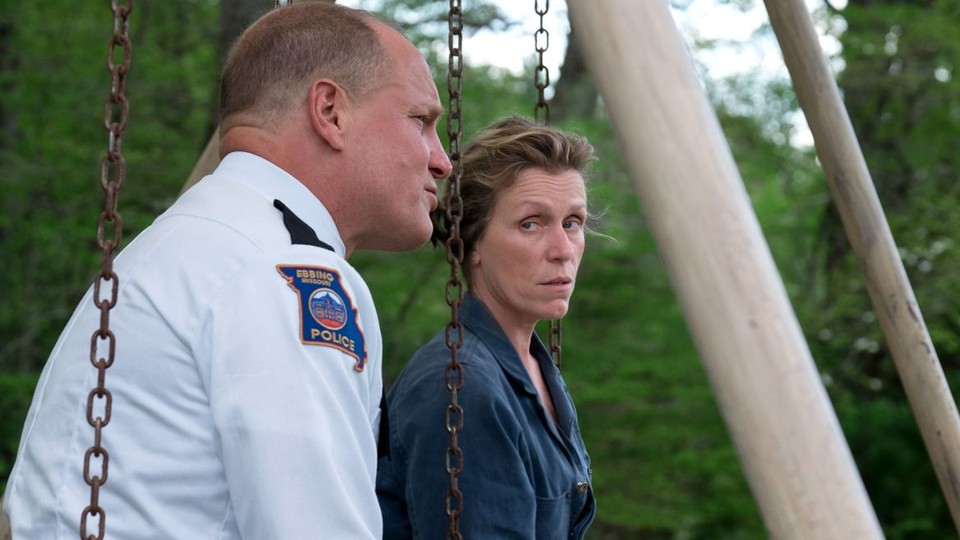 A teenage girl is brutally raped and murdered. After months pass without any progress on the case, her mother takes matters into her own hands. She rents three billboards outside of her small town, indicting the local police chief: "Raped While Dying"; "And Still No Arrests?"; "How Come, Chief Willoughby?"
It is easy to imagine the movie that might have emerged from this premise in the hands of a typical writer-director: the noble parent; the inept or uncaring police chief; the slow, orchestrally underscored march toward some form of justice.
But Martin McDonagh is not a typical writer-director. And Three Billboards Outside Ebbing, Missouri is assuredly not that movie. Rather, it is a film that continually complicates and recomplicates itself, denying viewers the comfort of easy moral footing. It is by turns heartbreaking, harrowing in its violence, and very, very funny, and it features Oscar-level performances by Frances McDormand, Woody Harrelson, and Sam Rockwell. It contains both the most moving scene I saw in a theater this year and the most mordant bit of black comedy. Though it's set in a (fictional) town in the Midwest, it exists very much in the moral terrain of Flannery O'Connor's bleak, existential humor, as is made clear by the fact that we first meet one character while he is reading "A Good Man Is Hard to Find." Even for fans of McDonagh—and I am certainly one—Three Billboards is a revelation, and among the very best films of 2017.
An Anglo-Irish playwright with multiple Tony Award nominations, McDonagh came to filmmaking relatively late. His debut, Six Shooter, won the 2006 Academy Award for Live-Action Short Film; his first feature, In Bruges, was nominated for Best Original Screenplay in 2009. Three Billboards is substantially more ambitious than either. (More ambitious, too, than his second feature, the wickedly subversive 2012 crime-comedy Seven Psychopaths, of which I was an exceptional admirer.)
McDormand stars as Mildred Hayes, whose daughter Angela's body was found raped and burned by the side of the road. After Mildred puts up her billboards, she receives a visit from Chief Willoughby (Harrelson), who appears to be neither inept nor uncaring. "I'd do anything to catch your daughter's killer," he tells her. He also tells her something else, something he believes will persuade her to take the billboards down—something that would persuade almost any normal, decent person to take the billboards down. But Mildred declines to do so, even as the pressure on her rises in town. As the local priest explains to her: "Everybody is with you about Angela. Nobody is with you about this."
That's all I think I should say about the plot itself. This is a film best seen with as little foreknowledge as possible, and I would caution against reading too much about it, as not all reviews will be so circumspect. Suffice to say that the story also revolves around Officer Jason Dixon (Rockwell), a low-IQ policemen who lives with his mother and has a record of abusing black suspects in custody. (Accused at one point of being in the "nigger-torturing business," he replies, "It's the 'person-of-color'-torturing business.")
McDonagh mines his familiar veins here—death, anger, remorse, revenge, ambiguous absolution—but he mines far deeper than in his earlier efforts. Until now, the brutal-yet-ironic combatants in his darkly comic theater of cruelty had been almost exclusively male. In Six Shooter (which, truth be told, did not really merit its Oscar), two men with death in their immediate pasts meet on a train. In In Bruges, two hitmen await their fate at the hands of another, more senior killer. And in Seven Psychopaths, a series of violently unhinged men—and one confused screenwriter—trade McDonagh's particular brand of diamond-sharp verbal barbs.
But choosing to hinge Three Billboards around a female lead tethers the wilder, more boyish fancies to which McDonagh occasionally succumbs. Mildred Hayes may have the soul of a hitman, but she's not one: She's a mother who has lost her only daughter to sexual violence. Moreover, Three Billboards is not merely the story of her interaction with two policemen, but the story of a community struggling to deal with both the horrifying memory of Angela's murder and the difficult reality of Mildred's response to it.
This is McDormand's greatest performance since Fargo, a remarkable portrait of obduracy indifferent to consequences. It is hard to imagine an actress better suited to the role. She is neither vain nor working hard to establish her lack of vanity, and she has a face that has grown ever more interesting with age. I'm reminded of Tommy Lee Jones (though he's a decade older), another performer for whom every line or wrinkle suggests a lesson learned for good or ill, a level of gravitas that slowly accumulates in tectonic layers. Mildred's hardening resolve almost seems the flip side of Jones's growing despair in No Country for Old Men: another face carved by bitter weather.
The characters who orbit her, by contrast, are more malleable, more subject to evolution in the face of circumstance. (Here, again, I don't want to say too much.) Harrelson is as good as I've ever seen him, equal parts tough and tender. And Rockwell has found a role that makes full use of his goofy charisma while harnessing it to something more substantial. This may finally be the role that gets him truly noticed—though I've believed that before. John Hawkes plays Mildred's abusive ex-husband, who left her in order to date a 19-year-old—but he, too, is allowed to be more than the sum of his sins. And sound supporting work is done by Sandy Martin, Lucas Hedges, Peter Dinklage, Abbie Cornish, Caleb Landry Jones, Clarke Peters, and Zeljko Ivanek.
McDonagh has a habit of working with his stars more than once: Brendan Gleeson, Colin Farrell, Christopher Walken, and others. Indeed, this is his second collaboration with both Harrelson and Rockwell. But in McDormand, he may have found his strongest partner yet. Three Billboards Outside Ebbing, Missouri is a triumph for director and actress alike. Here's hoping it is not their last.