The Pitfalls of Taylor Swift's Anti-PR Campaign
A cease-and-desist letter to a blogger earned rebuke from the ACLU and attention to the star's white-supremacist following.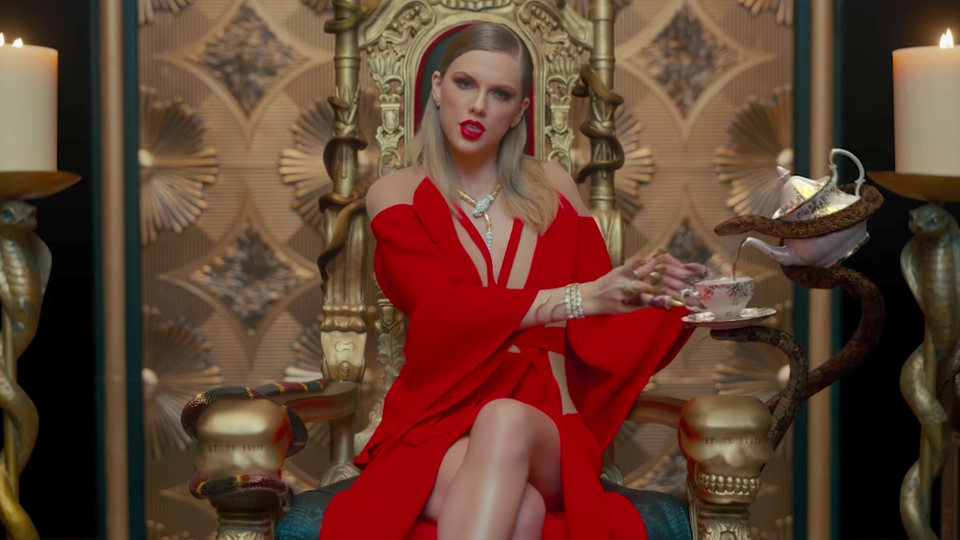 It's four days until Taylor Swift's Reputation comes out, and the singer herself has not said a word to the public about it. There has been no in-depth magazine profile of the once omnipresent star. No magazine covers. No radio station call-ins. No live stream of her addressing the world from a talk-show set—though, Tuesday, she posted some short videos letting the world know that a group of handpicked fans recently listened to the album in Swift's own home.
Maybe the journalism is still to come, under embargo until the release date. But it seems increasingly likely that she was serious with this recent Instagram caption (and possible lyrical preview): "There will be no further explanation. There will just be reputation." It was paired with an image of Swift's Reputation tie-in magazine, on sale at Target with her new album on Friday. She is closing in, cloistering herself with her diehards on one side of a wall and everyone else on the other.
Call it vertical integration. With Ticketmaster, she set up a loyalty system to ensure that her tour tickets make it to her most devoted listeners—and that her most devoted listeners, in turn, spend an outsized amount of money this album cycle. With her magazine and terse social-media missives—a reversal from the artful oversharing she had once been known for—she is her own publishing industry. By plastering her face on UPS trucks nationwide, she even looks like the means of distribution. Her cheekily villainous new persona in song underscores the secretive-mogul approach.
Philosophically, it's not all that novel a strategy. Beyoncé, Kanye West, and Drake have all found ways to prosper without the traditional pop-promotion playbook in recent years. Doing so embraces the upsides of a huge fanbase, the internet, and the potential for songs themselves to act as gossipy press statements. While the media may have helped these stars succeed initially, at a certain point it—and its tough questions, editorial independence, and, sure, cynicism and frequent sloppiness—can be treated as a disposable middleman. (You may note adherents of this approach in politics increasingly as well.)
But one byproduct of staying relatively silent is that certain actions may inadvertently speak more loudly than they would otherwise. Hence, perhaps, how Swift has now ended up being denounced by the ACLU and directing throngs of internet users to a blog post speculating that she speaks for "the lower case kkk."
The post in question is at the site PopFront, where the writer Meghan Herning connected Swift's single "Look What You Made Me Do" with the documented fact that some in the alt-right adore Swift as a supposed vision of racial purity. As Herning noted, Breitbart tweeted out all of the lyrics to the single, as if to double down on the subtext. She also pointed out that the music video uses some visual clichés associated with Hitler, and that one verse could, in a different context, be a xenophobic or racist parable: "I don't like your kingdom keys. They once belonged to me. You asked me for a place to sleep. Locked me out and threw a feast." (A bit like Trump's favorite story, "The Snake," no?)
Herning's bottom line: If Swift disavows her racist fans, she should say so clearly.
Right now, PopFront has just 1,169 followers on Facebook and 237 on Twitter, and the post would have not received much attention if Swift's lawyer William J. Briggs II hadn't sent a cease-and-desist letter calling it "replete with demonstrable and offensive falsehoods" and "a malicious attack against Ms. Swift." His argument in full is rather brazen in its illogic: The given evidence for Swift previously rejecting white supremacy is two other articles on the matter that simply take for granted that Swift isn't actually racist. "Let this letter stand as a yet another unequivocal denouncement by Ms. Swift of white supremacy and the alt-right," Briggs wrote, but as far as I can tell, the letter is her first unequivocal public denouncement—and it's only public now that the ACLU, against Briggs's specific demands, published it.
The ACLU of Northern California got involved after Herning told them of the letter. The organization has now put out a statement calling her post "a mix of political speech and critical commentary," protected by the First Amendment. The brouhaha has led other culture writers to say they've received similar letters from Swift's lawyers when writing about her alt-right fans and lack of political engagement in the 2016 election.
Sending overly hostile letters through a lawyer is one way to discourage the press from noting how a superstar has remained quiet on a very troubling element of her fanbase. But there are obvious drawbacks to the tactic, and one is that journalists will turn the attempted silencing into a story. At PopFront, Herning makes the point that, "At a time when the press is under constant attack from the highest branches of government, this cease-and-desist letter is far more insidious than Swift and her lawyer may understand."
Even worse, for someone routinely accused of playing the victim, Swift's legalistic approach presumes that only malice toward the star herself, rather than any earnest interest in anti-racism, is behind the criticism. "Through this story, you attempt to impose a duty upon Ms. Swift (and only Ms. Swift) to loudly state her views on whatever hot-button issue is circulating at any given time," the singer's lawyer wrote. Yes, he's implying white supremacy is just a faddish keyword, rather than a defining reality of American history. Not a smart way to defend against charges of continued disengagement.
The easier way to handle criticism for remaining silent: by not remaining silent. Other stars who've sworn off traditional interviews still maintain their control as they put out statements in urgent political moments. And when it surfaced that the white nationalist Richard Spencer loves Depeche Mode, the band made quite clear they don't love him and thus fended off any lasting stigma. Even some of Swift's most obsessed fans want her to do the same. "Tell these garbage people that you would like to be excluded from THIS narrative," the popular @feministtswift account tweeted at Swift. "If you get turned into some Pepe-like shorthand for the worst of our society I will never forgive any element of society that let this happen."
On the clickbait questions of feuds and breakups and whether her new hip-hop-inflected sound is actually any good, you can understand why Swift might want to let her work speak for itself. Yet, racism is not a PR issue but a moral one. The singles for Reputation thus far promise a feast of dishy score-settling in their lyrics, but if the album doesn't address where Swift stands on the nation's deepest divide, she and her lawyers should expect the media to do so.